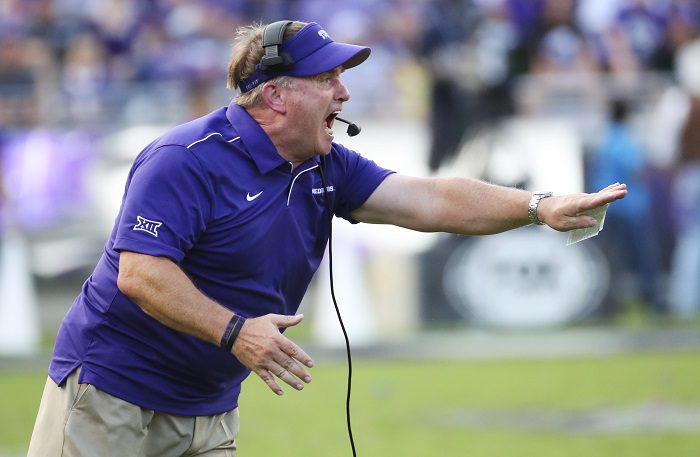 TCU entered Saturday as the winner of the last seven match ups against SMU for the infamous Iron Skillet. Since joining the Big 12 back in 2012, the Horned Frogs have dominated this series but that all changed today in Fort Worth. It was hot, weird and sweaty considering that TCU head coach Gary Patterson changed his polo at halftime. Maybe it was a luck thing but that didn't help the Horned Frogs as they fell to their inferior rival on Saturday afternoon. 
SMU wasted no time early in this game as their offense (Led by former Texas QB Shane Buechele) scored two touchdowns in their first three drives. Meanwhile, TCU went three and out in their first drive of the game and their second one ended in a fumble after just one play. Before I could even blink, SMU was already up 15-0.
The Horned Frogs would then answer thanks to a Darius Anderson touchdown run but then freshman quarterback Max Duggan coughed the football up in back to back drives helping SMU put three more points on the board. Then TCU found themselves right back in the game after capitalizing off a turnover by SMU thanks to Darius Anderson scoring once more.
TCU would add a field goal later in the second quarter but just like in the first quarter, the Horned Frogs defense still had trouble slowing down the SMU offense as they gave up two more touchdowns before the half was over. At the break, SMU was up 31-17 and I am sure every TCU fan was sweating and not just because of the sun.
Surprisingly both offenses cooled down and the defenses buckled up in the third quarter because after all the points in the first half, there was just one touchdown scored in the third quarter as Max Duggan found Pro Wells for a 13-yard touchdown pass to pull within seven.
The Horned Frogs finally found a consistent rhythm on offense in the fourth quarter as they scored two touchdowns in the final quarter to pull themselves within three with just under four minutes left to play. TCU's defense would force SMU to punt and give TCU another shot to win the game with just under three minutes left and no timeouts but in great field position. However, TCU was unable to get a first down as they turn the football over on downs as their third and fourth down tries went badly. On third down, QB Max Duggan dropped the snap and on fourth down, SMU blitz forcing Duggan to get rid of the football earlier than he wanted to. The Ponies then were able to run out the clock to go on to pull off the upset 41-38.
I'll say this, TCU's defense carried this team last week in their big win over Purdue. They ran the football and played great defense and they didn't have to throw the football much. SMU completely threw out their game plan by taking an early lead forcing the Horned Frogs to throw the football on offense more than they would like to. TCU QB Max Duggan was just 1/10 and had a total of 22 yards passing in the first half. While he finally found his game late, it was already too late by then. There were simply too many mistakes from Duggan early on. Defense can only carry you so far in the Big 12 and I hope that TCU has finally found some rhythm on offense before conference play kicks off for them. 
**We now have FREE Big 12 Forums here at Heartland College Sports. Go sign up here and join our conversation! **