Big 12 News
Big 12 Football Players of the Week: Brock Purdy, Montrell Estell Lead the Way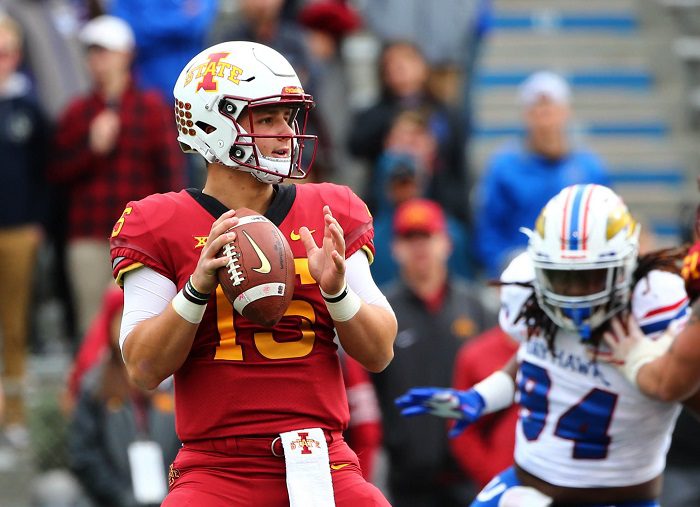 It's time to name our Big 12 Players of the Week as we look at the top performances on offense, defense and special teams. Yes, there are always several players to debate, but we try to make this as fair as we can, while backing up our decision with stats and facts.
Big 12 Offensive Player of the Week: Iowa State QB Brock Purdy
Purdy propelled Iowa State to exactly the kind of game it needed with a 72-20 win over ULM. Purdy threw for a career-high 435 yards and tied a school record with six touchdowns, three passing and three rushing. The game was Iowa State's best scoring output in 113 years. Purdy had a total of 510 yards and became the first player in school history to surpass 500 yards of total offense. For Iowa State, their 72 points were the program's most since beating Cornell 81-0 in 1906.
Big 12 Defensive Player of the Week: Texas DB Montrell Estell
Estell played a huge role in Texas' win over Oklahoma State on Saturday night. He had the best game of his early career, racking up nine tackles, eight solo, one tackle for loss and an interception of Spencer Sanders that was taken back to the Oklahoma State 28-yard line. That interception set up a touchdown three plays later that gave Texas a commanding 14-3 lead.
Big 12 Special Teams Player of the Week: Texas P Ryan Bujcevski
Bujcevski played a key role in the field position game for the Texas Longhorns in their win over the Cowboys. Three of his four punts on the night pinned the Cowboys inside their own 20-yard line (the other was a touchback). On his four punts of the night, Oklahoma State would go on to score a total of three points.
Powered by RedCircle
**We now have FREE Big 12 Forums here at Heartland College Sports. Go sign up here and join our conversation! **