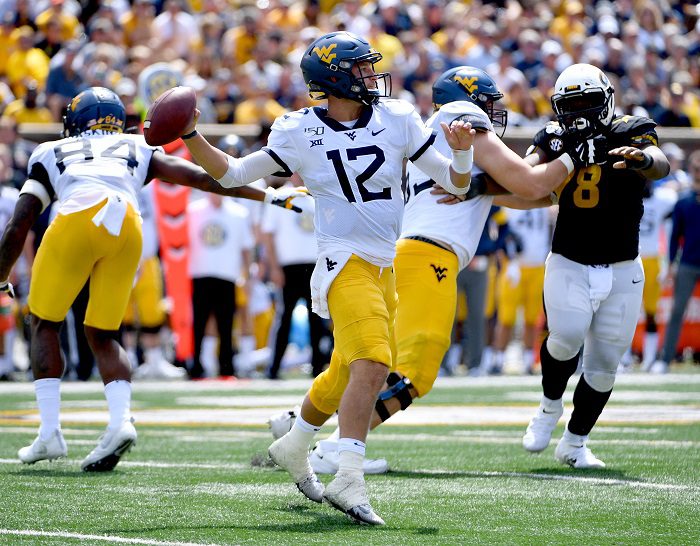 Welcome to the HCS Big 12 mailbag. This mailbag is for all you football junkies out there who root for a Big 12 school who not only have questions about your team, but other teams in the conference as well. So, join me, grab a cold brew or your favorite drink and relax as I answer all your Big 12 questions in my mailbag. For those interested, I will send out a tweet (@Derekduke25) every Monday at noon until last call (No, not 2 AM) at 8 PM CT for you to send in your questions to be answered every Tuesday right here at Heartland College Sports. This week's mailbag was so full, I had to break it up into two parts. So, if you don't see your question on this article, look for it on part two which should come out Wednesday.
I want to thank each one of you who submitted a question this week and for those reading, I am glad you could join me. I am doing this on Monday evening and of course this mailbag wouldn't be nearly as fun without a cold beverage right next to me. Tonight's drink of choice? An old fashioned to help get the creative juices flowing. Cheers!
@Shroudedllama asks: Which side of Mike Gundy's personality do you think is dominant when he has had a few too many drinks, fun Gundy or grumpy Gundy?
Duke: Well, hello there Dave. Welcome back and for those who aren't familiar with Dave, he is our proud Oklahoma State man right here on Heartland College Sports. While this is a fun question, I think the answer here is easy. I will go with fun Gundy. Assuming it's not after a loss, I think Gundy would be hilarious and fire from the hip all night if he was drunk. That would be television worthy although in today's world he probably would have to be bleeped out a couple times but hey, that's bar talk. Regardless, if this is true then sign me up for a night on the town with Mike Gundy. The only thing I wonder is what does he drink? Is he a beer man or a liquor man?
@MathewCarson11 asks: Is Iowa State's offensive explosion a sign that they have fixed their issues and are who we thought they were? Or is it an anomaly? Or do we punt a week and see what happens against Baylor?
Duke: I am not going to lie, when you said "Who we thought they were" it made me want to pound my table like former Arizona Cardinals head coach Dennis Green did back in the day when he said that famous line. As for your question, I want to wait another week and see what happens. Don't get me wrong, it was great to see the Cyclones offense humming last week against Louisiana Monroe but that's part of the problem, it was against Louisiana Monroe. Brock Purdy broke Seneca Wallace's yards record in just three quarters which is impressive to me no matter who you are playing but given the small sample size, I just need to see it happen again against a formidable opponent. Again, it was fun to watch but I am going to need to see it happen more before I can put a label on this offense.
@jeffstraight76 asks: As a West Virginia fan looking at the remaining schedule, please help me find some possible wins!
Duke: Well, you would like to think your team has a chance of winning every game on the schedule, but you know what? I respect reasonable fans that have realistic expectations. Don't get me wrong, I love the crazies, but I enjoy talking with the fans who understand who and what their team is given the situation. It makes for better conversation too when you are at the bar. So, let's get something out of the way. Probably the easiest game in conference play is out of the way so that leaves eight games left. Let's break down and look at the remaining schedule, shall we?
October 5th vs Texas: Sorry, but I must go with Texas here.
October 12th vs Iowa State: More winnable than Texas but this one is still tough for me to see WVU pull it off at home.
October 19th @ Oklahoma: Sorry, but no.
October 31st @ Baylor: At this time, I am not sure what Baylor is so this one I will say could be a toss up game.
November 9th vs Texas Tech: Depends on Alan Bowman's health for Texas Tech. If he is healthy, I like Tech but if not, then I may take your Mountaineers.
November 16th @ Kansas State: This all could change this late in the season but right now, I would take the Wildcats.
November 23rd vs Oklahoma State: Oklahoma State will be better as the season goes on. The time to catch this team is early and WVU won't get that chance.
November 29th @ TCU: Out of these final three games, I could see WVU giving TCU some problems with they way they looked against SMU.
Hope this helps a little. I see WVU finishing at either 4-8 or 5-7. A bowl game would be miracle work for Neal Brown.
@DarrellA_3 asks: My Big 12 question is how are you going to feel when Iowa State wins the conference title?
Duke: Honestly, I don't really care who wins the conference title. I think I have said this before, but I do my best to be as unbiased as possible. I know some of you know that I also cover Iowa State recruiting but that was a business decision that I made months ago. I don't care who plays for the Big 12 title in December because I will be there to cover it regardless of who is playing. For instance, if Kansas and Kansas State played, I would go although many of those "national" media guys wouldn't. I am just lucky enough to cover the sport that I love the most and at the end of the day, nothing beats that for me.
@GooberPea asks: Your take on TCU after the pony ride?
Duke: YUCK. That was my first reaction after the clock hit zero. I watched that game from start to finish and you can get my instant reaction on that right here.
There is no other way to put it besides ugly. I know it sucks for TCU but at least it wasn't in Big 12 play. Sure, TCU fans will get some crap for it, but it is not worse than when they lost to Kansas last year am I right? I hope you were able to read the recap I did but if you didn't, I will say this. With a freshman quarterback who is still learning, TCU leaned on their defense and running game a lot. When they went down a couple of scores, that game plan went out the window. You can only go so far in the Big 12 when your defense must carry you week in and week out. Shootouts will breakout and you have to have an offense capable of going blow for blow against other good offenses. Sometimes your defense will break, and your offense will have to pick up the slack. Unfortunately for TCU, it was too little too late against SMU.
**We now have FREE Big 12 Forums here at Heartland College Sports. Go sign up here and join our conversation! **