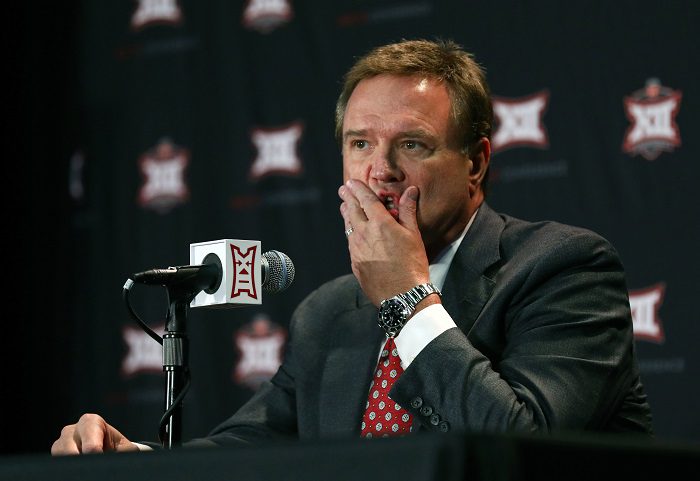 We all knew this was coming. Especially if you were at Big 12 Media Day last October like I was.
That day, the first sentencing in the federal college basketball corruption case was coming down. There were rumors swirling that Kansas and head coach Bill Self were involved, but it was less than concrete. Self managed to sidestep any questions during the set of press conferences and carried on with his fellow Big 12 coaches at lunch like there was nothing going on.
But, right as he left Kansas City to head back to Lawrence, the first sentence came down. Guilty.
It's taken us nearly a year to get to this point. Monday the NCAA put the Jayhawks and Self on notice — three Level 1 NCAA allegations — and it puts one of college basketball's true blue bloods and Self, one of the game's most successful coaches, on the hot seat.
Perhaps more troublesome for Self's future are the NCAA's charges of a lack of institutional control and a head coach responsibility charge. To put this in perspective, former Louisville coach Rick Pitino wasn't hit with a "lack of institutional control" charge during the Cardinals' prostitution scandal four years ago.
'Lack of Institutional Control' is probably considered the NCAA's most damning charge. It's basically saying to the head coach and the university that they were asleep at the wheel and didn't care about right and wrong. Pitino and Louisville should have gotten this charge four years ago but didn't. The fact that the NCAA is coming at Kansas and Self with this charge now leads me to believe the NCAA not only takes this seriously but has serious information to back up the allegations.
Read the Yahoo! Sports story, along with information from other sources, and the seriousness of this could be quite accurate.
The recruitment of two players is at issue — Billy Preston and Silvio De Sousa, the latter of which Self fought personally to get reinstated earlier this year. The Yahoo story cites that Adidas consultant T.J. Gassnola helped funnel $90,000 to Preston's mother and at least $2,500 to De Sousa's guardian.
These aren't just "reports from multiple sources" in the story filed by Pat Forde, Pete Thamel and Dan Wetzel. This is information culled from court testimony by Gassnola and from documents provided by Gassnola and other parties to the prosecution. Along with the famed wiretaps from this case, this is information that led to the sentencing of Gassnola and other parties in this case. Considering that, this is credible information.
In addition, Gassnola — sensibly trying to avoid a longer court sentence — turned over text messages to federal prosecutors between himself and Self in which they talked more freely about the situation than they should have. Plus, one of the attorneys in the case, Michael Schachter, said this during conversations with the jury:
"The evidence, I submit, shows that Kansas' head coach knew of and asked for a payment to be made to Silvio De Sousa's handler. More than that, Coach Self requested just the kind of help that Mr. Gassnola arranged as a condition for Coach Self to permit Adidas to continue their sponsorship agreement with the University of Kansas."
Read it again. If true, this was basically Self saying 'show me the money or I'll go sign with someone else.' That's about as damning as it gets for pay-for-play in college basketball.
There are other text messages cited in the Yahoo story.
No doubt Kansas is working behind the scenes to figure out what this all means. Self can take a pass on speaking to the media until Oct. 23, when the Big 12 hosts its basketball media day in the Spirit Center in Kansas City. No doubt he and his sports information team will do whatever they can to avoid the topic. The assembled media isn't likely to allow that.
Based on what we know now, here are three things to watch the next several months:
First, don't expect resolution anytime soon. The corruption case is now two years old. The NCAA has other allegations to hand down to other schools in this case (looking at you, Arizona). The NCAA moves at the speed of a sloth. I'd be stunned if Kansas absorbs any punishment this season (though some of it could be retroactive, depending upon how the NCAA approaches De Sousa, who is still on the Kansas roster).
Second, Kansas' strategy will be key. Will the Jayhawks fight this tooth and nail or will they take a more facilitative approach to handling this case? The path the school chooses will have a lot to do with the evidence the NCAA has, which I imagine the NCAA will share with the university. If Kansas sifts through all of that and believes it can fight, then it will fight. If the NCAA's case is near air-tight, the program might decide to fall on its sword and accept what's coming.
Self will be punished. Based on what I've seen in the Yahoo story and in other sources, I don't see how Self escapes punishment in this. The only question is how severe? Reprimand? Suspension? Firing? Show cause if fired? To me, it's all on the table right now, and it could depend on the second point. If Kansas chooses to fall on the sword, you'd better believe they'll do what they can to cut their head coach a deal, if it's possible.
But what if it isn't? What if this is a bridge too far for this university? Or the NCAA?
This is serious business. But so is college basketball. And, occasionally, the two meet in this intersection, with a coach's reputation and a program's reputation on the line.
Will it cost Self his job? Only time will tell.
**We now have FREE Big 12 Forums here at Heartland College Sports. Go sign up here and join our conversation! **