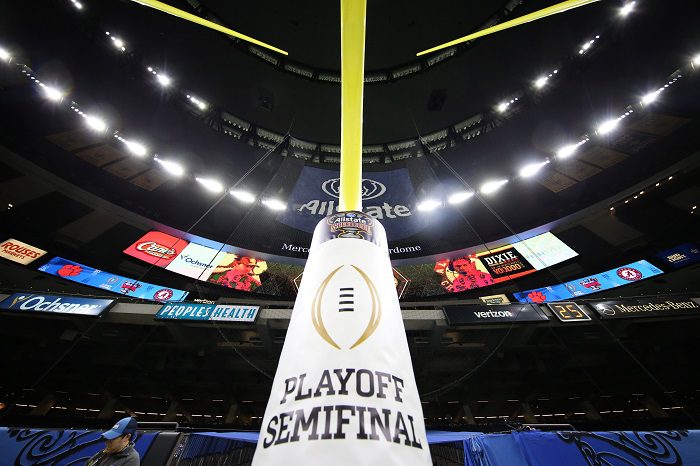 The postseason is the ultimate celebration for teams to celebrate their hard work through the course of the year. As we all know, the postseason for college football features a four-team playoff and several bowl games. Each conference has agreements with certain bowl games to send their respective teams to. Many websites use projections to show where they predict each team to go. Instead of projections, here is a version more similar to "bracketology". This is a live look at where teams would be if the season ended today.
Another week is in the books and Oklahoma is back in the Sugar Bowl after scoring the victory in their first conference game of the year. Of course, there is still some head scratching. How is Ohio State in the top four? Oklahoma has played a far tougher schedule than Ohio State. Apparently, the AP voters believe that Ohio State's two road victories against Nebraska and Indiana outweigh a road victory over UCLA and home wins against Houston and Texas Tech. Don't be surprised if Oklahoma drops again this week. While the Sooners likely fry the Jayhawks, the winner of the Auburn-Florida game is likely to move ahead of them.
Meanwhile, the Sooners victory hurts Texas by pushing them out of a New Year's Six Bowl. Texas drops to the third spot because Baylor is still undefeated and now has a conference victory. The Bears have to play outside the Lone Star State this week when they travel to the Little Apple.
Speaking of Kansas State, they drop way down because of their loss at Oklahoma State. However, the victory at Mississippi State keeps them ahead of Texas Tech and Iowa State. This secures the Wildcats the last remaining Big 12 bowl slot.
Texas Tech gets into the Music City Bowl because of the ridiculous love affair for the SEC. Four SEC teams are in New Year's Six bowls thanks to the AP voters. The conference only has eight bowl eligible teams this week. The SEC East has four teams with losing records. Because of the voters, the SEC is unable to fulfill four bowl slots. Army and Liberty score two of those. The other two go to Tech and Louisville. Why does Tech get in over Iowa State? Tech is in because they played two road games against Power Five teams and are undefeated at home. Louisville is in over Iowa State because Notre Dame is ranked higher than Iowa. The Cyclones are higher in the pecking order than Illinois and Virginia Tech.
Speaking of unfilled bowl slots, one of those comes against the Big 12. Texas A&M chooses to avoid TCU and will play West Virginia in the Liberty Bowl. This places Army, who is an independent, into the Texas Bowl against TCU. TCU is ahead of West Virginia because of its road victory over Purdue.
Oklahoma State scores its first conference victory. This gives them an actual Big 12 bowl slot and keeps them out of the Frisco Bowl's at-large spot, which is now occupied by Washington State.
Reality hits Kansas again. The Jayhawks would be in the bowl picture if they defeated Coastal Carolina. And get this, if Kansas takes down West Virginia, they could've been 4-1 at this moment. Bowling would be a possible reality if they secure those two victories. All the Jayhawks would need to do is score a home victory against Texas Tech and win one more game. Even at 5-7, APR scores may get them into a bowl. The Coastal Carolina game was a major setback not only in the bowl hunt, but in the sense that it delays the growth of the program just a bit. Still, the Boston College victory was huge for both Kansas and the Big 12.
Alas, the current bowl picture is below.
College Football Playoff
Peach Bowl Semifinal: No.1 Alabama (5-0, 2-0 in ACC) vs. No.4 Ohio State (5-0, 2-0 in SEC)
Fiesta Bowl Semifinal: No.2 Clemson (5-0, 3-0 in SEC) vs. No.3 Georgia (4-0, 1-0 in SEC)
Sugar Bowl, Big 12 Champion vs. SEC Champion
No.6 Oklahoma (4-0, 1-0 in Big 12) vs. No.7 Auburn (5-0, 2-0 in SEC)
-Oklahoma is undefeated and ranked higher than Baylor. Therefore, the Sooners are the current leader of the Big 12.
-Auburn is 2-0 in SEC play. LSU is 1-0. Auburn is also ranked higher than Florida.
Alamo Bowl, Big 12 No.2 vs. Pac-12 No.2
Baylor (4-0, 1-0 in Big 12) vs. Colorado (3-1, 1-0 in Big 12)
-Baylor remains undefeated, thus they are the leader of the Big 12 behind Oklahoma. The Bears are unranked, so they are not in a New Year's Six Bowl.
-Colorado is ahead of Arizona because they received votes in the AP Poll.
Camping World Bowl, Big 12 No.3 vs. ACC first tier selection
No.11 Texas (3-1, 1-0 in Big 12) vs. No.22 Wake Forest (5-0, 1-0 in ACC)
-The loss to LSU keeps Texas behind Baylor in the standings. The Longhorns are ranked higher than TCU and West Virginia, thus Texas lands here.
-Wake Forest is 5-0 overall, but they have only played one conference game. The Demon Deacons enter the AP Poll this week, and the future schedule could easily keep them undefeated when they enter Death Valley Nov. 16.
Texas Bowl, Big 12 No.4 vs. SEC first tier selection
TCU (3-1, 1-0 in Big 12) vs. Army (3-1, Independent)
-TCU is ahead of West Virginia because they have a road win over Purdue.
-The SEC is unable to fulfill their bowl commitment. Army has a winning record. The Texas Bowl chooses the Black Knights over Liberty, who is the only other school remaining with a winning record.
Liberty Bowl, Big 12 No.5 vs. SEC first tier selection
West Virginia (3-1, 1-0 in Big 12) vs. No.25 Texas A&M (3-2, 1-1 in SEC)
-West Virginia's victory over Kansas has them placed here.
-Texas A&M and the SEC team up to keep the Aggies out of a bowl game with TCU. Instead, they choose to go the Memphis to play West Virginia. The Aggies are the worst bowl eligible team in the SEC this week.
Cheez-It Bowl, Big 12 No.6 vs. Pac-12 No.7
No.21 Oklahoma State (4-1, 1-1 in Big 12) vs. No.24 Arizona State (4-1, 1-1 in Pac-12)
-Oklahoma State now has a conference win. Because of this, they do not have to wait for the at-larger berth in Frisco. Instead, they are in a Big 12 bowl game.
-Arizona State doesn't move up or down. They stay put after the victory at Cal.
First Responders Bowl, Big 12 No.7 vs. Conference USA selection
Kansas State (3-1, 0-1 in Big 12) vs Louisiana Tech (4-1, 2-0 in Conference USA)
-Kansas State drops way down in the bowl pecking order after their first loss. The undefeated record in non-conference play helps them stay ahead of Texas Tech and Iowa State.
-Louisiana Tech is currently the Conference USA leader. Of course, the conference wants their champion to play a Big 12 team.
Music City Bowl, ACC First Tier selection vs. SEC selection
*Texas Tech (2-2, 0-1 in Big 12) vs. Pittsburgh (3-2, 0-1 in ACC)
-Texas Tech beats out Iowa State and Illinois simply because they are undefeated at home and played two Power 5 teams on the road. Virginia Tech and Louisville are not invited because it would be an all-ACC matchup. The rest of the 2-2 schools are from the Group of 5.
-Pitt gets into the first tier of ACC teams because of their ACC point differential compared to the teams with similar records.
Left out: Iowa State (2-2, 0-1 in Big 12)
-The Cyclones nearly snuck into the Birmingham Bowl. However, Louisville beats them out because Notre Dame is ranked higher than Iowa. Army and Liberty are also to blame because they are independents with winning records. The Cyclones are ahead of 2-2 teams Illinois and Virginia Tech. The Hokies are third and Illinois is fourth because the Hokies lost to two unranked ACC teams while Illinois lost to unranked Nebraska and Group of Five school Eastern Michigan.
Ineligible: Kansas (2-3, 0-2 in Big 12)
-Kansas should not be in this situation. They should be 3-2, but the Coastal Carolina loss throws them out of the bowl picture right now. The Jayhawks could be 4-1 right now had they been able to take down West Virginia too.
Powered by RedCircle
**We now have FREE Big 12 Forums here at Heartland College Sports. Go sign up here and join our conversation! **