Baylor Bears
Big 12 Basketball Schedule Analysis 2019-20: Baylor Bears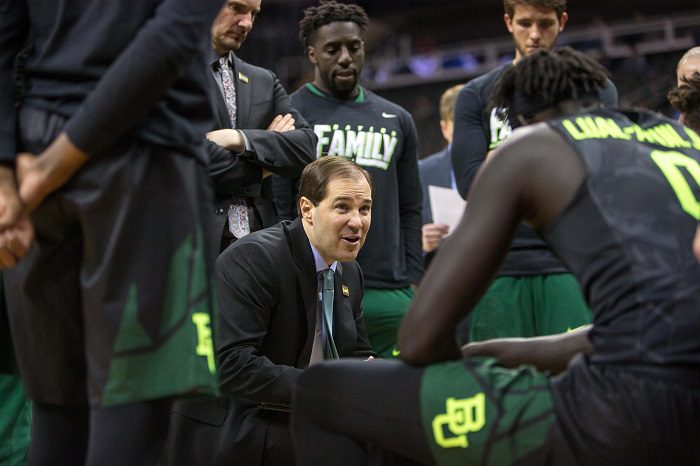 Leading up to Big 12 media days in Kansas City Heartland College Sports will analyze each of the Big 12 men's basketball schedules. Today it's the Baylor Bears.
Season opener: The Bears start the season on Nov. 5 with a home date against Central Arkansas. The Bears don't have a true road game during non-conference play.
Tournaments: The Bears will be well traveled by Big 12 play, even without a true road game. Baylor faces Washington in the Armed Forces Classic in Anchorage, Alaska, will get three games at the Myrtle Beach Invitational and will play a game against UT Martin in The Battleground 2K19 in Houston.
The Big 12/Big East Game: The first season of the Big 12-Big East Challenge sees the Bears host Butler on Dec. 10. Butler is consistently a pain in any team's side.
The Big 12/SEC Game: Baylor hits the road this season to take on Florida on Jan. 25 and posting a home win in this series a year ago.
The Big Non-Con: Arizona comes to Waco on Dec. 7 for an 11 a.m. tip on what will presumably be one of the big games of the day. It's entirely possible both teams could be ranked. It's entirely possible Arizona will be under NCAA investigation by then, too.
Mid-Major Danger: Texas State feels like the most dangerous game, as the Bobcats come to Waco on Nov. 15. Under head coach Danny Kaspar the Bobcats have become a consistent winner. The Bobcats went 24-10 a year ago, reached the Sun Belt Conference Tournament semifinals and played in the CollegeInsider.Com Tournament. And if you're unconcerned, remember that Stephen F. Austin came to Waco and beat the Bears last year.
Big 12 Opener: The Bears host Texas on Jan. 4.
The 'Big' Big 12 stretch: Right out of the gate the Bears are going to find out some things about themselves. After the opener with Texas the Bears head to Texas Tech, followed by a road trip to Kansas and then a home game with Iowa State. After that it's a road trip to Oklahoma State, which should be better this season, followed by a home game against Oklahoma. By then it's time for the Big 12-SEC Challenge and we'll see where the Bears stand.

2019-20 Baylor Schedule
(Home games in Bold; *-Big 12 game)
Date Opponent
Nov. 5 Central Arkansas
Armed Forces Classic (Anchorage, Alaska)
Nov. 8 vs. Washington
Nov. 15 Texas State
Myrtle Beach Invitational (Myrtle Beach, SC)
Nov. 21 vs. Ohio
Nov. 22 vs. Utah or Coastal Carolina
Nov. 24 vs. TBD
Dec. 3 Maryland-Eastern Shore
Dec. 7 Arizona
Big 12-Big East Challenge
Dec. 10 Butler
The Battleground 2K19
Dec. 18 vs. UT Martin
Dec. 30 Jackson State
Jan. 4 Texas*
Jan. 7 at Texas Tech*
Jan. 11 at Kansas*
Jan. 15 Iowa State*
Jan. 18 at Oklahoma State*
Jan. 20 Oklahoma*
Big 12-SEC Challenge
Jan. 25 at Florida
Jan. 29 at Iowa State*
Feb. 1 TCU*
Feb. 3 at Kansas State*
Feb. 8 Oklahoma State*
Feb. 10 at Texas*
Feb. 15 West Virginia*
Feb. 18 at Oklahoma*
Feb. 22 Kansas*
Feb. 25 Kansas State*
Feb. 29 at TCU*
Mar. 2 Texas Tech*
Mar. 7 at West Virginia*