Baylor Bears
Big 12 Football Mailbag: Iowa State Concerns and Where is the Baylor Love?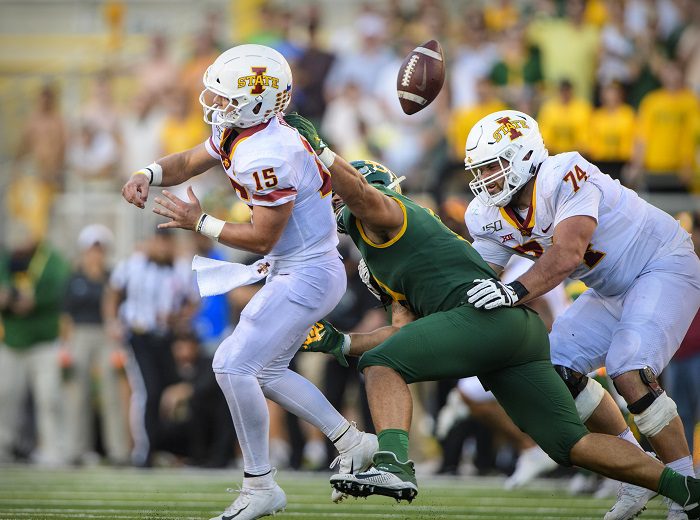 Welcome to the HCS Big 12 mailbag. This mailbag is for all you football junkies out there who root for a Big 12 school who not only have questions about your team, but other teams in the conference as well. So, join me, grab a cold brew or your favorite drink and relax as I answer all your Big 12 questions in my mailbag. For those interested, I will send out a tweet (@Derekduke25) every Monday at noon until last call (No, not 2 AM) at 8 PM CT for you to send in your questions to be answered every Tuesday right here at Heartland College Sports.
I want to thank each one of you who submitted a question this week and for those reading, I am glad you could join me. I am doing this on Monday evening and of course this mailbag wouldn't be nearly as fun without a cold beverage right next to me. Tonight's drink of choice? An ice-cold Samuel Adams. I don't drink beer often this time of year, but it has been so hot and dry down in Texas, I don't have a choice sometimes. Also, feel free to send me booze if you would like. Cheers!
@KBehr68 asks I am thinking it's a bad idea to have your quarterback rush 13 times and all the running backs combine for 15 carries. When is Iowa State going to pick a running back and stick with him?
Duke: I totally understand the frustration. I was covering the game and, in my notes, I had "Why is Brock Purdy leading the team in carries?" I don't think most of those would be considered designed runs because the offensive line for Iowa State in that Baylor game was bad. They couldn't run the football and their pass protection at times was downright awful. What was thought to be a strength of the offense, has been a weakness just about all season long so far. Maybe Brock was seeing ghosts in those first three quarters, but it wasn't pretty to watch them go down 20-0 heading into the final quarter. Even if Iowa State settled on Johnnie Lang, Sheldon Croney Jr., Kene Nwangwu or Breece Hall, that still won't fix the issues of the offensive line. Brock needs to stop with all these carries, or they will start to wear him down in the middle of Big 12 play. Also, KBehr, I may have saw you at the DFW Cyclones tailgate. I was the only idiot in a blue shirt due to me covering the game in Waco.
@Cullen_B12C asks: To continue KBehr's question, who will this Iowa State running back be? I own basically all of Iowa State's running backs in a Big 12 only fantasy football league.
Duke: For those who don't know, I am part of the Big 12 Country podcast with Cullen so be sure to check out the show. Now, to answer this two-person question here, STAY AWAY FROM THE IOWA STATE RUNNING BACKS! I keep going back to the offensive line play but it's true. The push isn't there up front and we saw that clear as day in the Baylor game. I think you should maybe consider making a trade of some sort of finding another back.
@CalebWayne_BD asks: As a WVU fan I am starting to wonder when will Baylor get some love? Even doing a deep dive into the Rice game (points per play, Top, etc.) They were comparable to Texas; they just have a different system and better defense. When should we (fans of the game) start showing love?
Duke: Let me start by saying this. Baylor had one of the worst, if not the worst non-conference schedule in the entire power five. SFA, UTSA and Rice are a combined 2-12 in bad conferences. I honestly don't care what they did against those teams because of how bad they are. Now was the Iowa State win good? Yes, and as of right now, Iowa State isn't the team we thought they were. Heading into the season I thought Iowa State as a top 3 Big 12 team and right now they look like a middle of the pack team at best. With all that said, I think Baylor is the fourth best Big 12 team right now behind Oklahoma, Texas and Oklahoma State. I have a better understating of who those teams are than I do Baylor right now. Now if the Bears take care of business in Manhattan, Kansas against K-State this weekend then they belong in the top 25 next week but even then, I wouldn't jump them above the four spot, if those top three teams win this weekend. The Bears (Like I said in the pre-season) have a chance at being 6-0 heading into Stillwater on October 19th. Their schedule is backloaded and we will find out a lot more about this Baylor team in October more than we did in September.
@chicken_coconut asks: Baylor gets no love, but they have a really good team this year. How many games do they have to win before they break into the top 25?
Duke: Well, like I mentioned in the question above, they should be a stronger consideration for the top 25 heading into this weekend. However, if they take care of Kansas State this weekend (A fringe top 25 team right now) then they will be in the new top 25 on Sunday. Going back to my earlier point in the previous question, if Baylor beats Kansas State on the road, then they will likely head into Stillwater at 6-0 and possibly be a top 20 team by then. Now how long will they be in the top 25 for? That's a whole other debate for down the road. Also, where did you come up with the name chicken coconut?
@TedFlintKansas asks: Odds Iowa State wins three in a row heading into the Okie State game? Also, why do they hate the term Okie State?
Duke: Hello Ted. Glad you could join the mailbag. I like Iowa State's chances at winning three straight heading into the Oklahoma State game. During the three game stretch they host TCU and West Virginia before traveling to Lubbock. Without a doubt the toughest game out of those is the TCU game this weekend. I am still not sure how good TCU is, but I do know that their defense is for real. Their offense is still very much up in the air for me (Much like Iowa State's). Sure, they looked good against Kansas but how much can I really take away from that game? Regardless, this will be a low scoring defensive battle, but I will give the Cyclones the slight edge at home. As for the West Virginia and Texas Tech games, those are probably the two easiest opponents outside of Kansas. I'll say 75% odds they win three in a row.
As for the whole "Okie State" thing you would have to ask an Oklahoma State fan. I have no idea how that works. If you are an Oklahoma State fan reading this, let Ted know why you hate it or if you even hate it at all.
@Vectoze_ asks: Which Big 12 non-conference rivalry do you want to see renewed?
Duke: This one is easy. Texas and Texas A&M without a doubt. Tom Herman and AD Chris Del Conte have made it public that they want to bring the game back. Now it's up to Jim Bob, I mean Jimbo Fisher and AD Ross Bjork to make it happen on their end. What will probably happen is some excuse about the "SEC grind" or some other BS. The Aggies will play Abilene Christian, Fresno State, North Texas, Colorado, Kent State, New Mexico, Sam Houston State, UMass, Appalachian State and Miami over the next three seasons. I am sure the Aggies could afford to buy out one of those opponents with all that money they talk about having but instead, they will likely hide behind the SEC logo and do nothing.
Powered by RedCircle
**We now have FREE Big 12 Forums here at Heartland College Sports. Go sign up here and join our conversation! **