Big 12 News
Sooners Spirit Squad told Not to do 'Horns Down'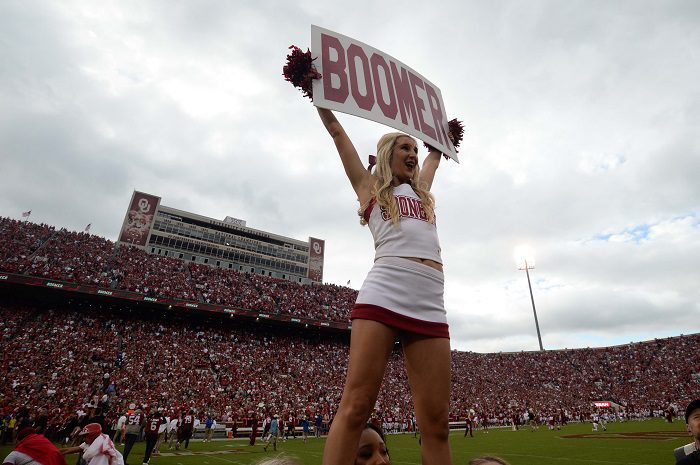 With the OU-Texas game right around the corner, OU spirit squad members have been "heavily encouraged" not to pHerform the "horns down" hand sign at athletic events or on any social media platform, according to OU Daily.
'Horns Down' has become a point of contention in the Big 12 in recent years, even though it's been a staple for Oklahoma fans going back 50 years. Last year the conference made it official that Horns Down would be a penalty in the Big 12 Championship game.
Per the report from OU Daily: Seven student members from across OU's spirit teams, including the cheer squad, RUF/NEKS, Lil' Sis and mascots programs, have told The Daily they've been instructed by OU Spirit Coordinator Phil O'Neill not to use the hand sign. The students, some of whom have graduated and some who remain in the program, all shared the information on the condition of anonymity. Their identities are known to The Daily."
The Daily shows a text message from O'Neill from last year asking members to take down any photos on social media of them with Horns Down. Also, sources tell the Daily that Horns Down was acceptable as recently as the 2017-18 school year.
In a statement, AD Joe Castiglione said, "First of all, as a matter of record, our approach to the purpose of all spirit squads is to support, cheer, create energy and properly represent our team. There is a consistency throughout all 'official groups' to recognize how our purpose and core values connect to the expectations of those wearing any University of Oklahoma uniform. That said, each year leaders of those groups educate their members of those expectations. This is not new. It's a practice that's been in place for a long time. Again, their job is to cheer for our team and model high standards of sportsmanship."
OU-Texas is set to kick off at 11 a.m. on Saturday, October 12th.
**We now have FREE Big 12 Forums here at Heartland College Sports. Go sign up here and join our conversation! **