Big 12 Previews
Big 12 Basketball Schedule Analysis 2019-20: Kansas Jayhawks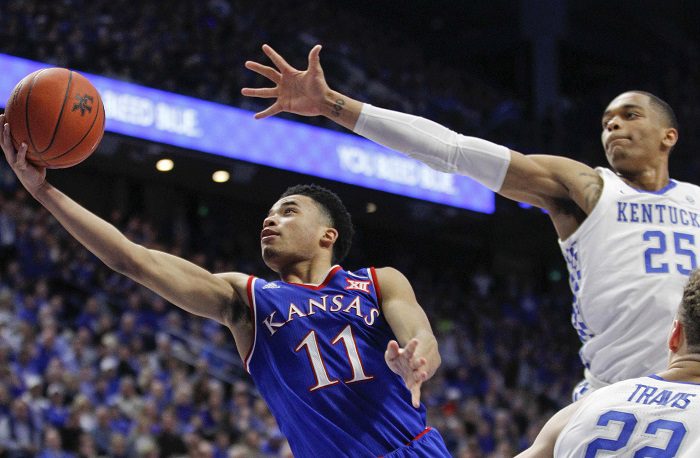 Leading up to Big 12 media days in Kansas City Heartland College Sports will analyze each of the Big 12 men's basketball schedules. Today it's the Kansas Jayhawks. 
Season opener: Against Duke at Madison Square Garden on Nov. 5. That's all. Just your typical season-opening game against two of the game's greatest programs. Nothing to see here.
Tournaments: The game against Duke is part of the State Farm Champions Classic, so it falls in this category. But the Jayhawks will take a trip to the islands for the Maui Invitational, and their schedule looks pretty cake until the third round, where it could see either UCLA or BYU. And while the game with Kansas City isn't a tournament game, it does represent the Jayhawks' annual non-conference game at the Sprint Center in Kansas City.
The Big 12/Big East Game: The Jayhawks' previously-arranged meeting with Villanova on Dec. 21 will be folded into this inaugural cross-conference affair. Kansas won in Lawrence last year.
The Big 12/SEC Game: Well, no Kentucky like last year. But Tennessee isn't a shabby opponent for the Jayhawks on Jan. 25 in Lawrence.
The Big Non-Con: Um, so that Duke game? That seems pretty big. But don't overlook the Jayhawks' Dec. 29 game at Stanford. Maples Pavilion is a hard place to play.
Mid-Major Danger: This is the part where you kind of shrug your shoulders because you realize it's pretty unreasonable for a Mid-Major team to beat Kansas. If any team can do it, it's probably UNC-Greensboro, which went 29-7 and went two rounds deep in the NIT last year. UNC-G travels to Lawrence on Nov. 8, three days after Kansas gets back from New York City to play Duke. Maybe they catch the Jayhawks napping?
Big 12 Opener: Kansas hosts West Virginia on Jan. 4.
The 'Big' Big 12 stretch: Three of Kansas' first five games are on the road, so if the Jayhawks haven't gelled as a team by then those road games against Iowa State, Oklahoma and Texas could present some problems. The stretch ends with KU's first game against Kansas State. So the first six games are critical for KU to get off to a good start.  
2019-20 Kansas Schedule
(Home games in Bold; *-Big 12 game)
State Farm Champions Classic (New York City, NY)
Nov. 5 vs. Duke
Nov. 8 UNC Greensboro
Nov. 15 Monmouth (NJ)
Nov. 19 East Tennessee State
Maui Invitational (Lahaina, Hawaii)
Nov. 25 vs. Chaminade
Nov. 26 vs. UCLA/BYU
Nov. 27 vs. TBA
Dec. 7 Colorado
Dec. 10 UW Milwaukee
Dec. 14 vs. UMKC (at Kansas City, MO)
Big 12-Big East Challenge
Dec. 21 at Villanova
Dec. 29 at Stanford
Jan. 4 West Virginia*
Jan. 8 at Iowa State*
Jan. 11 Baylor*
Jan. 14 at Oklahoma*
Jan. 18 at Texas*
Jan. 21 Kansas State*
Big 12-SEC Challenge
Jan. 25 Tennessee
Jan. 27 at Oklahoma State*
Feb. 1 Texas Tech*
Feb. 3 Texas*
Feb. 8 at TCU*
Feb. 12 at West Virginia*
Feb. 15 Oklahoma*
Feb. 17 Iowa State*
Feb. 22 at Baylor*
Feb. 24 Oklahoma State*
Feb. 29 at Kansas State*
Mar. 4    TCU*Mar. 7    at Texas Tech*
**We now have FREE Big 12 Forums here at Heartland College Sports. Go sign up here and join our conversation! **