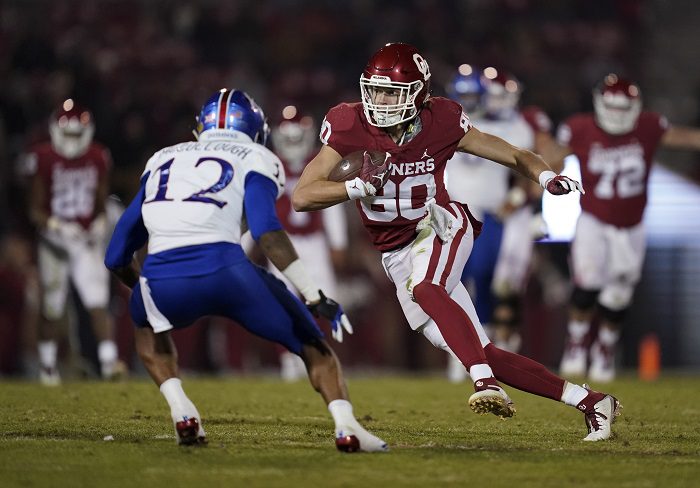 Here is everything you need to know about Saturday's showdown between the Oklahoma Sooners and the Kansas Jayhawks.
Game Info
11 a.m. Central Time, Saturday, Oct. 5, 2019, David Booth Kansas Memorial Stadium, Lawrence, Kan.
TV: ABC (Dave Pasch, Greg McElroy, Tom Luginbill)
Radio: Oklahoma: KOMA 1520 AM/KRXO 107.7 FM, Sooner Sports Network, Sirius/XM 81; Kansas: Jayhawk Radio Network, Sirius Ch. 108; XM Ch. 199; Internet 953.
Opening line: Oklahoma by 35.
Key players
Oklahoma (4-0, 1-0 in Big 12)
QB Jalen Hurts: Hurts has recorded a passing efficiency rating of at least 245.0 in all four games this season and is the only FBS player since at least 1996 to record more than two such outings (min. 18 attempts) in a season. He leads the nation with his 249.9 season rating. And that doesn't even take into account his ability to run the football. Hurts is the third-leading rusher in the Big 12 with 443 yards and tied for second in the conference with five rushing touchdowns.
WR Charleston Rambo. The OU passing offense is more than just CeeDee Lamb, as Rambo is taking the pressure off one of the game's most recognizable receivers. Rambo leads the nation with 28.7 yards per catch and averages 93.2 yards per game, good for No. 24 in the country. Rambo had four catches of at least 48 yards this season and has emerged as a serious deep threat for the Sooners. So, yeah, now they have two of them.
LB Kenneth Murray. The linebacker has put up the most tackles of any Sooner to this point, with 31 overall (12 solo). He also has four tackles for loss, 1.5 sacks, a pass breakup and a quarterback hurry. He's one of the most relentless defenders in the Big 12 this season.
DE Jalen Redmond. In a well-balanced pass rush, Redmond, a 266-pound redshirt freshman, has led the way with two sacks in four games, and that's despite just one start to this point. He also has 10 tackles, but five of them are for a loss. He's turned into one of OU's best behind-the-line-of-scrimmage defenders.
Kansas (2-3, 0-2 in Big 12)
QB Carter Stanley: Stanley had a rough game against TCU last week, but it's unlikely he loses the starting job at this point. The senior is efficient, having completed 65.1 percent of his passes this season, and has a solid touchdown-to-interception ratio (9 to-4). Plus, he seems to have great command of Kansas' offensive scheme, which is generally built around getting the ball to running back Pooka Williams.
RB Pooka Williams. TCU held one of the conference's most versatile stars to under 60 yards of total offense last weekend. But Williams remains the skill player to watch on Saturday, if for no other reason than he rushed for 252 yards against the Sooner defense a year ago. The Sooners will do their best to contain him, but he only needs a crease to be dangerous.
DB Hasan Defense. What a great name for a defensive player. Defense, a senior, recorded his first interception return for a touchdown against Indiana State and, at this moment, stands second on KU's all-time list for interception return yardage with 192 yards, behind on Aquib Talib (322). The Sooners will have to keep tabs on him throughout the contest.
DE Darrius Morganne. Morganne has 2.5 sacks, 2.5 tackles for loss and 2 quarterback hurries among his 21 tackles this season, 14 of which have been solo. The Jayhawks run a lot of players through their front line and Morganne has been one of the most consistent.
Key storylines
Oklahoma
From the Oklahoma game notes:
Each of the last 14 meetings in the Oklahoma-Kansas series have been OU victories by at least 15 points. The Sooners have outscored the Jayhawks 603-186 in those contests (average of 43-13) and have outgained them 6,934 yards to 3,679 (average of 495-263). The last five games have seen OU win by a combined score of 258-60. KU has been held to seven or fewer points in four of the last five meetings and six of the last seven.
Any other questions?
Kansas
The Jayhawks were most assuredly exposed as a team that needs improvement on both sides of the ball against TCU. The Jayhawks defense gave up 51 points and more than 600 yards in total offense. The Jayhawk offense scored 14 late points and ended up with 159 yards of total offense, but Williams had less than 60 total yards and Velton Gardner actually ended up as the leading rusher with 61 yards. Kansas had the nice start with the win over Boston College and a 2-1 record going into Big 12 play. But the loss to TCU was the reality check it needed (and frankly, knew it had coming). 
Prediction
Oklahoma 65, Kansas 14
The Sooners will cover, Hurts will pile up a lot of yards and Jayhawks fans will not leave the stadium happy. Let's not sugarcoat it. This could be the conference's most lopsided game of the season.
**We now have FREE Big 12 Forums here at Heartland College Sports. Go sign up here and join our conversation! **