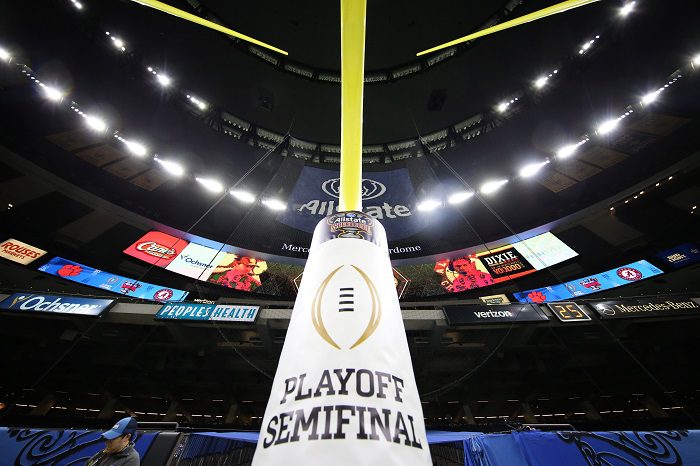 The postseason is the ultimate celebration for teams to celebrate their hard work through the course of the year. As we all know, the postseason for college football features a four-team playoff and several bowl games. Each conference has agreements with certain bowl games to send their respective teams to. Many websites use projections to show where they predict each team to go. Instead of projections, here is a version more similar to "bracketology". This is a live look at where teams would be if the season ended today.
The bowl picture is still quite muddled up. We had to use a tiebreaker to determine the fates of four teams. Iowa State ends up going from being left out to the conference's No.4 spot thanks to their win over TCU, which crowns them the winner of the four-team tiebreaker. West Virginia takes second in the muddled up tiebreaker because of their results against a schedule filled with Power Five conference opponents. Meanwhile, TCU takes a massive drop because of their loss to Iowa State.
Meanwhile, Oklahoma State drops completely out of the Big 12 bowl slots. The Cowboys and Kansas State are in bowls this week, but that's a big thanks to the SEC lovefest from AP voters. In addition to the SEC, the Big Ten also failed to fill their bowl slots. This is more for mediocrity than a voter's lovefest though.
No changes for Oklahoma, Baylor and Texas. All three won. You can expect that picture to be shaken up next week as the Red River Shootout is Saturday. Baylor fans also might get the last laugh at our fearless leader, Pete Mundo. Pete ranked Baylor last in the Power Rankings prior to the start of conference play for their weak non-conference schedule. If Texas beats Oklahoma, the Bears may very well find themselves in the Sugar Bowl slot. Baylor is hosting Texas Tech.
As for Kansas, they are guaranteed to be out of the bowl picture for two weeks. It will likely be much longer than that with a road trip to Texas Oct. 19 as their next game.
Alas, the current bowl picture is below.
College Football Playoff
Peach Bowl Semifinal: No.1 Alabama (5-0) vs. No.4 Ohio State (6-0)
Fiesta Bowl Semifinal: No.2 Clemson (5-0) vs. No.3 Georgia (5-0)
*Ohio State and Georgia are tied for third in the AP Poll. The No.4 represents the would-be College Football Playoff ranking.
Sugar Bowl, Big 12 Champion vs. SEC Champion
No. 6 Oklahoma (5-0, 2-0 in Big 12) vs. No.7 Florida (6-0, 3-0 in SEC)
-Oklahoma is undefeated and ranked higher than Baylor. Therefore, the Sooners are the current leader of the Big 12.
-Florida is 3-0 in SEC play.
Alamo Bowl, Big 12 No.2 vs. Pac-12 No.2
No. 22 Baylor (5-0, 2-0 in Big 12) vs. Arizona (4-1, 2-0 in Pac-12)
-Baylor remains undefeated, thus they are the leader of the Big 12 behind Oklahoma. The Bears are ranked lower than No.9 Notre Dame, the last team in a New Year's Six Bowl.
-Oregon is in the Rose Bowl. Arizona is the only other unbeaten in Pac-12 play.
Camping World Bowl, Big 12 No.3 vs. ACC first tier selection
No. 11 Texas (4-1, 2-0 in Big 12) vs. No.10 Wake Forest (5-0, 1-0 in ACC)
-The loss to LSU keeps Texas behind Baylor in the standings.
-Wake Forest is 5-0 overall, but they have only played one conference game. The Demon Deacons enter the AP Poll this week, and the future schedule could easily keep them undefeated when they enter Death Valley Nov. 16.
Texas Bowl, Big 12 No.4 vs. SEC first tier selection
Iowa State (3-2, 1-1 in Big 12) vs. No.24 Texas A&M (3-2, 1-1 in SEC)
-There are four teams in the Big 12 with identical records. Iowa State holds the tiebreaker with their victory over TCU.
-Texas A&M and Iowa State aren't really rivals, so the Aggies are fine playing them. It creates the illusion of a Texas A&M home game.
Liberty Bowl, Big 12 No.5 vs. SEC first tier selection
West Virginia (3-2, 1-1 in Big 12) vs. Mississippi State (3-2, 1-1 in SEC)
-West Virginia scores the Liberty Bowl berth over Texas Tech as the Mountaineers have played four Power Five conference teams, hold a 2-2 record against them, and have a road victory against Kansas. Tech is 1-2 against Power Five teams with the lone victory coming at home.
-Mississippi State is the last bowl eligible team remaining for the SEC.
Cheez-It Bowl, Big 12 No.6 vs. Pac-12 No.7
Texas Tech (3-2, 1-1 in Big 12) vs. California (4-2, 1-2 in Pac-12)
-Texas Tech holds the tiebreaker over TCU in the sense that TCU lost to Iowa State. This gives TCU an 0-1 record against the three other teams with identical records while Tech is 0-0.
-Cal defeated Washington, so the Golden Bears get the nod over the Huskies.
First Responders Bowl, Big 12 No.7 vs. Conference USA selection
TCU (3-2, 1-1 in Big 12) vs. Western Kentucky (3-2, 3-0 in Conference USA)
-TCU is here because they are 0-1 against the three other teams with identical records.
-Western Kentucky has played three Conference USA games and won all of them. By default, they are considered the Conference USA leader. No other team has played as many conference games.
Frisco Bowl, The American selection vs. At-Large
No. 23 Memphis (5-0, 1-0) vs. Oklahoma State (4-2, 1-2 in Big 12)
-Memphis scores the Frisco Bowl berth because a Power Five Conference team is basically guaranteed. The ACC had two left over. The Big 12 had two left over. The Pac-12 had two left over.
-Oklahoma State is selected by the Frisco Bowl because of the school's proximity to the bowl game.
Belk Bowl, ACC first tier selection vs. SEC selection
North Carolina (3-3, 2-1 in ACC) vs. *Kansas State (3-2, 0-2 in Big 12)
-North Carolina receives the Belk Bowl with their winning ACC record.
-Kansas State fills in because the SEC has run out of bowl slots.
Ineligible: Kansas (2-4, 0-3 in Big 12)
-No one expected Kansas to take the lead against Oklahoma, much less win. The Jayhawks did gain a lead though. Kansas could be 4-2 if they defeated Coastal Carolina and West Virginia. At 3-3, Kansas would be left out of a bowl this week. Liberty and Nevada have winning records, but were left out.
Powered by RedCircle
**We now have FREE Big 12 Forums here at Heartland College Sports. Go sign up here and join our conversation! **