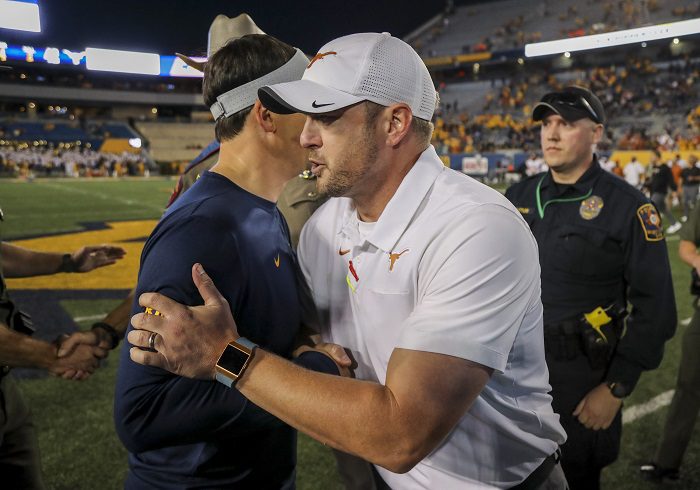 Ah yes, it's that time of year when the Big 12 Football Power Rankings return to Heartland College Sports. A reminder that these can flux drastically from week to week. These are not supposed to be a mirror image of that week's standings. It's based on the previous week's performance and the opponent when compared to the rest of the conference. So with Week 6 in the books, let's get into this week's Big 12 Power Rankings.
1. Oklahoma Sooners (Last Week: 1)
The Sooners schedule has been a lay up to this point, but to their credit they've had no problems dismantling their opponents. Sure, it got off to a bit of a rocky start against KU on Saturday, but still, OU went on to win by a very comfortable 25 points. OU keeps finding studs in the backfield as well, with Rhamondre Stevenson barreling his way to a team-high 109 rushing yards. Now all the attention turns to this week's huge Red River Rivalry game against the Texas Longhorns.
2. Texas Longhorns (Last Week: 2)
The Longhorns were on the ropes early in Morgantown, but like OU, once they settled in things clicked, however it took them until the second half to really get going and roll to a 42-31 win over WVU. The secondary is depleted, but picked off Austin Kendall four times, including three times in the second half when the Mountaineers were only down a score. Sam Ehlinger then took care of the rest for UT, with two rushing and two passing touchdowns. As for Texas, it's on to the Cotton Bowl.
3. Baylor Bears (Last Week: 4)
The Bears received a pair of second-place votes from the HCS crew this week, but it was not enough to get them above the Longhorns. But Baylor is now 2-0 in conference play and 5-0 overall for the first time since 2016. Matt Rhule's team has a very balanced offense led by Charlie Brewer and a ton of options at wide receiver and a defense that has been very impressive with a rabid front seven that held K-State to 3.1 yards per carry. Things are definitely looking up in Waco.
4. Iowa State Cyclones (Last Week: 7)
It's October, meaning it's Iowa State's month. Matt Campbell's team is 8-0 this month dating back to 2017 and they picked up exactly where they left off last year with a 49-24 win over TCU. Brock Purdy had himself a game with two passing and two rushing touchdowns, winning our Big 12 Offensive Player of the Week award. The defense overwhelmed true freshman Max Duggan and while there are some concerns at cornerback, ISU looks to be progressing rapidly.
5. Texas Tech Red Raiders (Last Week: 9)
So… raise your hand if you saw this coming? Texas Tech jumping out to a 20-0 lead over Oklahoma State on their way to a 45-35 win in Lubbock. Jett Duffey looked like Tom Brady throwing dimes all over the field to a slew of wide receivers. But the defense was also outstanding for Tech, racking up seven sacks of Spencer Sanders and 14 tackles for loss. Matt Wells' guys could've rolled over last week after the crushing loss to OU, but they bounced back in a big way and the staff deserves credit for that.
6. Oklahoma State Cowboys (Last Week: 3)
The Cowboys had a great win last week against Kansas State, but had a huge letdown against Texas Tech on Saturday. Spencer Sanders does not appear to be progressing as quickly as many would like and his offensive line certainly isn't helping the cause after the aforementioned seven sacks and 14 tackles for loss. The secondary also had its issues for Oklahoma State on Saturday. Mike Gundy fell to 17-10 the last three seasons as a favorite. Not a good number.
7. TCU Horned Frogs (Last Week: 6)
TCU went to Ames and it didn't go well on either side of the ball. QB Max Duggan looked like a true freshman and the defense had issues all afternoon. They couldn't get much pressure on Purdy and had tackling problems all afternoon in Ames. Also, Jalen Reagor is simply not touching the ball enough on offense. He's one of the most explosive players in the Big 12 and needs to be in on the action more. The Horned Frogs have a lot to work out if they want this season to turn into something special.
8. West Virginia Mountaineers (Last Week: 8)
Give WVU credit. They were the less-talented team on Saturday, but gave the Longhorns all they could handle. The home crowd was fired up as well with Texas coming to town. WVU got off to a great start, but Austin Kendall ended the game with four interceptions as his accuracy continues to be a concern. West Virginia's defense is pretty darn good, but the offense remains a question mark. But as I thought might be the case early in the season, WVU could be the most-improved Big 12 team by season's end.
9. Kansas State Wildcats (Last Week: 5)
K-State appears to be trending in the opposite direction after an 0-2 start to Big 12 play. The Wildcats struggled Saturday in their loss to the Bears. They aren't built to come from behind and there is a severe lack of explosion on offense. On top of that, the veteran offense line was pushed around by the Baylor front seven. This is what we thought K-State would be in Chris Klieman's first season, but of course there is time to turn things around.
10. Kansas Jayhawks (Last Week: 10)
Ah, Kansas. KU can take this home with the OU game on Saturday: they are the only team thus far to hold a lead over the Sooners. But they still lost by 25 points. Les Miles appears to have his guys still playing hard, but they're just not very talented, and even less talented with RB Khalil Herbert reportedly leaving the team so he can use his redshirt and transfer. But let's see if Miles can make some fun out of the rest of the Big 12 schedule.
Powered by RedCircle
**We now have FREE Big 12 Forums here at Heartland College Sports. Go sign up here and join our conversation! **