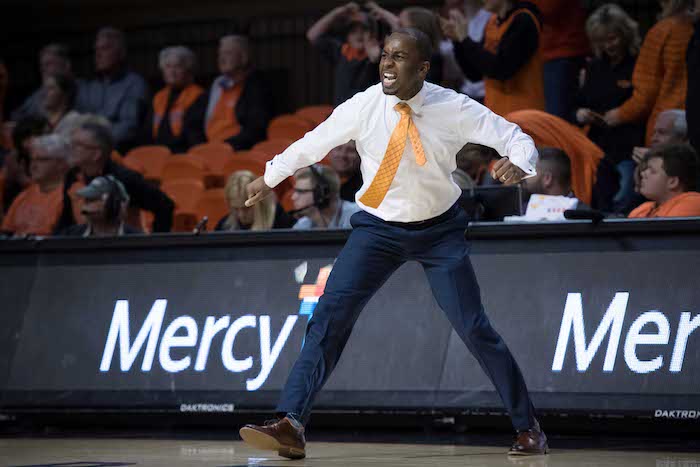 Leading up to Big 12 media days in Kansas City Heartland College Sports will analyze each of the Big 12 men's basketball schedules. Today it's the Oklahoma State Cowboys.
Season opener: The Cowboys open the season at home on Nov. 6 against Oral Roberts. It's the beginning of a solid home non-conference schedule for the Cowboys.
Tournaments: OSU will participate in the NIT Season Tip-off, with the chance to play Syracuse and either Penn State or Ole Miss.
The Big 12/Big East Game: Georgetown comes to Stillwater on Dec. 4.
The Big 12/SEC Game: The Cowboys' trip this year is to old Big 12 rival Texas A&M on Jan. 25.
The Big Non-Con: Syracuse, Georgetown and Wichita State all present unique challenges. But that road tilt with Houston on Dec. 15 should give is a pretty clear indication of where the Cowboys are at after the first six weeks of the season.
Mid-Major Danger: Yale ought to be a tough test for the Cowboys when the Bulldogs hit town on Nov. 17. The Bulldogs were 22-8 last year, winning the Ivy League Tournament and reaching the NCAA Tournament.
Big 12 Opener: The Big 12 schedule-makers did not do the Cowboys any favors, slating a road trip to defending Big 12 regular-season champ Texas Tech on Jan. 4.
The 'Big' Big 12 stretch: For a team like Oklahoma State, which is coming off a sluggish 2018-19, a quick start is crucial. So the first six games of the Big 12 slate could set the tone for the season. After the road trip to Texas Tech, the Cowboys host West Virginia, travel to TCU, host Texas and Baylor in the space of four days and then travel to Iowa State. A .500 record by then would be a solid start for the Cowboys.

2019-20 Oklahoma State Schedule
(Home games in Bold; *-Big 12 game)
Nov. 6 Oral Roberts
Nov. 9 Kansas City
Nov. 13 at Charleston
Nov. 17 Yale
Nov. 22 Western Michigan
NIT Season Tip-off (Brooklyn, NY)
Nov. 27 vs. Syracuse
Nov. 29 vs. Penn State/Ole Miss
Big 12-Big East Challenge
Dec. 4 Georgetown
Dec. 8 Wichita State
Dec. 15 at Houston
Dec. 21 vs. Minnesota (at Tulsa, OK)
Dec. 29 Southeastern Louisiana
Jan. 4 at Texas Tech*
Jan. 6 West Virginia*
Jan. 11 at TCU*
Jan. 15 Texas*
Jan. 18 Baylor*
Jan. 21 at Iowa State*
Big 12-SEC Challenge
Jan. 25 at Texas A&M
Jan. 27 Kansas*
Feb. 1 at Oklahoma*
Feb. 5 TCU*
Feb. 8 at Baylor*
Feb. 11 at Kansas State*
Feb. 15 Texas Tech*
Feb. 18 at West Virginia*
Feb. 22 Oklahoma*
Feb. 24 at Kansas*
Feb. 29 Iowa State*
Mar. 4 Kansas State*
Mar. 7    at Texas*
**We now have FREE Big 12 Forums here at Heartland College Sports. Go sign up here and join our conversation! **