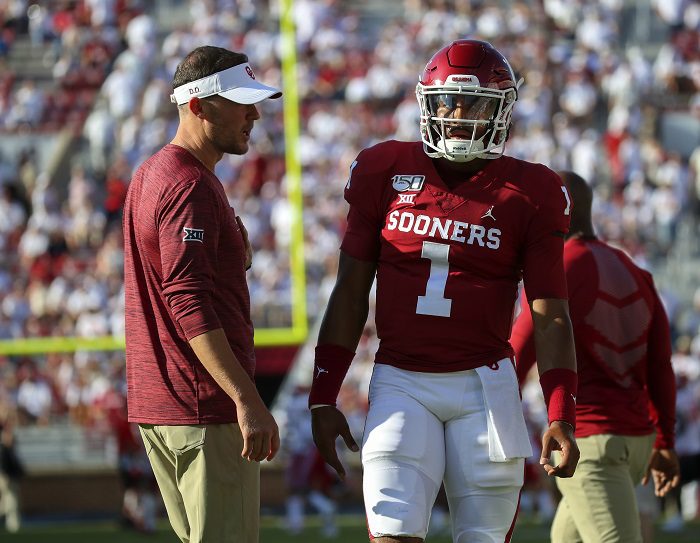 Welcome to the HCS Big 12 mailbag. This mailbag is for all you football junkies out there who root for a Big 12 school who not only have questions about your team, but other teams in the conference as well. So, join me, grab a cold brew or your favorite drink and relax as I answer all your Big 12 questions in my mailbag. For those interested, I will send out a tweet (@Derekduke25) every Monday at noon until last call (No, not 2 AM) at 8 PM CT for you to send in your questions to be answered every Tuesday right here at Heartland College Sports. This week's mailbag was so full, I had to break it up into two parts so if you don't see your question in today's mailbag, look for it in part two.
I want to thank each one of you who submitted a question this week and for those reading, I am glad you could join me. I am doing this on Monday evening and of course this mailbag wouldn't be nearly as fun without a cold beverage right next to me. Tonight's drink of choice? An ice-cold Samuel Adams. I don't drink beer often this time of year, but it has been so hot and dry down in Texas, I don't have a choice sometimes. Cheers!
@mitchlusty asks: Is there a chance that an undefeated Oklahoma team doesn't make it into the playoff and the committee would go with two SEC teams over them? Assuming Clemson and Ohio State run the table.
Duke: First off, you may be listening to way too much Paul Finebaum because that's the only moron I know that would want two SEC teams in the playoff. In your scenario, there would be three undefeated teams for sure in Oklahoma, Clemson and Ohio State which means they go through the regular season undefeated and win their conference championships. Those would be three locks to get in without a doubt in my mind. If you go undefeated and win your conference, you are in. It would be hard two throw two SEC teams in because that means one team has a loss and wouldn't win their conference. So, in your scenario, it would be almost impossible unless all the SEC bagmen put their wallets together and start paying off the committee, which is always possible, I guess. This next part is non-football related but your bio on Twitter says that you once ate 24 Arby's sauce packets. I honestly didn't know people still ate at Arby's but still, congratulations on the accomplishment.
@Shroudedllama asks: Do you have a fire extinguisher I can spray on the Oklahoma State fan base?
Duke: I am usually not one for putting out fires as much as I am to start them whether it's burning branches in my yard or lighting up some fireworks on New Year's Eve. I have seen a lot of commotion going on among the Oklahoma State fan base because some people wanted Spencer Sanders to come out of the Texas Tech game to be replaced with Dru Brown, WHO WE DON'T KNOW MUCH ABOUT AT ALL. Here is the thing, so what, you take Spencer out of that game, is Dru Brown coming back to win that ball game or would you rather Spencer just learn from this experience? Why would you want to kill his confidence even more if you were likely to lose the game anyways? Ok, let's say they throw Dru Brown and he does well, does that fix everything? No, it does not and ok, so maybe it could change the season from a 7- or 8-win season to maybe a 9-win season? Is that worth it? Hell no. This is Spencer Sanders team and he is a redshirt freshman for crying out loud. There is going to be some growing pains along the way and guess what, soon enough he will be one of the best quarterbacks in the Big 12 by the time his college career is done whenever that may be. Spencer Sanders is going to be a serious force to be reckoned with in this conference and it is not a matter of if but when.
@chicken_coconut asks: 1. Who will face Oklahoma in the title game, Texas, Baylor or Iowa State? 2. Will Tech and WVU make a bowl game? 3. When do the Cyclones get some much-deserved ranking love, Brock Purdy and company are legit!
Duke: I may need to crack open another beer for this one (Which I did) and I will get through this list without boring you to death, but I can't make any promises at this point. So, let's start with question one. Out of Texas, Baylor and Iowa State, I would have their chances in the exact order you just gave me as of right now. Texas is still my clear number two team in the Big 12 and they could possibly take control this weekend if they beat the Sooners in Dallas. It's hard to say that they have not been impressive so far this season and QB Sam Ehlinger is a top quarterback in the Big 12 and in the country. Baylor looks solid right now and will get tested soon because their schedule is absolutely backloaded as they must play Oklahoma State, Oklahoma and Texas in their final six games. The same goes for Iowa State but since they have already lost to Baylor, that's why I put them last out of these three teams.
2. I'll say Texas Tech finishes 6-6 while West Virginia finishes either 4-8 or 5-7.
3. Well, Brock Purdy has been playing lights out going back to the ULM game and in the second half of the Baylor game along with his performance against TCU last weekend. Go ahead and look at the calendar. It's Brocktober. Since the 2017 season, I believe Iowa State is undefeated in the month of October. There is just something glorious about this month and my birthday of course.
@KBehr68 asks: If, Big IF, Iowa State linebacker Vance O'Rien keeps up the pace, will he be Big 12 defensive player of the year?
Duke: That is a great question KBehr because that is probably the first time his name has been brought up for that award or even in this mailbag which is kind of crazy to think about. Vance is playing at an extremely high level and as of right now, he leads the Big 12 in sacks (6.5) and ranks 13th in tackles (34). The tackles won't matter as much because if he finished the season leading the Big 12 in sacks, then he will likely be a serious candidate and a possible favorite to win the award. However, he would not be my Big 12 defensive player of the year right now. Vance is in my top three for sure, but I would put LB Garret Wallow (TCU) and DT James Lynch (Baylor) ahead of him. Wallow is a tackling machine who is second in the conference it total tackles at leads the Big 12 in tackles for loss. Meanwhile, people need to start looking at James Lynch from Baylor. He is a defensive tackle who has six sacks on the year and has 8.5 tackles for loss. Keep in mind, he isn't playing defensive end, he is playing defensive tackle which is a very tough position to rack up stats at. 
@scriv62 asks: Is Texas Tech's defense better than their offense?
Duke: Man, this is a tough one because they rank 7th in scoring offense and 6th in scoring defense in the conference. Not to mention, it is still early in the season as we have just wrapped up the second week in conference play. Let's throw away those first two games against Montana State and UTEP because those are bad teams and stats from that game mean basically nothing at this point. So, that leaves the Arizona, Oklahoma and Oklahoma State games. In the Arizona game they lost 28-14 and while the defense gave up a ton of rushing yards, giving up only 28 on the road isn't terrible. Now the Oklahoma was just flat out bad all around as they lost 55-16. Both sides of the ball were awful in that game. Now that leaves the Oklahoma State game from this past weekend where they won 45-35. Sure, the 45 points looks good, but the Tech defense forced five turnovers that really helped the offense out and put them in some great spots. Not to mention, LB Jordyn Brooks who had 19 tackles. With that said, I would have to lean defense here but it's close. Maybe when Alan Bowman comes back that will change.
**We now have FREE Big 12 Forums here at Heartland College Sports. Go sign up here and join our conversation! **