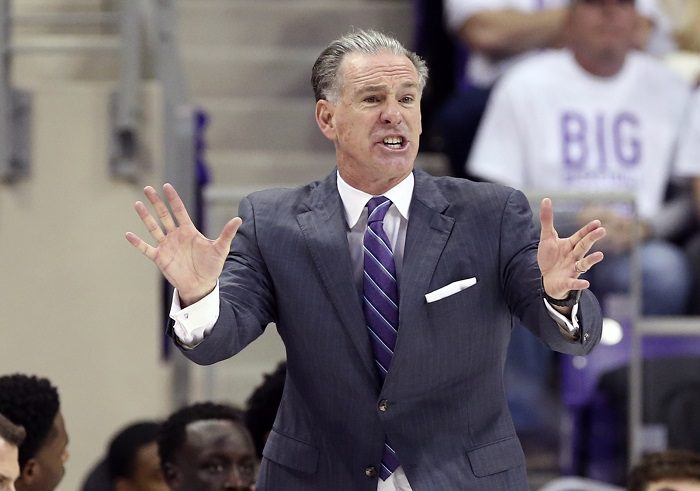 Leading up to Big 12 media days in Kansas City Heartland College Sports will analyze each of the Big 12 men's basketball schedules. Today it's the TCU Horned Frogs. 
Season opener: TCU opens on Nov. 7 with a curious opponent — Division III program Southwestern out of Georgetown, Texas.
Tournaments: TCU has just one tournament this year, a trip to Las Vegas for the MGM Resorts Main Event where the Horned Frogs will start with Clemson and then face either Colorado or Wyoming.
The Big 12/Big East Game: TCU has to wait all the way until Dec. 22 to face Xavier, but at least it happens at home.
The Big 12/SEC Game: TCU hits to the road to face Arkansas on Jan. 25.
The Big Non-Con: It's probably USC, which hits Fort Worth on Dec. 6. Not only is it a game against a Pac-12 program, but the Horned Frogs will play their first game at Fort Worth's new Dickies Arena.
Mid-Major Danger: Um, yeah that's going to be UC Irvine. It won 31 games last year, won the Big West Tournament title and sent home Kansas State in the NCAA Tournament before losing to Oregon.
Big 12 Opener: The Horned Frogs will host Big 12 Tournament defending champion Iowa State on Jan. 4.
The 'Big' Big 12 stretch: The stretch after the Big 12-SEC Challenge game with Arkansas State is worth watching. After a home game with Texas, the Horned Frogs have two straight road games with Baylor and Oklahoma State. Then Kansas comes to Fort Worth, followed by a road game at Texas Tech. Staying out of the first day of the Big 12 Tournament may be on the line here.
2019-20 TCU Schedule
(Home games in Bold; *-Big 12 game)
Nov. 7 Southwestern (TX)
Nov. 12 Louisiana
Nov. 18 Air Force
Nov. 21 UC Irvine
MGM Resorts Main Event (Las Vegas, NV)
Nov. 24 vs. Clemson
Nov. 26 vs. Colorado/Wyoming
Dec. 3 Illinois State
Dec. 6 USC
Dec. 11 Winthrop
Dec. 14 Lamar
Big 12-Big East Challenge
Dec. 22 Xavier
Dec. 30 George Mason
Jan. 4 Iowa State*
Jan. 7 at Kansas State*
Jan. 11 Oklahoma State*
Jan. 14 at West Virginia*
Jan. 18 at Oklahoma*
Jan. 21 Texas Tech*
Big 12-SEC Challenge
Jan. 25 at Arkansas
Jan. 29 Texas*
Feb. 1 at Baylor*
Feb. 5 at Oklahoma State*
Feb. 8 Kansas*
Feb. 10 at Texas Tech*
Feb. 15 Kansas State*
Feb. 19 at Texas*
Feb. 22 West Virginia*
Feb. 25 at Iowa State*
Feb. 29 Baylor*
Mar. 4    at Kansas*
Mar. 7    Oklahoma*
**We now have FREE Big 12 Forums here at Heartland College Sports. Go sign up here and join our conversation! **