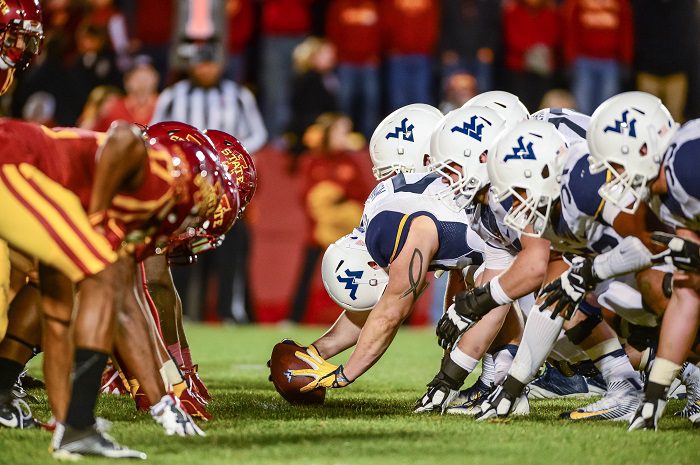 Here is part two of this week's mailbag. Enjoy and cheers!
@Eracer41 asks: Is the two deep at Z wide receiver of T.J. Vasher and KeSean Carter the most polarizing in the Big 12? You have one guy who is 6'6 with a 37+ inch vertical and one with legitimate 4.2 speed.
Duke: While I totally respect the measurables on guys, I am not sure I would say they are the most polarizing. Do they scare me some? Absolutely but to be completely honest with you, I probably would have them second. I LOVE T.J. Vasher and think he is finally having that big year that I expected last season. But KeSean is still a bit of a work in progress although his talent is there. The only reason I say this is because I look at Oklahoma's "Z" spot and see Charleston Rambo and Jadon Haselwood. Neither one of these guys have the height like T.J. or maybe quite the speed of Carter but these guys can play some ball. Right now, there are just behind CeeDee Lamb in terms of yards and Rambo is ahead of Vasher with more yards and more touchdowns. Then there is Haselwood who is a true freshman whose name you might not know but this guy will be a future first team All-Big 12 player sooner rather than later. It all comes down to production for me so if you want to say they "Look physically better" fine but I would lean towards Rambo and Haselwood here in terms of on the field play.
@FireMattWells asks: Why does Texas Tech enjoy playing with my emotions by beating Oklahoma State to get my hopes up only as they go on to lose seven games?
Duke: First off, I wonder what other Texas Tech fans think of your Twitter name? It's a little early for the whole "Fire Matt Wells" take isn't it? But I respect the honesty and that you speak your mind which is a rarity now days. Anyways, back to your question. I had a question asking me yesterday if Tech would make a bowl game and I said yes, they will finish 6-6. Ok, so let's say they finish 5-7 or even 6-6 this season. Does a bad bowl game really mean that much to the fan base? Would Tech fans show up for a trip to the Cheez-It Bowl? I am not so sure. Sure, the extra practices would be nice, but Matt Wells is in his first year and his starting quarterback (Alan Bowman) is hurt. Give the man a pass year one and let him build his program the way he wants it to. My suggestion to you would be get behind coach Wells and support him. If after two or three years, you don't like what you see in terms of progress, then you would have a more logical case against him. But for now, it is still WAYYYYYY too early to hit the panic button. Relax and have a drink.
@CamBrockHCS asks: The players have been named. Create your XFL Draft board and tell us where the Big 12 players are going to land.
Duke: I hate to rain on any parades here, but I have not even been keeping up with the whole XFL thing. Heck, I can't even tell you how many teams are in the XFL and what the rules are. I know there is a team in Dallas and Houston and that's about all I know. Oh yeah, Coach Stoops coaches the Dallas team so there's that. So, it would not be right for me to answer this question and to be honest with you, I probably won't even watch a down of the XFL. I barely could watch a possession of the AAF league and look how that ended.
@CalebWayne_BD asks: Why don't more Big 12 teams have a neutral site game like UT and OU? I'd like to see ISU and WVU play in Lucas Oil every year for example. Reason being it wouldn't matter which year it was for road games anymore.
Duke: To be fair since 1929, Texas and Oklahoma have been playing at the Cotton Bowl every single year at the Texas State fair. That's a game that is not only a big-time rivalry, but it is a tradition for that site. While it would be cool to see the game played in Austin or in Norman, it just wouldn't feel right. The only other Big 12 game that was played outside of a team's home stadium was Baylor and Texas Tech who would play at Jerry World staring in 2009 but they actually ended that as this will be the first time since 2008 that the game will be played in either Waco or Lubbock. My bottom line is, enjoy the home games. You only get about six per year as a fan so be sure to soak in every game at your home stadium that you can. Close to home, better tailgates, more people, more fun. Save your neutral sites for bowl season if you can make one. If you can't then I suggest going to a different Big 12 venue each year and make a trip out of it.
**We now have FREE Big 12 Forums here at Heartland College Sports. Go sign up here and join our conversation! **