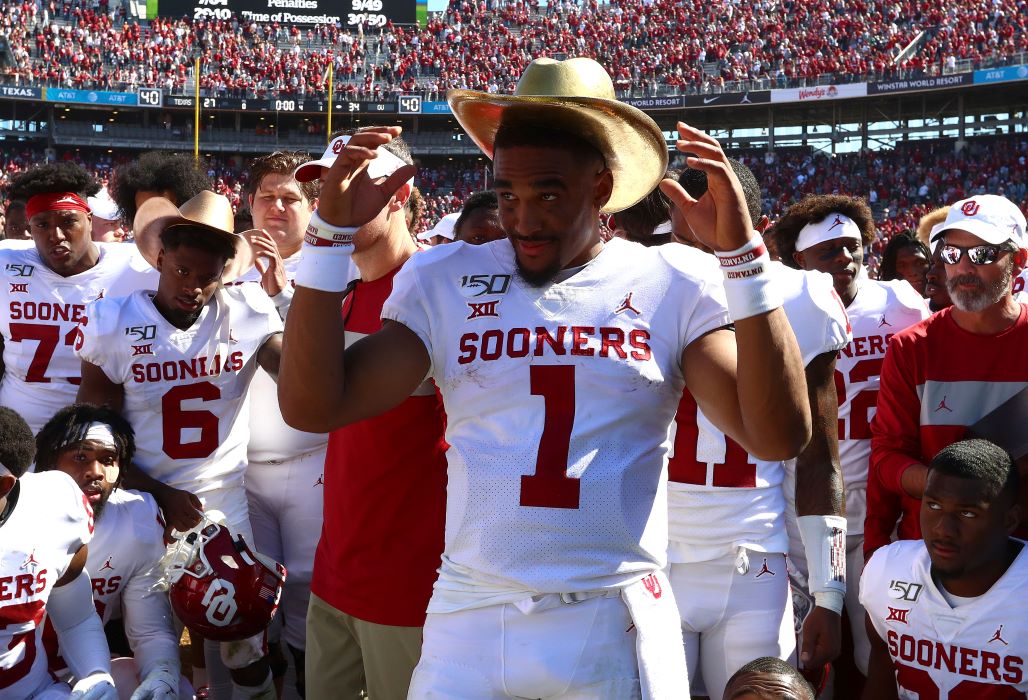 The State Fair of Texas has many things that make it one of the best fairs in the entire country. The parades, the shows, the food and of course, the Cotton Bowl. Even though the cotton logo is no longer present for whatever reason, the tradition of this Red River Showdown being played inside the Cotton Bowl has been going on since 1930. Sure, the names of the rivalry have changed and so have the players over all these decades, but one thing always stays the same. On the first Saturday of October, burnt orange and crimson collide and it is one of the most beautiful sites in all college football. No matter if your horns go up or down (As long as no referee is watching), this is one of the games that make college football great.
As expected in rivalry games, tempers flared from both sides in pre-game. There was a small gathering at one corner of an endzone and then with twenty-eight minutes before kickoff, there were already flags flying. Big 12 referee Mike Defee threw an "unsportsmanlike foul" on both teams and announced that if any player gets and unsportsmanlike flag today that they "will be disqualified." Even after all these shenanigans, there was still a football game to be played.
The Sooners got the football first and they appeared to be hungry as could be as quarterback Jalen Hurts led a beautiful ten play 66-yard drive that resulted in a touchdown thanks to a 1-yard touchdown pass from Hurts to wide out CeeDee Lamb to grab the early 7-0 lead.
Just like the Oklahoma offense, the Sooners defense got after the Longhorn offense forcing them to a three and out to get the football back. Once the Sooners got into Texas territory, quarterback Jalen Hurts ripped off a 27-yard run all the way to the Texas 7-yard line but as he was being tackled, he lost the football on the way down and it was recovered by Texas cornerback D'Shawn Jamison. Even with the turnover, the Texas offense took some time off the clock, but it resulted in another punt.
Once again, the Sooners marched the football right down the field and when they faced a third and eight at the Texas 11-yard line, Jalen Hurts scrambled around a little bit before throwing the football into some traffic as Texas safety Brandon Jones came down with the interception. Yet again, another Oklahoma possession that came up with nothing near the goal line.
Both teams would trade a few more punts before Texas kicker Cameron Dicker knocked in a 49-yard field goal as the Sooners led the Longhorns 10-3 at the break. In the first half, the Sooners defense held Texas to just 83 total yards of offense and made new defensive coordinator Alex Grinch look like he was worth every penny. While Sam Ehlinger and the Texas offense struggled, it was the Longhorn defense forcing some turnovers that kept this game from being a possible blowout at halftime. Oklahoma dominated the stat sheet in the first half, but it was still just a touchdown game with an entire second half to be played.
It looked like the second half would continue to be a chess match between defensive coordinators Todd Orlando and Alex Grinch as both offenses punted quickly on their first drives. Then out of nowhere, we finally saw some offense in this game. The Longhorns rode running back Roschon Johnson as he broke off a 57-yard run to set up his 4-yard touchdown run to tie the game up at ten. That apparently woke up the Sooners offense a little bit because in just three plays, Oklahoma answered right back thanks to a flea flicker as Jalen Hurts hit CeeDee Lamb for a 51-yard bomb as he broke tackle after tackle on his way to pay dirt to go back up 17-10.
Oklahoma would capitalize off some great field position late in the third quarter but give Texas credit for forcing just a field goal as the Sooners extended their lead to 20-10. After another unsuccessful Texas drive, Oklahoma would once again get into Texas territory but came up just short on fourth down to give the Longhorns the football back.
Finally, the Longhorns would piece together a nice drive late in the third quarter and with the help of some Oklahoma defensive holding calls, quarterback Sam Ehlinger was able to punch the football in the endzone to cut the Sooner lead to 20-17 as the third quarter ended.
But of course with the way this game has gone, it wouldn't be right if Oklahoma didn't make a response and that's exactly what they did as they went 75-yard in just six plays when Jalen Hurts hit CeeDee Lamb for another amazing touchdown as Lamb cut right through a few Texas defenders on his way to score which was his third touchdown of the day. That score would give the Sooners a ten-point lead with just under twelve minutes to play. Texas would score again thanks to a Cameron Dicker field goal, but it took an awful lot of time off the clock as Texas pulled within seven with under seven minutes left to play.
With it still being just a once score lead for the Sooners, there was still plenty of work to be done and thanks to a couple of nice runs by Kennedy Brooks and Rhamondre Stevenson, it helped set up a 3-yard touchdown run by Jalen Hurts to give the Sooners a 34-20 lead late in the game. Texas would score again late with a Sam Ehlinger touchdown run but it was too little too late for Texas as the Sooners would take back the Golden Hat as they won 34-27.
While the score looked close, it felt like Texas never really had a chance to win. They were outplayed in almost every aspect of the game. The offensive line for Texas did some talking earlier in the week and unfortunately for them, they weren't able to back it up as the Sooners racked up nine sacks on the day. The defense for Texas bent at times but they didn't break as much as they could have.
For Oklahoma, they looked like the dominant team and had complete control at just about all times in this game. If it weren't for some red zone mistakes, I am not sure if this game wouldn't have been a blowout. The Sooners rushed for 272 yards on the day and the defense really frustrated the Texas offense as the Longhorns had just a little over 300 yards in the game. This was a night and day difference for this defense compared to the last Red River Showdown game where you know who lost his job. Give credit to Oklahoma, they took care of business and they certainly look like a serious playoff contender.