Baylor Bears
Baylor Survives Double Overtime Thriller to Stay Unbeaten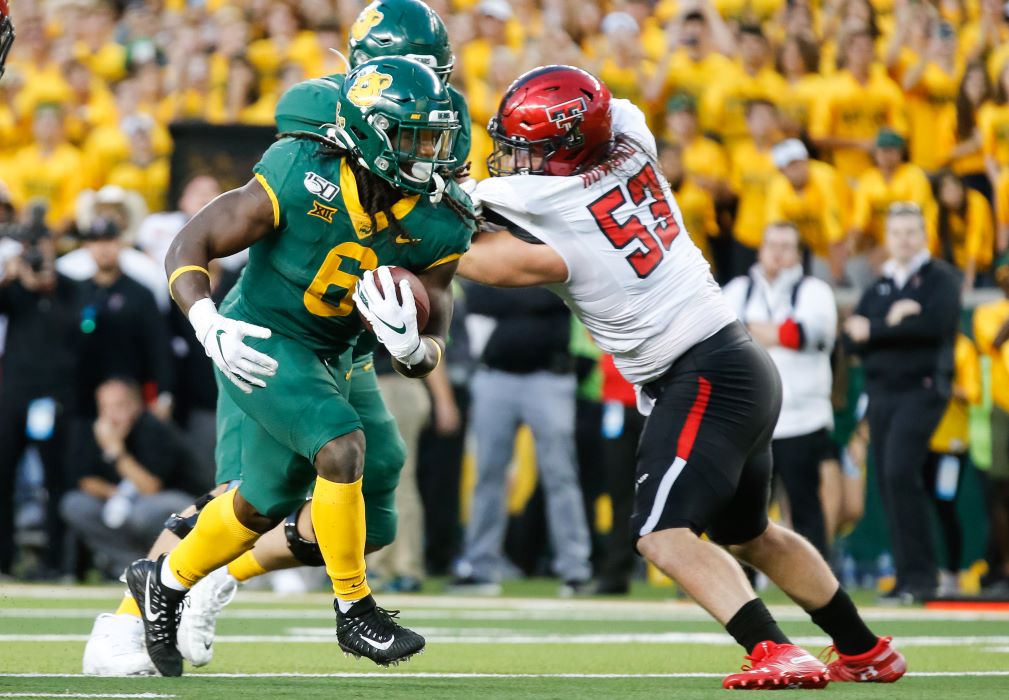 While the Red River Showdown stole the headlines, there was still other football left to be played around the Big 12. In Waco, Baylor hosted Texas Tech for a big-time matchup for both sides as Baylor entered the day undefeated at 5-0 while Texas Tech is still fresh off their upset victory over Oklahoma State. What we got was a wild overtime thriller that nobody expected.
This game started out like a typical middle of the pack Big Ten game because both teams combined for five straight punts to start the ball game. Baylor quarterback Charlie Brewer threw an interception midway in the first quarter and Texas Tech was able to knock in a field goal off the turnover to take a 3-0 lead. The sloppy play continued as both Baylor quarterback Charlie Brewer and Texas Tech quarterback Jett Duffey traded interceptions and when the turnovers ended, Baylor was able to put up three points on the board thanks to a John Mayers 37-yard field goal to tie the game at three.
Tech would add another field goal by Trey Wolff to go up 6-3 and Baylor would miss a long try to end the first half at 6-3. For the entire halftime, I couldn't figure out if I was watching a college football game from 1919 or 2019 because of the score. In fact, I thought about going up to Waco to replace the Big 12 field logos with some Big Ten logos but luckily in the second half, the offenses picked up a bit.
On the very first Baylor possession in the second half, the Bears marched right down the field in just five plays as quarterback Charlie Brewer hit pay dirt from 4-yards out to take the 10-6 lead early in the third quarter. Texas Tech would answer right back with their own five play drive that resulted in a 4-yard touchdown run by running back SaRodorick Thompson.
Down once again, Charlie Brewer would find wide outs Tyquan Thornton and RJ Sneed for some big plays before Brewer yet again used his legs to get into the endzone to put his team back on top 17-13 midway in the third quarter. After a decent break from the turnovers and messy play, the turnover Gods reared their ugly heads back into this game as once again, both quarterbacks threw interceptions. No, these teams weren't playing copycat, but it sure felt like it at times.
Texas Tech would finally shape up as the offense capped off a nine-play drive with a 30-yard touchdown run by running back SaRodorick Thompson to put the Red Raiders up 20-17 with just 1:37 left to play. Thankfully the Bears had that much time left because they used every single second of that to tie the game up with a 19-yard field goal by John Mayers as time expired. While they at least got the game into overtime, there was a missed opportunity when wide receiver Denzel Mims dropped a potential game winning touchdown pass with just a few ticks left. Either way, there was overtime football to be played in Waco.
Baylor got the ball first and I must say, there was an interesting call as the Bears center snapped the ball against his leg as it was recovered by Texas Tech. Due to the penalty (Which was called as an illegal snap), Baylor escaped the huge mistake and ended up scoring by way of yet another Charlie Brewer touchdown for his third rushing score of the day. In similar Big 12 fashion, Texas Tech would answer back with their own controversial call when wide receiver T.J. Vasher caught (Or not) a diving pass for a touchdown that probably should have been reviewed but for some reason was not after taking a while to sort out the call. In the end, the game was tied at 27 as both teams headed for a second overtime.
The Bears defense finally bowed up a bit forcing Texas Tech to a field goal and on the next Baylor possession it took just three plays for the Bears to cap off the game thanks to a 5-yard touchdown run by JyMcal Hasty. The Bears pull off the overtime win as they start off the 2019 season to a sweet 6-0. Meanwhile the Red Raiders fought hard but fall to 3-3 on the season as we hit the midway point. Both teams had to battle some bad calls and unfortunately for one team, they had to walk away with a loss, but I couldn't ask for a much more entertaining game from football standpoint.