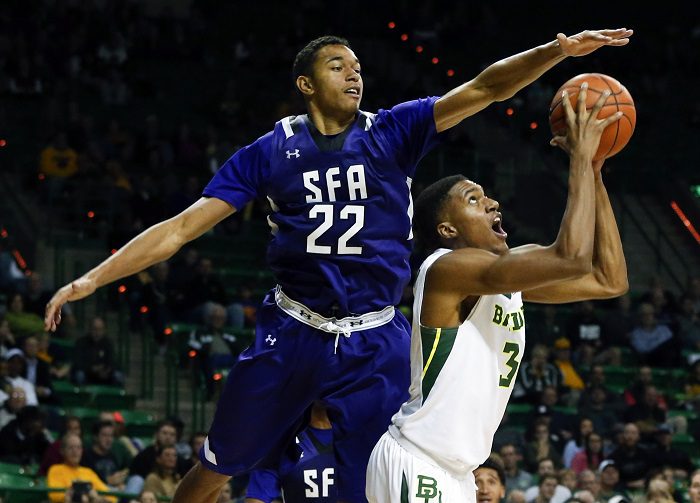 Last year's regular season Big 12 champion, Texas, and last year's Big 12 Tournament champion, Iowa State, both benefited from transfers. Who stands to benefit the most in 2019-20? Let's take a look at the top transfers eligible to play this coming season.
MaCio Teague, G, 6-foot-3 (Baylor)
Teague had to sit out last season due to transferring from UNC-Asheville. But while out east Teague compiled a solid resume, earning Big South Freshman of the Year honors in 2017 and All-Big South First-Team honors in 2018. He left the program with more than 1,000 career points and was the fourth player in Big South history to accomplish that feat by his sophomore season. The Bears have an experienced roster, but Teague will push Devonte Bandoo and Jared Butler for playing time immediately.
Rasir Bolton, G, 6-foot-2 (Iowa State)
Just granted a waiver by the NCAA to play this coming season, Bolton played nearly 27 minutes per game last season for the Penn State Nittany Lions, averaging 11.6 points per game and hitting nearly 37 percent of his 3-pointers. He was a part-time starter for the Nittany Lions, but he was comfortable scoring as a starter or coming off the bench. He joins an Iowa State team that needs a boost at guard, and Bolton could be a player that picks up the slack right away.
Isaiah Moss, G, 6-foot-5 (Kansas)
A three-year lettermen at Iowa, Moss was granted an immediate waiver to play for Kansas in 2019-20, and with the departure of Quentin Grimes to Houston, it couldn't come at a better time. Considered Iowa's most improved player each of the past two years, Moss needs just 7 points for 1,000 career points. He's averaged about 10 points per game the last two season and in 2018-19 he was among the Top 5 at Iowa in points, steals and assists. His 3-point shooting will be helpful, too. Moss was fourth in the Big Ten in 3-point percentage, an area Kansas struggled with last year.
Joe Petrakis, G, 6-foot-9 (Kansas State)
Petrakis joined the Wildcats after one season at Dodge City Community College, so he's immediately eligible. DCCC only won 7 games last year and Petrakis only averaged 4.8 points per game. But with the amount of talent K-State lost after last season, and the amount of unproven talent on the roster, the opportunity to contribute right away is open for Petrakis.
Austin Reaves, G, 6-foot-5 (Oklahoma)
Reaves spent last season on the bench after he transferred from Wichita State. With career averages of 6.1 points, 2.5 rebounds and 1.6 assists, Reaves could find himself a home in OU's rotation on the perimeter right away. Plus, his 45.1 percent clip from 3-point range means defense will immediately have to be honest when it comes to defending him.
Jonathan Laurent, G/F, 6-foot-6 (Oklahoma State)
A graduate transfer from UMass, Laurent is on his third university (he played at Rutgers from 2015-17). Last year at UMass Laurent averaged 9.5 points and 5.0 rebounds per game. Plus, he led the Atlantic-10 Conference in 3-point shooting at 46.7 percent. Combine Laurent with the 3-point shooting of Lindy Waters III and Thomas Dziagwa and you have a trio of players that can connect from the arc at 40 percent or better. And that has the potential to confound Big 12 defenders.
Edric Dennis, G, 6-foot-3 (TCU)
Dennis doesn't have a long commute. He just wrapped up his junior season at UT-Arlington, about 15 miles from the TCU campus. As a graduate transfer he can play immediately and he could prove an incredible complement to the returning Desmond Bane. Dennis averaged 14.3 points 4.5 rebounds and 2.3 assists per game while starting 19 games for UT-Arlington. He's not as good a 3-point shooter as Bane, but with TCU's roster undergoing such a drastic makeover it's no stretch to consider Dennis a starter once the season opens.
TJ Holyfield, F, 6-foot-8 (Texas Tech)
Texas Tech fans are familiar with their new forward. He played for Stephen F. Austin when the Lumberjacks faced the Red Raiders in the first round of the NCAA Tournament two years ago. Holyfield missed all of last season due to injury, but as a graduate transfer he bolted Nacogdoches for Lubbock. On the court Holyfield was one of SFA's best players for three seasons, as he finished his career with 1,081 points, 595 rebounds and 134 blocked shots, along with two All-Southland Conference selections. He's not as tall as Tariq Owens, but he could fill that role for Texas Tech.
Sean McNeil, G, 6-foot-3 (West Virginia)
West Virginia secured two of the most talented junior college players in the country, but McNeil is the "transfer" on this list because the other Taz Sherman, finished his eligibility at Collin County (Texas) Community College while McNeil only played one year at Sinclair Community College in Dayton, Ohio. McNeil led all of NJCAA in scoring with 29.7 points per game and 4.3 3-pointers per game. West Virginia has a ton of young talent, but they'll have to carve out some time for McNeil.
**We now have FREE Big 12 Forums here at Heartland College Sports. Go sign up here and join our conversation! **