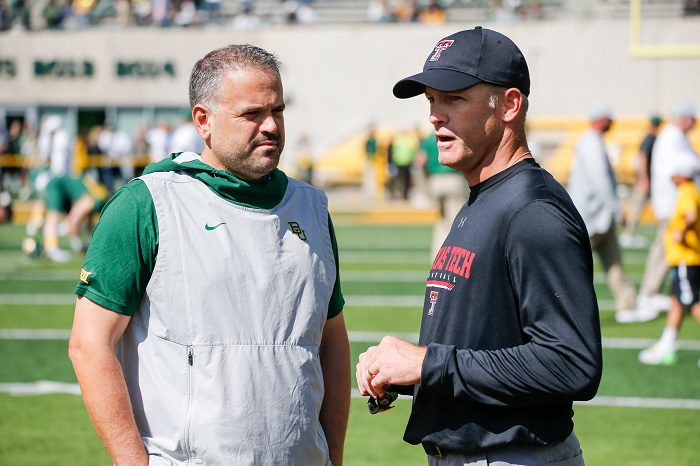 Ah yes, it's that time of year when the Big 12 Football Power Rankings return to Heartland College Sports. A reminder that these can flux drastically from week to week. These are not supposed to be a mirror image of that week's standings. It's based on the previous week's performance and the opponent when compared to the rest of the conference. So with Week 7 in the books, let's get into this week's Big 12 Power Rankings.
1. Oklahoma Sooners (Last Week: 1)
The Sooners remain the class of the Big 12 after their win over the Longhorns this past weekend. OU's schedule had been relatively weak prior to this game, but they piled up nearly 300 rushing yards, while also frustrating Sam Ehlinger and the Texas offense all afternoon. If Alex Grinch can continue to rebuild this defense and improve it even further from where it is right now, this team is not just a College Football Playoff contender, but they'll finally have a real chance of winning a National Championship.
2. Baylor Bears (Last Week: 3)
The Baylor Bears make the jump to the No. 2 spot after hanging on for a double-overtime win over Texas Tech on Saturday. There were certainly some controversial plays in the game, but in the end the Bears are now 6-0 and find themselves ranked inside the top 20 of the AP Poll. However, Baylor's defense, which has generally been outstanding this season, took a huge hit with linebacker Clay Johnston out for the season after suffering a knee injury. He won't be easy to replace.
3. Texas Longhorns (Last Week: 2)
The Longhorns lost a tough one against the Sooners over the weekend and despite keeping it to a one-score game, it sure didn't feel like it. Also, our own Derek Duke put in well in his Big 12 Week 7, Good, Bad and Ugly, writing, "[The Texas offensive linemen] ran their mouths all week long about how Oklahoma was not that great on the defensive front and they got absolutely dominated for a tune of nine sacks."
I could not have said it better myself. Texas is also dealing with even more injuries coming out of that game. Texas can still win 9-10 games, but they can't make the CFB Playoff as those goals now move to 2020.
4. Iowa State Cyclones (Last Week: 4)
The Cyclones are now 9-0 in October dating back to 2017 after a strong second half pushed the team to a convincing win over the West Virginia Mountaineers in Morgantown. Iowa State already has a Big 12 loss so it's going to be tough(er) for them to make that run to the Big 12 Championship game, but they have yet to play Oklahoma or Texas, so it can be done, but their margin for error is obviously smaller than Baylor (who has the tiebreaker vs. ISU).
5. Texas Tech Red Raiders (Last Week: 5)
Alan Bowman went down at QB, then the Sooners blew out the Red Raiders, and it wasn't looking good for Matt Wells in his first season in Lubbock. However since then the Red Raiders beat Oklahoma State and nearly took care of undefeated Baylor on the road. Tech fans will be upset about some calls from the game, but the bigger picture is that this Tech team could have folded when Bowman went down and kudos to Matt Wells and his staff… it didn't.
6. Oklahoma State Cowboys (Last Week: 6)
It was a quiet week for the Big 12 with four teams having a bye week and that includes the Oklahoma State Cowboys. The Pokes are coming off a loss to the Red Raiders and welcome No. 18 Baylor to Stillwater this weekend for a fascinating game in the Big 12 race. Now for Oklahoma State, the question remains: How should Mike Gundy be handling Spencer Sanders?
7. TCU Horned Frogs (Last Week: 7)
Speaking of those Horned Frogs, they were also off this weekend following a disappointing loss at Iowa State the week prior. There are questions about the offensive play calling by Sonny Cumbie in recent weeks and those voices are getting louder after barely using Darius Anderson in the first half against Iowa State when it was still a one-score game. What kind of adjustments will we see against the Wildcats this week?
8. Kansas State Wildcats (Last Week: 9)
The shine has worn off the Wildcats after non-conference play and a Top 25 ranking. K-State is 0-2 in Big 12 play with losses to Oklahoma State and Baylor, with an offense that is having a hard time getting going in each game. Now they take on TCU this weekend after a bye week. The loser of this game will have a tough time digging itself out of the bottom half of the conference the rest of the season.
9. West Virginia Mountaineers (Last Week: 8)
This past weekend's game against Iowa State was an ugly one for the Mountaineers in more ways than one. Austin Kendall left early in the game with a chest injury and his replacement, QB Jack Allison, sure didn't look like a competent option, at this point. Sure he could pull a Jett Duffey and have a bad first game replacing the starter and then turn it on, but I need to see it to believe it first.
10. Kansas Jayhawks (Last Week: 10)
The Jayhawks were another team with a bye week in the Big 12 and the week included a move at offensive coordinator to try and get that side of the ball going for Les Miles. Let's see how different the offense looks this weekend against… Texas. Godspeed.
Powered by RedCircle
**We now have FREE Big 12 Forums here at Heartland College Sports. Go sign up here and join our conversation! **