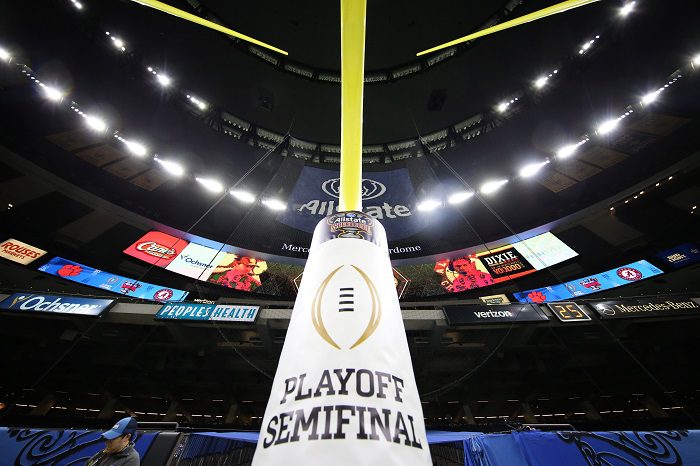 The postseason is the ultimate celebration for teams to celebrate their hard work through the course of the year. As we all know, the postseason for college football features a four-team playoff and several bowl games. Each conference has agreements with certain bowl games to send their respective teams to. Many websites use projections to show where they predict each team to go. Instead of projections, here is a version more similar to "bracketology". This is a live look at where teams would be if the season ended today.
Once again, Oklahoma is snubbed out of the College Football Playoff. Despite Georgia losing at home to a mediocre South Carolina team, Oklahoma is unable to crack the top four in the AP Poll. First off, they were indeed No.6 last week. Georgia falls to No.10, but LSU jumps into the No.2 spot. What a smack in the face to the rest of the nation. The Big 12 did so well in non-conference play, Texas Tech was left at home this week. Meanwhile, the SEC still has twp bowl slots it can't fill. Had South Carolina lost as a 21.5-point underdog, it would have been three bowl slots.
While Baylor should've lost (Baylor complaints fall on deaf ears when even the Big 12 Conference admits it made a mistake.), this would not have affected their placement in the bowl pecking order. Baylor would still have a better overall record than Texas and Iowa State. The provided victory just prevents Baylor from dropping this upcoming week. What it does do, is move Baylor closer to a New Year's Six Bowl and allows them a better chance at making the College Football Playoff.
Because Baylor stands pat, so does Texas and Iowa State. Texas will likely remain in the Camping World Bowl next week unless some massive upsets take place. Oregon vs. Washington doesn't matter. Notre Dame doesn't play. If Michigan upsets Penn State, both will likely be ahead of Texas. It is likely Texas moves up if Arizona State upsets Utah, but neither of those teams are currently placed in a New Year's Six Bowl. Texas also can't take Boise State's spot because that is reserved for a Group of Five team. SMU has a better shot to be in a New Year's Six bowl next week. The best bet for Texas to move up next week is for complete chaos to take place this week. This would include an Illinois upset of Wisconsin, which just isn't going to happen.
The Texas Bowl stands pat. If Iowa State goes to the Texas Bowl, Texas A&M will be their opponent. The Aggies didn't play in the Texas Bowl last season and Iowa State is the SEC's chosen opponent for Texas A&M. Why? Because Iowa State is the Big 12 team that Texas A&M least cares about. Texas A&M would rather play the Cyclones than West Virginia because a Mountaineers victory shows the nation that the Big 12 really is better off with West Virginia than they are Texas A&M. TCU is an in-state rival, so it's a given the Aggies don't want to play TCU. Texas A&M would rather play Oklahoma State again than TCU.
Speaking of Oklahoma State, they moved up during the bye week. The Cowboys are now slated for the Cheez-It Bowl because Texas Tech and West Virginia lost last week. Those losses gave both teams a .500 overall record. Oklahoma State went through non-conference undefeated and thus they have a better overall record. Sometimes it pays to schedule a weak non-conference slate.
TCU also benefited from the bye week and are now in the Liberty Bowl. The SEC chooses South Carolina as the opponent because Mississippi State was embarrassed by Kansas State. South Carolina just upset Georgia on the road, so the SEC believes they should be able to dispatch the Horned Frogs.
West Virginia scores the final Big 12 bowl bid over Texas Tech because they played more Power Five schools in non-conference play. It also helps that they beat one of those teams. Tech's non-conference slate featured a road loss against Arizona. Tech was favored in that game. Imagine this. If the Red Raiders win that game and get the call against Baylor, they're 5-1 overall. Matt Wells would probably be hearing praises right now had that happened, but the offense collapsed against Kevin Sumlin's defense. Of course, the botched call at Baylor didn't help.
Texas Tech is left out of a bowl game because they are .500 overall. When it comes to extra bowl slots, overall records are what counts. Kansas State, California and Liberty are leftovers with winning records. They secure all the unfilled bowl slots. The Red Raiders are one of eleven teams with a .500 record excluding East Carolina who owns two victories over FCS schools. Only one is allowed to count towards bowl eligibility.
Alas, the current bowl picture is below.
College Football Playoff
Peach Bowl Semifinal: No.1 Alabama (6-0) vs. No.4 Ohio State (6-0)
Fiesta Bowl Semifinal: No.2 LSU (6-0) vs. No.3 Clemson (6-0)
Sugar Bowl, Big 12 Champion vs. SEC Champion
No.5 Oklahoma (6-0, 3-0 in Big 12) vs. No.22 Missouri (5-1, 2-0 in SEC)
-Oklahoma is undefeated and ranked higher than Baylor. Therefore, the Sooners are the current leader of the Big 12.
-Missouri is currently the leader of the SEC East due to Florida's loss at LSU. The 2-0 conference record launches them into the Sugar Bowl.
Alamo Bowl, Big 12 No.2 vs. Pac-12 No.2
No.19 Baylor (6-0, 3-0 in Big 12) vs. No.13 Utah (5-1, 2-1 in Pac-12)
-Baylor remains undefeated, thus they are the leader of the Big 12 behind Oklahoma. The Bears are ranked lower than No.8 Notre Dame, the last team in a New Year's Six Bowl.
-Oregon is in the Rose Bowl. Utah has a better overall record than USC and is ranked higher than Arizona State.
Camping World Bowl, Big 12 No.3 vs. ACC first tier selection
No.15 Texas (4-2, 2-1 in Big 12) vs. Duke (4-2, 2-1 in ACC)
-Texas is ranked higher than Iowa State of the teams with 2-1 records in Big 12 play.
-There are four teams in the ACC with a 2-1 conference record. Three of them have 4-2 overall records. Clemson is in the playoffs. This opens the door for Virginia to play in the Orange Bowl because they received votes in the AP Poll (Yes, the ACC is so pathetic that an unranked team is considered their New Year's Six Bowl pick). Duke and Louisville are almost identical. Duke gets the nod because the Blue Devils have a better road record than Louisville.
Texas Bowl, Big 12 No.4 vs. SEC first tier selection
Iowa State (4-2, 2-1 in Big 12) vs. Texas A&M (3-3, 1-2 in SEC)
-Iowa State remains in the Texas Bowl with their victory at West Virginia.
-The SEC could go with South Carolina, Texas A&M, Mississippi State or even Kentucky. The conference goes with Texas A&M so it can the Aggies can receive a home team feel against an opponent that really isn't considered a rival.
Liberty Bowl, Big 12 No.5 vs. SEC first tier selection
TCU (3-2, 1-1 in Big 12) vs. South Carolina (3-3, 2-2 in SEC)
-TCU is the only team who holds a .500 conference record.
-The SEC believes that if South Carolina can win at Georgia, then they can beat a Big 12 team.
Cheez-It Bowl, Big 12 No.6 vs. Pac-12 No.7
Oklahoma State (4-2, 1-2 in Big 12) vs. Stanford (3-3, 2-2 in Pac-12)
-Oklahoma State has a better overall record than Texas Tech and West Virginia. This trumps Tech's victory over the Cowboys.
-Stanford has a .500 conference record. This places them ahead of a couple of teams in their conference with a winning overall record.
First Responders Bowl, Big 12 No.7 vs. Conference USA selection
West Virginia (3-3, 1-2 in Big 12) vs. Western Kentucky (4-2, 3-0 in Conference USA)
-The Mountaineers score this bowl over Texas Tech because they played two Power Five teams in non-conference play and even defeated one.
-Western Kentucky has played three Conference USA games and won all of them. By default, they are considered the Conference USA leader. No other team has played as many conference games.
Frisco Bowl, The American selection vs. At-Large
No.21 Cincinnati (5-1, 2-0) vs. Kansas State (3-2, 0-2 in Big 12)
-Memphis fell at Temple. Cincinnati is only ranked lower than SMU in the conference. The Mustangs are guaranteed a Power Five opponent in the Military Bowl, so that's where SMU goes. Cincinnati is likely to face a Power Five team in this bowl, thus the Bearcats fall here.
-The Frisco Bowl is not going to pass up the opportunity to host a Power Five conference team. Kansas State and California are the only Power Five schools remaining with a winning record. The Frisco Bowls chooses Kansas State for two reasons: proximity and the fan base who travels better.
Left Out: Texas Tech (3-3, 1-2 in Big 12)
The Red Raiders suffered a tough break Saturday against Baylor. Even the conference admitted that Baylor's "illegal snap" should have been called a fumble. This probably would've given Tech a much-needed victory for bowl eligibility. However, the call cannot be reversed. The conference cannot assume Tech scores, even though it's almost guaranteed they do. This call alone takes the Red Raiders out of a bowl as Kansas State, California, and Liberty have winning records. With South Carolina's upset of Georgia, the Gamecocks are able to take an SEC bowl slot. This upset is probably the current difference between Tech being in a bowl game vs. Tech being left at home.
Ineligible: Kansas (2-4, 0-3 in Big 12)
-I'll reiterate this again. Kansas could easily be 4-2 right now. They should have defeated Coastal Carolina and the could have defended home against West Virginia. Had they won both games, even a loss to Texas this week would likely have them in next week's bowl selections. Bowls would be way more excited to have Kansas play than they would Liberty.
Powered by RedCircle
**We now have FREE Big 12 Forums here at Heartland College Sports. Go sign up here and join our conversation! **