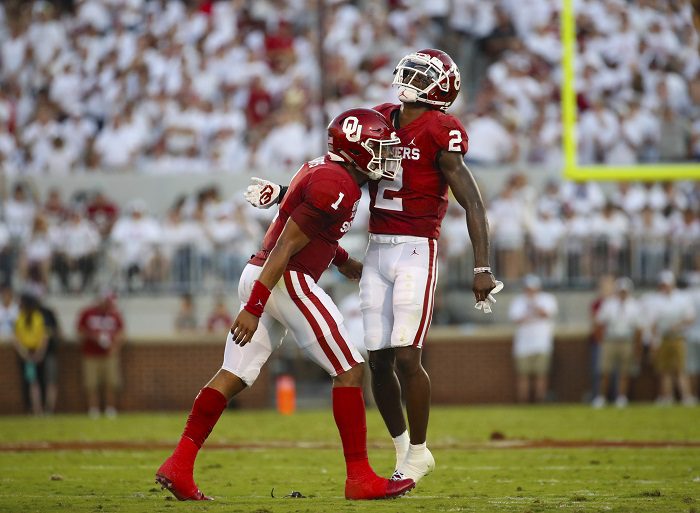 Welcome to the HCS Big 12 mailbag. This mailbag is for all you football junkies out there who root for a Big 12 school who not only have questions about your team, but other teams in the conference as well. So, join me, grab a cold brew or your favorite drink and relax as I answer all your Big 12 questions in my mailbag. For those interested, I will send out a tweet (@Derekduke25) every Monday at noon until last call (No, not 2 AM) at 8 PM CT for you to send in your questions to be answered every Tuesday right here at Heartland College Sports.
I want to thank each one of you who submitted a question this week and for those reading, I am glad you could join me. I am doing this on Monday evening and of course this mailbag wouldn't be nearly as fun without a cold beverage right next to me. Tonight's drink of choice? A Tito's and sprite. The beer fridge and the liquor cabinet were pretty empty tonight and that's really all I had. A run to the liquor store is much needed and of course, feel free to make suggestions as to what I should drink or send me something to review. Cheers!
@RPTexan asks: At the midway point, who do you expect will be the four playoff teams at the end of the season and who would be in your top four right now? Also, please explain exactly how that was an illegal snap Saturday afternoon in Waco.
Duke: Let's start with these playoff teams, shall we? With Georgia going down on Saturday, my top four would be 1. Clemson, 2. Alabama, 3. LSU and 4. Ohio State. I would also have Oklahoma in my fifth spot right now as well. As for the end of the season, it's obviously going to look a little different. I would put Clemson in due to their Charmin Ultra soft of a conference. From the SEC, I would probably go with Alabama or LSU, but I will say Bama. The last two spots would go to Ohio State and Oklahoma for me. I think Oklahoma will finish the season unbeaten and just because I can't trust the Pac-12 to get a team in, I think Ohio State climbs out of the Big Ten. Once again, the Pac-12 gets left out and to be honest, they deserve to be.
As for the "illegal snap" penalty in Waco, it was the Big 12 refs being their usual selves. I have no idea on earth why that was called but it was a big time screw up that likely cost Tech the game. In fact, the Big 12 told Tech head coach Matt Wells that is was the wrong call. But you know what? You can't take back that call and it likely cost the Red Raiders the game. I feel bad for Texas Tech, I really do, but what's done is done and I am sure this will not be forgotten about for a long, long time.
@Norris8Andrew asks: Do you think knowing what we know now: 1. Oklahoma goes undefeated in conference play? 2. The team that plays them in the Big 12 championship game has one or two losses in conference-and explain your take on the Math.
Duke: Dang it Andrew, I HATE MATH. But, no worries after a little sip from this Tito's and sprite, I can see the numbers dancing in my head. I am kidding of course so let's get right to it.
As I mentioned in the question above, I don't see Oklahoma losing right now. Quarterback Jalen Hurts made some mistakes but if he can play mistake free football and manage the offense like he has been, that offense is still darn good with Lincoln Riley calling plays. Not to mention all their weapons around Jalen on offense along with an improving offensive line. Of course, that defense for Oklahoma looks good right now and if they keep up that type of play on the defensive side of the football, this is a team capable of winning a title. Not just a Big 12 title but a national title.
This one is tough. There isn't enough vodka in the world that would clear my head enough to try and pick an opponent for Oklahoma in the conference title game. Right now, I think Texas, Baylor and Iowa State are the serious teams fighting for my two spot in the power rankings. I guess one could argue Oklahoma State, but I am still not sure what to make of the Cowboys yet. Iowa State has already lost to Baylor and both teams still must play the Sooners. So that means Iowa State will have at least two losses by the time Texas rolls around and Baylor will also have at least one loss when Texas visits Waco. Gun to my head, I would say that Texas finishes the season out with wins and has a rematch with the Sooners in Jerry World. But I am not confident in that at all.
@tracks182 asks: What is more impressive about Iowa State running back Breece Hall? His vision and power or his ability to pick up blitzes in pass protection?
Duke: For those who don't know, I have been on record before the season saying that I was the president of the Breece Hall fan club after seeing this guy play in person at the All-American Game down here in San Antonio. He is a grown man out there and he is just a true freshman, but he certainly doesn't look or play like a true freshman. I saw a comment from Matthew Carson on your question and I would have to agree. His pass protection as a freshman is impressive. Why? Because then he becomes a true three down back that can either carry the rock on first and second while staying in on third down to be that extra blocker. You don't see that too often in young guys. Now with that said, his talent overall is there. He has the highest ceiling of any Iowa State back and he can make big plays. That's not a knock against the other backs but I do believe Breece is a future star in this conference.
@perry_stan asks: Why does anyone expect good officiating from the Big 12 referees? Inconsistency is the only constant.
Duke: That is so true Stan. Honestly, I don't know why anyone has any type of confidence in these Big 12 crews and they showed again this past weekend why we shouldn't take them seriously. From Mike "The Arms" Defee going off in the Red River Showdown by saying how "Embarrassing" it was for both schools chirping pre-game IN A RILVARY GAME to the crew down in Waco calling a phantom "illegal snap" penalty. It was a bad weekend for the Big 12 officials but to be honest, is there ever a good weekend from them?
@Dilon1933 asks: Should we be concerned about Oklahoma's offense? They failed to convert a third down or fourth down (0-9) after the 13:44 mark in the second quarter?
Duke: I am not going to even bother to look that up and see if that's true but that sounds like you may have been hanging around some Oklahoma message boards too much. Of course, those boards become toxic whenever the slightest bad thing that happens and people always wanted somebody fired. That reminds me, be careful on the message boards people! Anyways, as for the question here my answer is no. The Sooners put up over 500 yards of offense and 34 points on Texas. I'm not worried about a Lincoln Riley coached offense and neither should anyone else. In fact, out of all the offenses in the Big 12, the Sooners have by far the fewest question marks. RELAX.
@KerryGr86888537 asks: Who will play Oklahoma in the Big 12 ship?
Duke: First off, where in the hell did you come up with that Twitter name? And how can you remember that username if you have to login? Anyways, I mentioned earlier that I still have Texas playing them again in the Big 12 "Ship". Baylor and Iowa State would be the two other contenders for the number two spot but as of now, I will stick with Texas.
Powered by RedCircle
**We now have FREE Big 12 Forums here at Heartland College Sports. Go sign up here and join our conversation! **