Big 12 News
Big 12 Fines Texas Tech Athletic Director Kirby Hocutt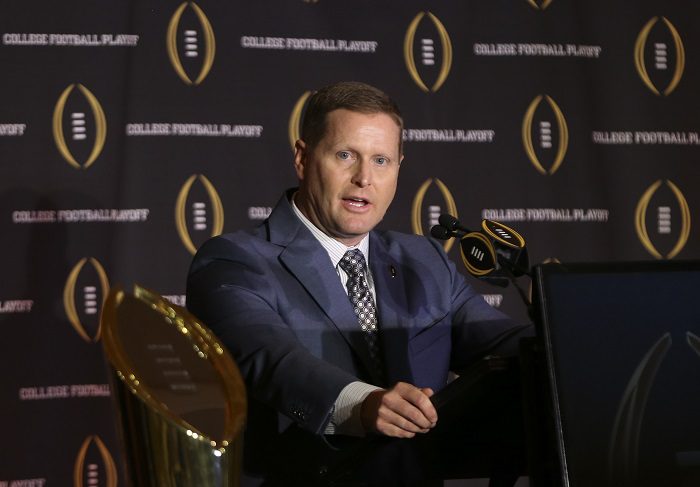 The Big 12 Conference announced on Wednesday morning it has issued a public reprimand and $25,000 fine of Texas Tech University Athletics Director Kirby Hocutt for his statement in the aftermath of the Red Raider's double overtime loss at Baylor.
Hocutt was understandably not happy after Texas Tech lost to Baylor, possibly in part because of an illegal snap that was called against Baylor on a fumble recovered by Tech, meaning the fumble was overturned. After the game, the Big 12 did apologize to Texas Tech by admitting the call was incorrect, saying in part, "It is important to state that we have been in constant communication with the Big 12 Conference office from the immediate end of the game and throughout Sunday regarding the Illegal Snap call in the first overtime. It has been confirmed that the ruling on the field of an Illegal Snap was incorrect. The play is not reviewable by rule because it is a dead ball judgement call by the official. I am confident that the Big 12 Conference will deal with the matter internally as they complete the review of the game in its entirety."
Apparently that statement did not go over well with the head honchos at the Big 12.
Commissioner Bob Bowlsby said in a statement on the Texas Tech fine, "The Big 12 Conference members have developed policies governing the officiating of our contests. It is vital that senior administration officials, especially the Directors of Athletics, adhere explicitly to these policies.  It is very difficult to balance support for an institution's teams while fully complying with the imperative created by schools acting together to manage athletics competition.  On this occasion, the required discipline was not exercised.  Kirby Hocutt is one of the very best athletics administrators in the nation, and I am grateful for his assistance and support in resolving this matter."
**We now have FREE Big 12 Forums here at Heartland College Sports. Go sign up here and join our conversation! **