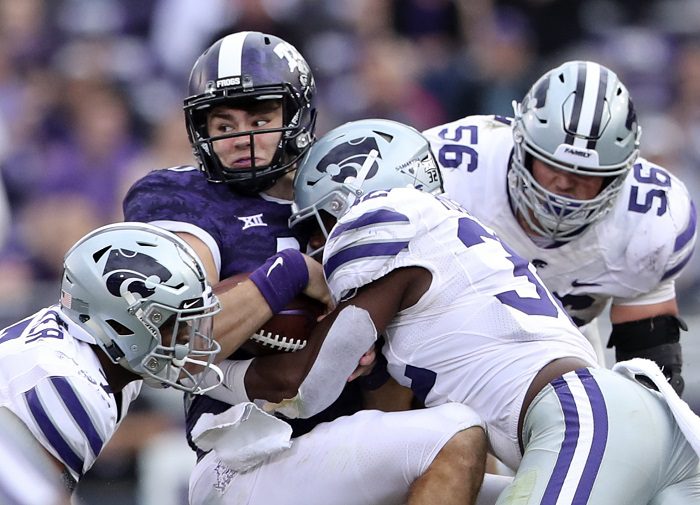 Here is everything you need to know about the Big 12 match up between TCU and Kansas State.
Game Info
1:30 p.m. CT, Saturday, Oct. 19, 2019, Bill Snyder Family Stadium, Manhattan, Kans.
TV: Fox Sports Networks (Justin Kutcher, Petros Papadakis, Shane Vereen)
Away Radio: WBAP 820 AM in Dallas/Fort Worth, KTCU 88.7 FM (Brian Estridge, John Denton, Landry Burdine)
Home Radio: K-State Sports Network, Sirius 211/XM 202/Internet 965 (Wyatt Thompson, Stan Weber, Matt Walters)
TCU Head Coach: Gary Patterson (170-65 at TCU and overall)
Kansas State Head Coach: Chris Klieman (3-2 at Kansas State and FBS level)
Series History: TCU leads 7-5. Gary Patterson is 4-3 against his alma mater, Kansas State. All seven of those meetings are since 2012 when TCU joined the Big 12.
Series in Manhattan: Series is tied 3-3. TCU has won the previous two meetings in Manhattan.
Opening Line: TCU -2
Moneyline: TCU -132/Kansas State +118
Over/Under: 46.5
Fun Facts: Alex Delton transferred from Kansas State to TCU. Both, Delton and his coach Patterson, are Kansas State graduates who played football for the Wildcats. Delton's first career start came against TCU. If he scores for the Horned Frogs, he'll be the second player to score for and against TCU. The first player is current NFL receiver Josh Doctson who played at Wyoming before transferring to TCU.
Key Players
TCU
WR Jalen Reagor
This isn't just for being a receiver. Reagor is leading the country in punt return yards. Field position is going to be a major factor in a game where two coaches pride themselves in defense. Special teams will be a major factor. It also would not hurt for TCU to get Reagor the ball on offense. He only has 15 receptions through five games. Surprisingly, he's still the team leader by four receptions. It's been proven that Darius Anderson can rush for 100 yards in a TCU loss. SMU pulled off the upset despite Anderson's 161 yards. Meanwhile, Reagor was held to two yards on two receptions. There's your difference.
LB Garret Wallow
The best front seven will win this game. It will be a fight inside the trenches. For TCU, they need Garret Wallow to continue being the menace he is. Wallow averages 11 tackles per game and two tackles for loss per game. Additionally, he has recorded 2.5 sacks. Kansas State has produced over 1,000 rushing yards in its first five games. Wallow will be necessary to keep Kansas State bottled up.

Kansas State
WR Phillip Brooks
Brooks is looking to make a name for himself. The redshirt freshman is currently third in the Big 12 for punt return average. As mentioned above, field position will be crucial in this game. Despite being listed as a backup to Wykeen Gill, Brooks overshadowed starting junior Wykeen Gill. The elder Wildcat played but failed to record any statistics against Baylor. Meanwhile, Brooks hauled in seven receptions for 69 yards. He is quickly becoming one of Skylar Thompson's favorite targets.

LB Da'Quan Patton
The entire defensive line is struggling right now. Da'Quan Patton is the team leader with 24 tackles, 18 of which are solo. This front seven must penetrate the offensive line and bottle up Darius Anderson. If they make TCU's quarterbacks throw the ball under pressure, Kansas State wins this game. If Anderson moves the ball steadily and TCU's quarterback has time to throw, Kansas State will be torched. This is a defense that has given up 531 rushing yards and four touchdowns on the ground in two Big 12 Conference games. They must figure out how to stop the run.

Key Storylines
TCU
The losses this team have suffered are nothing to panic over. Iowa State has found its stride and SMU may very well be playing in a New Year's Six bowl. That being said, who is TCU? They clearly have some vulnerabilities. The offense is a bit of a roller coaster, which is to be expected when starting a true freshman at quarterback. However, this game is a must win. The next five games are going to be a gauntlet. What was once considered a gimme against Texas Tech is now going to be a difficult road trip sandwiched between games against Baylor and at Oklahoma. If the Horned Frogs drop this outing, their bowl hopes may very well be in jeopardy.
Kansas State
The Wildcats have fallen off cloud nine and gravity was unkind in their landing. After what seemed like a massive victory on the road against Mississippi State, the Wildcats find themselves 0-2 to open Big 12 Conference play. In fact, the Bulldogs even dropped a 20-10 decision at Tennessee last week, proving that Mississippi State is bottom tier team in a top heavy SEC. Chris Kleiman's honeymoon is over and the Wildcats must figure out how to win in the country's premier top-to-bottom conference (Kansas can certainly beat Rutgers, Oregon State and Vanderbilt. They've already defeated mid-tier ACC team Boston College on the road). While Kansas State still has winnable games hosting West Virginia and a road trip to Kansas, Texas Tech is no longer a gimme. I don't think Kansas State needs this win as bad as TCU does, but it most certainly helps if they score it. For Kleiman, he's probably feeling a lot like Baltimore Orioles hitter Chris Davis in April. A loss to TCU makes Kansas State 0-3 when Oklahoma comes to town. An 0-4 record to start a new tenure when replacing a legend is just plain frustrating. He'd prefer to get the monkey off his back before it grows into a gorilla.
Prediction
TCU 49 Kansas State 13
As stated above, TCU's losses have come at the hands of solid teams. Darius Anderson is licking his chops after seeing what Chuba Hubbard did to this Wildcat defense. Unless Anderson is stopped, it's going to be a long evening in the Little Apple. Let's not forget, TCU players have had to deal with Gary Patterson for two weeks after going 1-2 the previous three games with the only victory coming against Kansas. Can you imagine the hell he's raising? You know his staff is getting it 10 times worse than the players. TCU is going to race out of the gates in this one just hoping to shut the ol' ball coach up.
Powered by RedCircle
**We now have FREE Big 12 Forums here at Heartland College Sports. Go sign up here and join our conversation! **