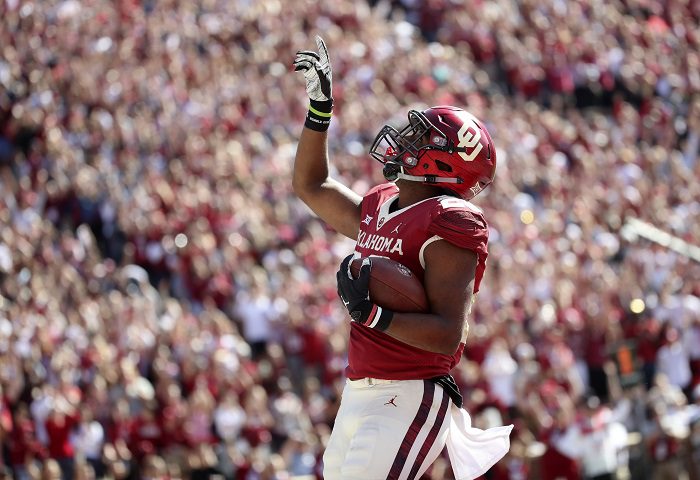 There was no hangover effect for the Oklahoma Sooners. One week after winning their biggest game of the year to date against Texas, the Sooners came back to Norman and dominated a struggling West Virginia team 52-14.
It took OU until it's second drive to put points on the board, but then it came in droves. The Sooners went 66 yards on eight plays, capped off with a 20-yard hook up from Jalen Hurts to Jeremiah Hall. That was just the start as OU would score touchdowns on its next three drives with drives of 74, 75 and 57 yards.
Over that span, WVU was able to put 14 points on the board, including its first touchdown which came in part thanks to a converted fake punt on 4th and 4. But by halftime, OU was in control with a 28-14 lead.
The second half picked up right where it left off, with the Sooners going 75 yards in six plays, with Jalen Hurts finishing the drive with a 22-yard touchdown run. WVU punted after six plays and the Sooners then extended their lead to 42-14 two plays later when Jalen Hurts found Lee Morris for a 46-yard touchdown strike.
However, that wasn't the lowest moment for the Mountaineers. That came three plays later when OU blocked a WVU punt from its own end zone and recovered for a touchdown. The Sooners would eventually tack on one more field goal and use their back ups to finish off a dominant 52-14 victory.
The only downside in this one for OU was when the Sooner Schooner tipped over on wet grass after one of the Sooners' early scores. Thankfully no one was hurt.
Jalen Hurts' Heisman campaign continues to blossom after finishing 16 of 17 for 316 yards and three passing touchdowns, while also racking up a team-high 75 rushing yards on ten carries with two touchdowns.
Meantime, Austin Kendall started at quarterback for the Mountaineers after taking a hard hit last week against Iowa State and leaving the game, but he struggled, finishing just 15/31 with two touchdowns against his former team. WVU had a very tough time running the ball with 30 carries for 51 yards, good for 1.7 yards per carry.
The No. 5 Sooners improve to 7-0 and prepare to take on Kansas State in Manhattan. Meantime, WVU is now 3-4 on the season and will have a week off before a Thursday night game at Baylor on Halloween night.
**We now have FREE Big 12 Forums here at Heartland College Sports. Go sign up here and join our conversation! **