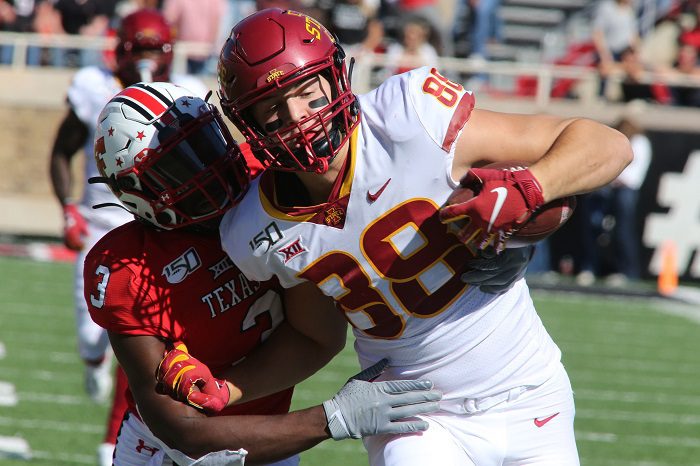 I hear it all the time, "Who has the best conference in college football?" SEC? Big 10? ACC? What about the Pac-12? Very rarely are you going to hear the words "Big 12" coming out of someone's mouth in that conversation. Whether you do it or not, there are plenty of folks out there who love to bash the Big 12 conference (cough, Paul Finebaum, cough). Week eight has come and gone and in the Big 12, there is never just a normal weekend and that once again proved to be true this past weekend. From good games, to eye sores, there was some good, some bad and some downright ugly.
The Good
Oklahoma (Beat West Virginia 52-14)
Well, the score should pretty much tell the entire story here. QB Jalen Hurts had another fantastic game throwing for 316 yards and had 5 total touchdowns on the day. While no receiver had a true breakout game, ten different Sooners caught a pass which showed the depth of the wide outs. Much like the receiver group, there really wasn't a standout back in this game as quite a few guys got carries and believe it or not, QB Jalen Hurts led the team in rushing with 75 yards. It was one of those days where it was a great team effort as the offense racked up 560 yards on a respectable Mountaineer defense. Speaking of defense, how about the Sooners defense? They allowed just 14 points and just 242 yards. Last year's group would have given that up in a single half, but this isn't the 2018 Oklahoma defense. This defense has energy and pride. While they didn't have any turnovers or sacks, they just shut down the West Virginia offense. Believe it or not, they held West Virginia to eight drives that lasted five plays or less and all eight resulted in punts. I said it last week and I will say it again, this looks like a team that can get to a national championship. 
Iowa State (Beat Texas Tech 34-24)
After a missed field goal, the Cyclones put together three-straight scoring drives and before I knew it, it was already 20-0 up in Lubbock. It was kind of a tale of two halves for the offense but not in a bad way. In the first half, Brock Purdy threw for over 300 yards and 3 touchdowns. Two of those passing touchdowns went to tight end Charlie Kolar who had himself one heck of a ball game and is emerging as one of the better tight ends in all of college football. Meanwhile, other wide outs such as Tarique Milton and Deshaunte Jones had good games as well. In the second half, it was all about the ground game as true freshman running back Breece "The Beast" Hall finished the day with 183 yards and 2 touchdowns including a long 75-yard touchdown run to start the second half. The offense continues to stay hot and while the defense didn't always have their A-game in Lubbock, it was still nice to see safety Greg Eisworth make some plays out there after missing some time due to injury. The Brocktober tour continues and since the 2017 season, Iowa State is 10-0 in the month of October. 
Kansas State (Beat TCU 24-17)   
While it may not have been the prettiest of games offensively, the Wildcats did their job in crunch time to win this game. In fact, the Wildcats got outgained by TCU 366-266 but like I said, the Wildcats made plays when it counted most. QB Skylar Thompson put the offense on his back at times and with eight minutes left in the game tied at 17, Skylar used his legs to move the football and with just under three minutes left to play, he found the endzone on a 3-yard touchdown run to put his team up seven. From there, the defense did their job to help win the game. Outside of that 46-yard touchdown run by TCU QB Max Duggan, I thought the Wildcats defense did more than enough to help win this game. There isn't a lot to say about this game and yes it did feel like a Big Ten game, but Kansas State has put themselves in a great position to get to a bowl game. They just need two more wins with six games left on the schedule. 
Baylor (Beat Oklahoma State 45-27)
It was another slow first half for Baylor as they put up just 13 points, but you know what? Baylor allowed just 10 points in the first half defensively. Despite two turnovers in the first half by the offense, the Bears defense held their own in the first half and when their backs were against the wall late in the second quarter on the goal line, Kalon Barnes comes up a with a huge pick to preserve the Bears lead heading into halftime. Baylor flipped a switch in the second half as they went on to outscore Oklahoma State 35-14 in Stillwater. With the help of a couple more Cowboy turnovers (Including a scoop n score by Terrel Bernard), Baylor used several big plays to push past Oklahoma State. RB JaMycal Hasty had two rushing scores in the second half including a 73-yard run to ice the game while wide out Josh Fleeks had a 64-yard touchdown catch as well. Not to mention, Tyquan Thornton also had a long 78-yard run and catch that set up a Baylor score. 
While QB Charlie Brewer was just ok, it was the play of Hasty, Fleeks and Thornton that really made the difference in the second half. The Defense gave up too many rushing yards, but they made just enough plays and got the turnovers needed to pull away. If you had any doubts about Baylor, those should be gone after this game. Think about this, two years ago in Stillwater Baylor fell to 0-6 after a loss. Now two years later, Baylor leaves Stillwater 7-0. What a big win for the Bears as they are now in a prime position to get to a Big 12 title game.
Texas (Beat Kansas 50-48)
This probably shouldn't be in my good column, but you know the rule, if you win, you are in. While I was watching the game, I thought Texas wasn't very good offensively. Despite the bad play on the offensive line (That has become a theme lately), Texas did manage to rush for 239 yards as they averaged six yards per carry. QB Sam Ehlinger had a great game with 399 passing yards and 4 touchdowns as well as adding 91 rushing yards. RB Keaontay Ingram appeared to be on a hot streak with 101 yards and a score but for some reason he only had 14 carries. Meanwhile, Texas had four players with over 50 yards receiving in Devin Duvernay, Collin Johnson, Brennan Eagles and Cade Brewer. As good as the offensive numbers seemed to be, the defensive numbers will make you cringe if you are a Texas fan. The Longhorns gave up 569 yards of offense as they let QB Carter Stanley torch them through the air while RB Pooka Williams Jr. shred them on the ground. Kansas averaged 6.6 yards per rush and once again, Texas got dominated up front defensively and the tackling still is a huge issue all around. I know injuries to Caden Sterns, Jeffrey McCulloch, Chris Brown, Jalen Green and Josh Thompson don't help and it certainly didn't look good when Brandon Jones left either. Injuries aside, this team must get better on defense or else Todd Orlando is going to start hearing some chatter about his job there in Austin. 
The Bad
Texas Tech (Lost to Iowa State 34-24)
The score was a little closer than the game suggests but you can not get down 20-0 and expect to win a game. No matter if you are on the road or at home, you just can't do that. The offense simply didn't capitalize off field position or a turnover when needed and they stalled out too much as well. QB Jett Duffey didn't have a bad game but he certainly didn't have a great game. In fact, outside of running back SaRodorick Thompson's two scores, this offense was bleak to put it lightly. The defense forced one turnover, but they were going to need more than one to make a comeback in this game. They let Brock Purdy beat them through the air in the first half and let the Cyclone ground game takeover in the second half. It just wasn't Tech's day here. You can't give up 560 yards of offense at home. I know Iowa State was favored but this was a little bit of a let down for Texas Tech after two straight games of playing well. 
Kansas (Lost to Texas 50-48)
Let me get this out of the way quickly. Kansas gave up 638 yards of offense to Texas on the road. That is not a recipe for success. I could go on and on about how badly the defense was at times and the loss, but Kansas played their butts off on Saturday night. This new offense under Brent Dearmon looked fantastic and was unlike anything I have seen Kansas do offensively in quite a while. I know the Boston College game was one to remember but to do this against Texas on the road was impressive. QB Carter Stanley threw for 310 yards and four touchdowns. He was downright good in this game and made some great plays with his arm. Also, how about Pooka Williams Jr.? Throwing people off him and making people miss tackle after tackle as he racked up 190 yards and two touchdowns. Meanwhile wide outs Andrew Parchment and Stephon Robinson Jr. had big games as well. Kansas may have lost this battle in Austin but with this kind of effort offensively, they give themselves chances to win ball games. If the Jayhawks can clean things up defensively and play this well on offense, they could surprise some people. 
The Ugly
West Virginia (Lost to Oklahoma 52-14)
Just like I said earlier but the score kind of tells the story here. Outside of scoring two touchdowns in the second quarter, West Virginia didn't do much at all. QB Austin Kendall completed less than 50% of his passes and the run game averaged a measly 1.7 yards per carry on 30 rushing attempts. I know wide out T.J. Simmons had a good game but other than that, there wasn't much to praise offensively for West Virginia. The Mountaineers had seven drives that went less than four plays and all seven resulted in punts. In fact, Oklahoma had more points than West Virginia did rushing yards (51 rushing yards by the Mountaineers). It wasn't much better defensively as Oklahoma QB Jalen Hurts torched them all game long and Oklahoma could have run up the score more if the backups for them didn't see action in the fourth quarter. I think I will just stop there but West Virginia falls to 3-4 on the season and I have a tough time seeing this team reach six wins to get bowl eligible. 
TCU (Lost to Kansas State 24-17)
I'll start by saying the defense wasn't that bad at all. The Frogs' defense held Kansas State to 24 points and 266 yards. Kansas State had 12 offensive possessions in this game and TCU was able to hold them to just two points per possession. That is more than good enough to win a game. Unfortunately, it wasn't because the TCU offense was just not good enough to get the job done once again. While the Frogs were able to rack up 228 yards rushing, the lack of a passing game continues to haunt this team. QB Max Duggan had a monster 46-yard touchdown run as he broke several tackles but again, he can't complete around 50% of his passes on the road and expect to win games. You can say, well it was a tie game in the fourth quarter before Kansas State scored late but I really don't care. You CAN NOT SCORE 17 points on the road and win a game in the Big 12. You simply can't do that. Sonny Cumbie should start feeling some serious heat as the offensive coordinator. I can't believe I am saying this but there is a slim chance TCU makes a bowl game this year. They are 3-3 with six games left against Texas, Oklahoma State, Baylor, Texas Tech, Oklahoma and West Virginia. Ask yourself, do you see them winning three games out of those?
Oklahoma State (Lost to Baylor 45-27)
Maybe this is a bit of an overreaction from my part, but Oklahoma State was favored to win this game. After keeping things close in the first half, the Cowboys got outscored 35-14 in the second half at home on homecoming. QB Spencer Sanders yet again played like a freshman going just 18/32 for 157 yards with one touchdown and three turnovers on the day. The only true bright spot on offense was the running game as Chuba Hubbard and LD Brown combined for 250 rushing yards and three touchdowns. Defensively, it was another bad game overall. Outside of the first half, The Cowboys couldn't stop anything the Bears did. They gave up big play after big play whether it was through the air or on the ground. It seemed like just when Oklahoma State would hang around, the defense gave up another big play. Baylor put up 536 yards of offense. 312 of those yards were passing and the other 224 were on the ground. I just couldn't believe this team came off a bye week and put up a performance like this. Maybe the Mike Gundy era is at a crossroads right now. In their last 22 conference games, Oklahoma State is 10-12. That must change. 
Powered by RedCircle
**We now have FREE Big 12 Forums here at Heartland College Sports. Go sign up here and join our conversation! **