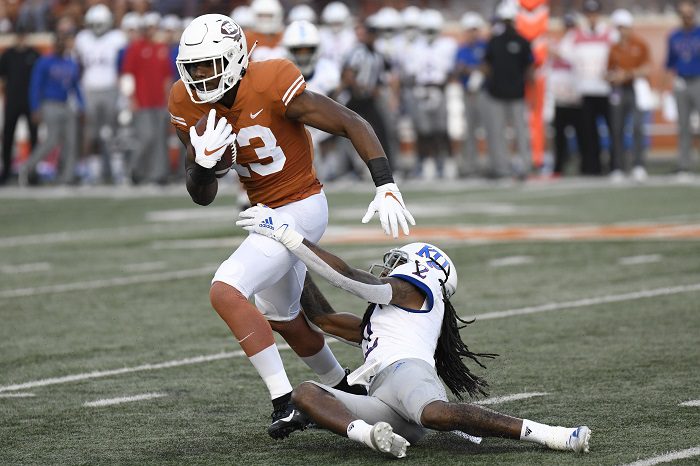 When this game was first announced as the lone prime time game in the Big 12, I know there were plenty of people complaining. While most thought Texas would take out their frustrations from last week's loss to OU, that certainly wasn't the case down in Austin. Instead, we got a great Big 12 game under the lights that will certainly turn some heads. Maybe the Big 12 knew something we didn't?
Texas started the game off strong by putting together back-to-back scoring drives. The Longhorns' first drive was easy as they marched right down the field and hit the scoreboard when running back Roschon Johnson found they end zone from 14 yards out. After a missed Kansas field goal, Texas would once again hit pay dirt thanks to wide out Jake Smith who made a man miss on his way to score to put Texas up 14-0 midway through the first quarter. 
After a missed field goal to start their first drive, the Jayhawks would connect on their second try as kicker Liam Jones nailed a 23-yard field goal to get his team on the board. Then came the unexpected as Kansas took control of the game for most of the second quarter. The Jayhawks offense strung together two beautiful drives that were capped off thanks to a seven-yard touchdown run by Pooka Williams Jr. and a seven-yard touchdown pass from quarterback Carter Stanley to Takulve Williams. Those two scores put the Jayhawks up 17-14 and that was the first time Kansas has led Texas in Austin since the 1997 season. That made the crowd go dead silent at DKR. 
Texas fans would have something to cheer about when quarterback Sam Ehlinger found wide out Brennan Eagles for a short touchdown to put the Longhorns back on top 21-17 heading into the break. At halftime, Texas had 288 yards of offense while the Jayhawks had 277 and were led by running back Pooka Williams Jr. who had 129 rushing yards in the first half, which was the most by a single player in a first half against Texas since 2013. 
If you thought Texas would buckle down to start the second half, you were wrong. Kansas got the football and put on a 14-play, 75-yard drive to start the second half. That drive would end with a Carter Stanley touchdown pass to Stephon Robinson Jr. to put Kansas back up 24-21 early in the third quarter. Their lead wouldn't last too long as on the very next drive, Texas kicker Cameron Dicker hit a 39-yard field goal to tie things up at 24 with about seven minutes left in the third quarter. 
Heading into the fourth quarter, with the game still tied at twenty-four, Texas would take the lead again when Sam Ehlinger hit Devin Duvernay for a 14-yard touchdown pass to put Texas back up 31-24 with 14:01 left to play. With the help of a Sam Ehlinger interception deep in Texas territory, the Jayhawks would capitalize off the great field position as running back Pooka Williams Jr. found the endzone once again to pull the Jayhawks within two. Then the craziness started to happen as the Kansas extra point attempt was blocked and taken back by D'Shawn Jamison. Instead of Kansas tying the game at thirty-one, Texas took a 33-30 lead.
Just one minute and 34 seconds later, Sam Ehlinger would find Devin Duvernay for a 43-yard bomb to extend the Longhorns lead 40-30 with 8:32 left to play. But the Jayhawks didn't go away as kicker Liam Jones nailed a 46-yard field goal to pull the Jayhawks back within seven. 
Thanks to another costly Texas turnover deep in their own territory, Kansas wouldn't settle for a field goal because quarterback Carter Stanley found Andrew Parchment for a 11-yard touchdown pass to tie the game at 40 with 4:25 left. It didn't take Texas long to answer back however as the Longhorns responded with their own touchdown as running back Keaontay Ingram crossed the goal line with 2:47 left on the clock as Texas took back the lead 47-40.
As crazy as it sounds, it was a common thought to ask yourself, "Did Texas leave too much time on the clock for Kansas to score?" Well, the answer was yes, as Kansas converted on a key third and fourth down on their way to score as Carter Stanley hit Stephon Robinson Jr. for a 22-yard touchdown pass as the Jayhawks were down just one point with 1:11 left in the fourth quarter. Then the mad hatter lived up to his reputation as Kansas decided to go for the two-point conversion and it turned out to be the right decision as Stanley found a wide open Daylon Charlot in the back of the end zone to give Kansas a 48-47 lead. 
With 1:11 left and two timeouts, it was up to Texas quarterback Sam Ehlinger to lead the Longhorns to put them in a position to win the game. He responded with a clutch ten-play drive to put kicker Cameron Dicker in good spot to win the game with just a few ticks left on the clock. Then, from 33 yards out, Dicker split the uprights as time expired and the Longhorns won 50-48. 
For Texas, it was another sloppy game defensively as they gave up over 550 yards of offense. Even though Texas was down quite a few starters on defense, the tackling was still an issue and at times, and there was no hope of slowing down the Kansas offense. Offensively, the line still appears to be a big inconsistency and I am sure there will be plenty of things Tom Herman would like to have back when he sees the film. I know the motto for Herman is to go 1-0 every week but I am not sure any Texas fan would feel good about what they saw on Saturday night. 
As for Kansas, I must give them a tip of the cap. This team came down to Austin and gave it everything they had. They put themselves in great positions to win this game and it seemed like every time they needed to respond, they did just that. Carter Stanley looked like a different quarterback as he threw for over 300 yards and four touchdowns with no turnovers. Of course, running back Pooka Williams Jr. was amazing as usual, rushing for 190 yards and two touchdowns. The defense still needs some work, but the good news is that I think Kansas has finally found a great offensive coordinator in Brent Dearmon. 
Texas hits the road next week to take on TCU, while Kansas hosts Texas Tech at night.
**We now have FREE Big 12 Forums here at Heartland College Sports. Go sign up here and join our conversation! **