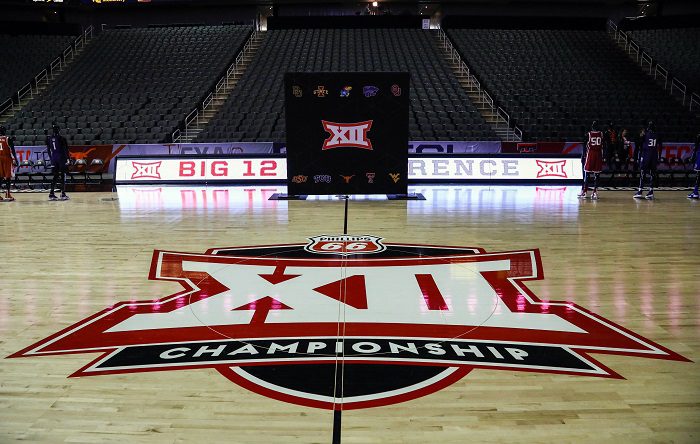 Last October Bill Self's timing couldn't have been any better. After Big 12 Media Day ended in Kansas City he walked out of the Sprint Center, into a waiting car and headed back to Lawrence. A few minutes later, a conviction dropped in the college basketball scandal being investigated by the FBI. 
That conviction belonged to James Gatto, the former Adidas employee who, according to court records, sworn testimony and evidence turned over to prosecutors by Gatto, implicated Self in a scheme in which Gatto and Adidas would funnel money to two recruits, Billy Preston and Silvio De Sousa, in exchange for making sure they signed with Kansas.
Self won't catch any such break when the Big 12's men's basketball coaches and the media get together on Wednesday in Kansas City for Big 12 Media Day.
Last month the NCAA handed down a notice of allegations to Self and the Jayhawks in connection with the scandal.
That included three Level I charges, the stiffest the NCAA can hand down, plus a lack of responsibility charge against Self. These are serious charges that could potentially impact Self's career at the job that paved his way to the College Basketball Hall of Fame.
It's not hard to see Kansas and its public relations staff heading off questions at the pass. They could say Self won't be answering any questions about it. Self could read a statement, as he did last year, and defer any non-basketball related questions. That would go for the televised portion of the morning press conference and the near-hour Self will spend with the rest of the media that afternoon. One also has to wonder if he'll be able to hold court at the lunch table with the rest of his Big 12 coaching colleagues, as he did so happily a year ago.
Answers may not be forthcoming on Wednesday and the investigation may take forever (by NCAA standards), but there is no doubt it will leave a dark cloud over Wednesday's event.
But there are many other things to talk about.
Kansas, once again, is pegged to win the conference, as selected by the league's coaches last week. But it wasn't unanimous. Texas Tech received a first-place vote. So did Baylor. In fact, the Bears were No. 2 behind Kansas in that poll. Much like last season, Kansas may be No. 1, but the gap between the Jayhawks and the rest of the Big 12 isn't quite what the chasm that it used to be. 
When Self talks about basketball he can tout the health of his Big 12 Preseason Player of the Year, center Udoka Azubuike, and the return of guard Devon Doston, who was on the preseason team and should contend as the league's top point guard. Azubuike played just nine games last year.
Unlike last year, when Baylor coach Scott Drew talked about having the fewest returning lettermen of any Division I team, he can talk about having the most experienced team in the Big 12. He can also talk about the return of his Big 12 Preseason team selection, forward Tristan Clark, who missed half the season and, despite that, goes into this season as Baylor's best player.
Texas Tech reached the national championship game and lost a thriller to Virginia in overtime. Jarrett Culver high-tailed it for the NBA. The Red Raiders lost players to graduation and transfer. But Davide Morette and Kyler Edwards return, along with a stellar recruiting class led by Jahmi'us Ramsey and a trio of transfers that could have an immediate impact.
Texas is coming off an NIT title, and logically head coach Shaka Smart should be able to use that as a springboard to get back to the NCAA Tournament. Smart will field questions about his talented guards (Courtney Ramey, Matt Coleman III, Jase Febres), his new 7-foot freshman (Will Baker) and the potential for a return by Andrew Jones, who hasn't played since cancer treatment but has now been cleared for basketball activities.
Iowa State, the defending Big 12 Tournament champion, returns potential first-round NBA prospect Tyrese Halliburton, forward Michael Jacobson and the return of forward Solomon Young, who is finally healthy after missing nearly all of last season. But who steps up for talented departures like Talen Horton-Tucker, Marial Shayok and Lindell Wigginton?
West Virginia and Oklahoma State are trendy selections to make their way back to the middle of the pack in the Big 12 this season. The Mountaineers return All-Big 12 Freshman selection Derek Culver, while Emmitt Matthews Jr. leads a talented group of young players from which head coach Bob Huggins wants improvement. Plus, forward Oscar Tshiebwe is a true freshman who could set the league on fire.
The Cowboys brought in a talented recruiting class, ranked in the Top 25 by 247Sports.com. Head coach Mike Boynton Jr. can add that young talent to an experience core that includes Lindy Waters III, Cameron McGriff and Thomas Dziagwa.
Oklahoma returns the Big 12's most improved player from a year ago, Kristian Doolittle, along with forward Brady Manek and emerging guard Jamal Bieniemy. Head coach Lon Kruger hopes that a mix of recruits and transfers can fill in the remaining spots in the starting lineup.
Kansas State may be due a drop off this year after losing Barry Brown Jr., Dean Wade and Kamau Stokes to graduation. K-State's best senior class in recent memory now gives way to an unsettled roster with two main holdovers from last year — Xavier Sneed and Cartier Diarra.
TCU absorbed the most departures of any Big 12 team, between graduation and transfers. The Horned Frogs also almost lost head coach Jamie Dixon to UCLA. But guard Desmond Bane returns and is the top returning scorer in the Big 12 from last season. Center Kevin Samuel mans the pivot, but the rest of the starting lineup and bench is in flux.
The Big 12, like the rest of college basketball, begins action on Nov. 4.
**We now have FREE Big 12 Forums here at Heartland College Sports. Go sign up here and join our conversation! **