Big 12 News
TCU Head Coach Gary Patterson Warns His Team to Not do 'Horns Down'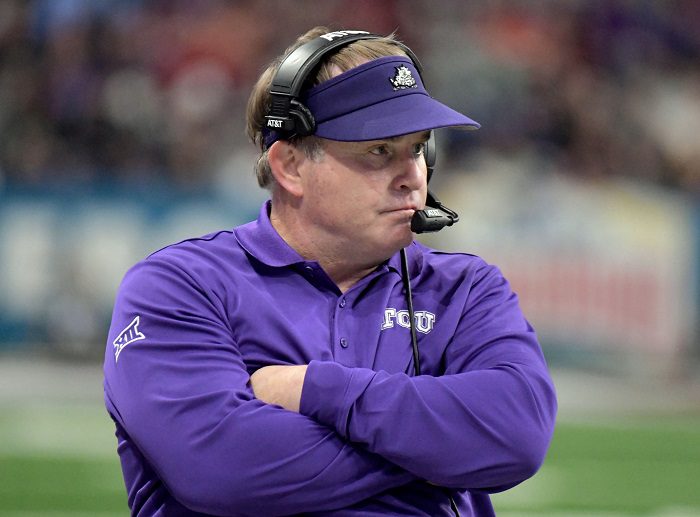 For every team that is getting set to take on the Texas Longhorns, the 'Horns Down' drama continues to get attention. Whether it's the Sooner Spirit Squad being told not to do Horns Down, or KU QB Carter Stanley going viral for giving double Horns Down last week in Austin, it still gets attention.
So it's no different this week with the TCU Horned Frogs set to take on UT. So when head coach Gary Patterson was asked about the gesture, he said, "You've never seen me do it and I'm not going to do it … Some guys don't have hand signs at their schools. I don't see any reason to get upset about it or why people do it."
Classic Coach P.
But he went on to add that if his players decide to cross him on this one, "They know how we're supposed to act. If they want to do that, they're on their own."
I would absolutely hate to be on the receiving end of this if a player decides to go "Horns Down" on Saturday afternoon and gets penalized for it.
Frankly, the whole thing is ridiculous. Horns Up, Horns Down, it's all part of the fun of college sports and is what separates college sports from the corporate feel of many pro sports in 2019. If the NCAA and conferences continue to try to stop this harmless fun, because they're trying to… what exactly? Not hurt players' feelings (?!), it will continue to sap the passion out of the game, and the indirectly, the fan bases, over a period of time.
That would be a loss for college football.
**We now have FREE Big 12 Forums here at Heartland College Sports. Go sign up here and join our conversation! **