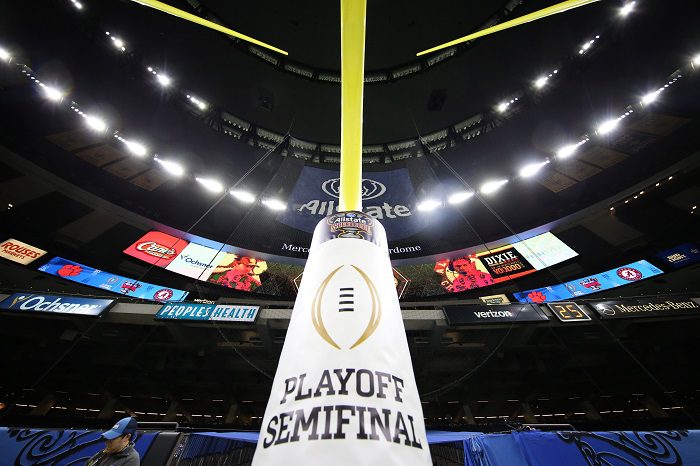 The postseason is the ultimate celebration for teams to celebrate their hard work through the course of the year. As we all know, the postseason for college football features a four-team playoff and several bowl games. Each conference has agreements with certain bowl games to send their respective teams to. Many websites use projections to show where they predict each team to go. Instead of projections, here is a version more similar to "bracketology". This is a live look at where teams would be if the season ended today.
It's the same story on a different week for Oklahoma. Despite Clemson dropping in the polls and unbeaten Wisconsin going down, the Sooners are still outside the top four. The Big 12. I do not think Clemson will survive through the entire season, especially with Trevor Lawrence's first quarter performance. He's clearly vulnerable, being picked off twice by Louisville. Also, Ohio State hosts Wisconsin this week. If the Badgers can score a road upset, it will be interesting to see if the voters push Penn State or Florida in front of the Sooners. The bias is real, folks.
In fact, the bias is real that the Big 12 is playing Florida International and Toledo in spots where SEC teams should be placed. That conference has five teams in the top 10. Four teams are in New Year's Six bowls because of those rankings. The SEC has more teams within New Year's Six bowls than they do non-New Year's Six bowls.
Meanwhile, it's one of those weeks where many teams sit at either 4-3 or 3-4. Thus, the APR rankings were used this week. The Big 12 is in deep trouble here. Kansas State is in excellent hands. The Wildcats are ranked 16th in the APR rankings. The Pac-12 forbids teams with losing records to use APR rankings to go to a bowl. Thus, Stanford is ineligible. While the Wildcats have a winning record this week, they rank higher than the best APR team used. Illinois has a 3-4 record and is tied for 22nd. The APR score basically provides Kansas State an insurance policy in case they only win one more game. This would be huge for Chris Klieman's team as they would receive those coveted extra practices bowl teams get.
Now for the troublesome part. The three teams currently on the outside looking don't stand a chance. Texas Tech is the worst team in the Big 12 being ranked 120th in the APR rankings. West Virginia is ranked 104th. Kansas is tied for 92nd. The worst APR ranking which received a bowl bid this week was Army who is tied for 43rd. That's 49 teams between Army and Kansas.
Aside from Kansas State, there are a couple of teams walking that line. Oklahoma State has an excellent shot at receiving a bowl bid based on APR scores. The Cowboys are tied with Illinois and three more schools for 22nd. I like the pokes chances. On the other hand, TCU better get back to its winning ways. The Horned Frogs are tied alongside Oklahoma for 73rd in the APR rankings.
For the Big 12's sake, these teams ought to just win, baby!
Alas, the current bowl picture is below.
College Football Playoff
Peach Bowl Semifinal: No.2 LSU (7-0) vs. No.3 Ohio State (7-0)
Fiesta Bowl Semifinal: No.1 Alabama (7-0) vs. No.4 Clemson (7-0)
Sugar Bowl, Big 12 Champion vs. SEC Champion
No. 5 Oklahoma (7-0, 4-0 in Big 12) vs. No.7 Florida (7-1, 4-1 in SEC)
-Oklahoma is undefeated and ranked higher than Baylor. Therefore, the Sooners are the current leader of the Big 12.
-The two remaining undefeated teams from the SEC are in the College Football Playoff. Florida has played more conference games than any other team and has only sustained one loss. They are the SEC East Division leader.
Alamo Bowl, Big 12 No.2 vs. Pac-12 No.2
No.14 Baylor (7-0, 4-0 in Big 12) vs. No.12 Utah (6-1, 3-1 in Pac-12)
-Baylor remains undefeated, thus they are the leader of the Big 12 behind Oklahoma. The Bears are ranked lower than No.9 Auburn, the last team in a New Year's Six Bowl.
-Oregon is in the Rose Bowl. Utah has a better overall record than USC.
Camping World Bowl, Big 12 No.3 vs. ACC first tier selection
No.15 Texas (5-2, 3-1 in Big 12) vs. No.25 Wake Forest (6-1, 2-1 in ACC)
-Texas is ranked higher than Iowa State of the teams with 3-1 records in Big 12 play.
-Wake Forest has played fewer conference games than Virginia, thus the Cavaliers have the Orange Bowl bid. The Demon Deacons are ranked higher than Pitt.
Texas Bowl, Big 12 No.4 vs. SEC first tier selection
No.23 Iowa State (5-2, 3-1 in Big 12) vs. *Florida International (4-3, 2-2 in CUSA)
-Iowa State is ranked lower than Texas and is the only team remaining with one Big 12 loss or fewer.
-The SEC has seven bowl eligible teams with four teams playing in a New Year's Six bowl. Florida International fills in the bowl slot as a leftover team with a winning record.
Liberty Bowl, Big 12 No.5 vs. SEC first tier selection
Kansas State (4-2, 1-2 in Big 12) vs. *Toledo (4-3, 1-2 in MAC)
-Kansas State's victory over TCU gives them a winning record and the tiebreaker over TCU.
– The SEC has seven bowl eligible teams with four teams playing in a New Year's Six bowl. Toledo fills in the bowl slot as a leftover team with a winning record.
Cheez-It Bowl, Big 12 No.6 vs. Pac-12 No.7
TCU (3-3, 1-2 in Big 12) vs. California (4-3, 1-3 in Pac-12)
-TCU has played fewer games than Oklahoma State, thus they have fewer losses. This pushes the Horned Frogs ahead of Oklahoma State.
-California wins the tiebreaker over Washington State with two road victories against Power Five schools, including one in non-conference.
First Responders Bowl, Big 12 No.7 vs. Conference USA selection
Oklahoma State (4-3, 1-3 in Big 12) vs. Western Kentucky (5-2, 4-0 in Conference USA)
-Oklahoma State is the final remaining bowl eligible team from the Big 12.
-Western Kentucky has played four Conference USA games and won all of them. By default, they are considered the Conference USA leader. No other team has played as many conference games.
Ineligible: West Virginia (3-4, 1-3 in Big 12)
-West Virginia has been through the gauntlet lately. Luckily for the Mountaineers, they get a bye week before a road game against Baylor. Four teams secured bowl berths this week based on APR scores. West Virginia's APR score for the past two seasons is 953. This places them in a tie for 104th place. There is likely zero chance West Virginia receives a bowl bid based on APR scores.
Texas Tech (3-4, 1-3 in Big 12)
-This may come as a surprise when you see West Virginia's ranking, but the Red Raiders actually have a worse APR ranking than the Mountaineers. Texas Tech is tied for 120th of 129 ranked FBS programs. UAB doesn't have a ranking because they cancelled out their program and brought it back. Tech's APR score is 944. Don't worry though. Florida State is pulling up the rear and its not even close. It's a wonder how the Seminoles haven't received a postseason ban.
Kansas (2-5, 0-4 in Big 12)
-Kansas gave Texas a run for their money, but could not hold on for the lead. A blocked PAT returned for two points provided the difference. The Jayhawks could easily be sitting at 5-2. Even with the loss against West Virginia, they would be 4-3 if they held on to leads against Coastal Carolina and Texas.
**We now have FREE Big 12 Forums here at Heartland College Sports. Go sign up here and join our conversation! **