Big 12 Basketball
Bill Self Remains Evasive on NCAA Investigation into Kansas Basketball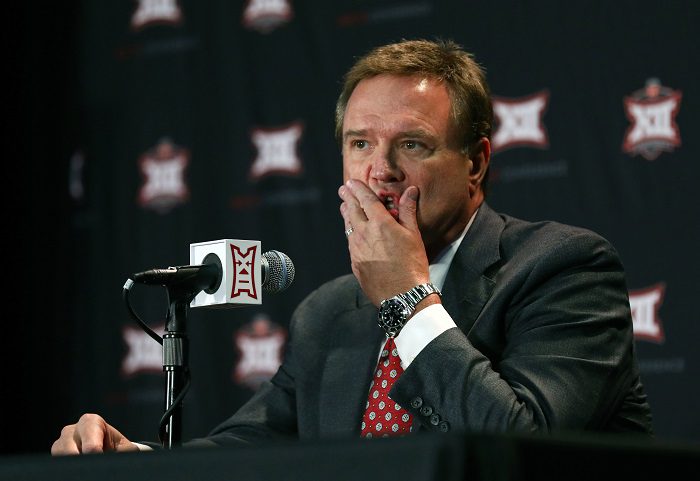 KANSAS CITY, Mo. — Kansas head coach Bill Self directed the media to his statement from September when he was asked a direct question about the NCAA's investigation of his program at the start of his press conference at Big 12 Men's Basketball Media Day at the Sprint Center on Wednesday.
Asked about the investigation by ESPN's Paula Lavinge, Self said that he couldn't "comment to any details of anything going on with the allegations due to the NCAA process."
Last month the NCAA handed down a notice of allegations to Self and the Jayhawks in connection with the scandal.
That included three Level I charges, the stiffest the NCAA can hand down, plus a lack of responsibility charge against Self. These are serious charges that could potentially impact Self's career at the job that paved his way to the College Basketball Hall of Fame.
Self's attorneys released a statement on Self's behalf after the allegations were released, which amounted to a vigorous defense of his program and the assertion that the FBI's investigation of the matter found that Self did not know about any payments made to potential recruits.
Self said that the investigation hasn't caused him to worry about his job status at Kansas. He says the chancellor, athletic director and himself are totally aligned on that point. Self did say that the investigation has had an impact on recruiting, but admitted that he believes their early-signing period could be their best in the past few years.
"It's something that we certainly explain out and are very transparent with everything going on," Self said about explaining what's happening to recruits.
The NCAA investigation is ongoing and likely won't be resolved for months, meaning that any punishment probably won't impact Kansas during the season. And it certainly doesn't seem to impact Self's assessment about what lies ahead for this team.
"I'm probably more excited about getting back to basketball this year than I have been in most years," Self said. "I think we have some things that when you try to construct a team that you would definitely look to try to do."
Big 12 coaches selected the Jayhawks as the No. 1 team going into the season, with eight first-place votes. Texas Tech and Baylor received one each. Kansas is coming off a season in which it saw its 14-season streak of Big 12 regular-season titles snapped by Kansas State and Texas Tech. The Jayhawks also lost to Iowa State in the Big 12 Tournament championship game.
Self welcomes back center Udoka Azubuike, who despite playing just nine games last year was named by the league's coaches as its Big 12 Preseason Player of the Year. Guard Devon Dotson also returns, though Self said that Dotson hurt his right foot during practice on Tuesday and his right foot is currently in a boot. Self said Dotson probably wouldn't play in the Jayhawks' next scrimmage but feels the injury is day-to-day.
As for Azubuike, Self can't wait to get him back in the paint.
"He has a chance to be as good as any five man in the country," Self said. "We expect him to play to an All-American-type level as long as he's healthy."
Kansas returns eight players from last year's team, but Self seems keenly excited about Isaiah Moss, an Iowa transfer who averaged 9.2 points per game last year and is a career 39 percent shooter from the 3-point line.
"I think he should be our best shooter," Self said. "He's the most proven shooter we have in our program, without question, because he's done it obviously for three years in Iowa City."
Kansas opens the season on Nov. 5 when it faces Duke in New York City.
**We now have FREE Big 12 Forums here at Heartland College Sports. Go sign up here and join our conversation! **