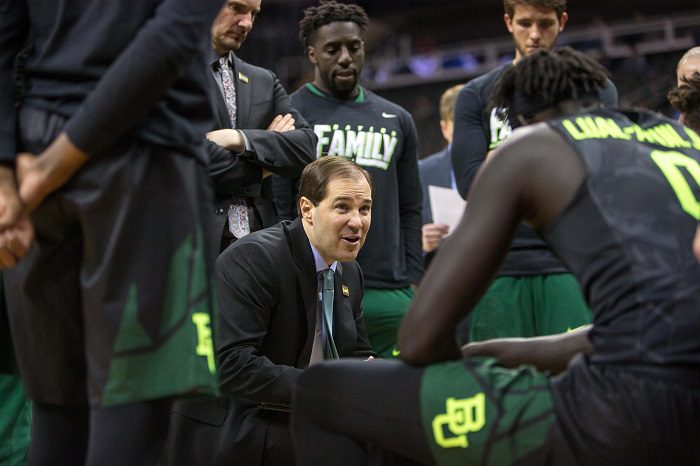 Leading up to the opening of the 2019-20 Big 12 Men's basketball season Heartland College Sports will analyze each of the Big 12 men's basketball teams. Today it's the Baylor Bears. 
2018-19 Record: 20-14 (10-8 in Big 12).
Postseason — NCAA: def. Syracuse, 78-69 (first round); lost to Gonzaga, 81-73 (second round).
Top returning players: F Tristan Clark (14.3 ppg, 6.2 rpg, missed half of season due to injury), F Mark Vital (7.2 ppg, 7.2 rpg), G Jared Butler (10.2 ppg, 3.1 rpg, 2.7 apg), G Devonte Bandoo (8.4 ppg, 2.2 rpg), F Freddie Gillespie (5.3 ppg, 4.4 rpg).
Seniors/lettermen lost: G King McClure (9.0 ppg, 5.3 rpg, 2.1 apg), G Makai Mason (14.9 ppg, 2.5 rpg, 3.4 apg); G Jake Lindsey (missed senior season due to injury and retired from basketball); G/F Mario Kegler (10.5 ppg, 5.8 rpg, suspended from team in September and turned pro).
Recruits signed: SF Jordan Turner, 6-foot-7, Sunrise Christian High School (Wichita, Kan). Turner signed in the early period and right now is Baylor's only recruit for the 2019-20 season. The three-star recruit, per 247Sports.com, was considered the No. 6 recruit in Kansas and was among the Top 40 at his position nationally.
Transfers eligible for 2019-20: G MaCio Teague, 6-foot-3, Cincinnati, Ohio (UNC-Asheville); G Davion Mitchell, 6-foot-2, Hinesville, Ga. (Auburn). Mitchell, an Auburn transfer, sat out all of the 2018-19 season, but when he does hit the floor for Baylor he'll bolster the team's guard depth. At Auburn he had the team's second-best assist rate and second-best field goal percentage, despite coming off the bench for the 2017-18 SEC champs. Previously a four-star recruit, Mitchell was ranked in the nation's Top 60 recruits when he came out of high school. Teague also sat out 2018-19 due to transfer rules after two years at UNC-Asheville, where he was an All-Big South performer in each of his two seasons who averaged 16.7 points per game as a sophomore in 2017-18.
Transfers expected to sit out for 2019-20: F Jonathan Tchamwa Tchatchoua, 6-foot-8, Douala, Cameroon/NBA Global Academy – Australia (UNLV); G Adam Flagler, 6-foot-3, Duluth, Ga. (Presbyterian). Tchatchoua averaged 3.4 points, 3.5 rebounds and 0.7 blocks per game for UNLV last year. Flagler, meanwhile, was the Big South Freshman of the Year, averaging 15.9 points per game for the Blue Hose.
Looking ahead to 2019-20: Last year at Big 12 Media Day Baylor head coach Scott Drew expressed that his biggest concern was that he had the fewest returning lettermen of any conference team. This year his biggest concern is finding playing time for all of them. The Bears may be the most experienced team in the Big 12, even with the sudden departure of Kegler (he was suspended for a violation of team rules and then chose to go pro). Clark's return helps the frontcourt, but so did the progression of players like Gillespie, Matthew Mayer and Flo Thamba during Clark's absence. Drew noted that while Clark missed half of last season, both Gillespie and Mayer had surgeries in the offseason that required long rehabs. Butler should be the man to watch in the backcourt, but Bandoo provided much-needed juice off the bench and proved a capable starter when needed. Teague and Mitchell give the Bears even more backcourt depth and could allow the Bears to play more four-guard lineups. Vital, despite being just 6-foot-5, will remain one of the conference's best rebounders. With so many returning players, the Bears didn't need to recruit that much for this season (but Drew is already putting together a hot class for 2020, one that is already in the Top 10 at 247sports.com as the early signing period approaches). The Bears have everything they need to make a run at the top of the Big 12.
Media Day quote: "I think, first, you'd always rather be picked higher than lower because it means people think you have some talent, some things to work with. At the same time every coach will tell you exactly the same thing — what makes our league such a great league is the parity. The difference between second and tenth, it's a one- or two-possession game." — Baylor head coach Scott Drew on the Bears being picked No. 2 in the Big 12 preseason coaches' poll.
#SicEm HC Scott Drew takes about how the departure of Mario Kegler impacts the #Bears during #Big12MBB Media Day @Heartland_CS pic.twitter.com/Jdy3I4fjv2

— Matthew Postins (@PostinsPostcard) October 23, 2019
**We now have FREE Big 12 Forums here at Heartland College Sports. Go sign up here and join our conversation! **