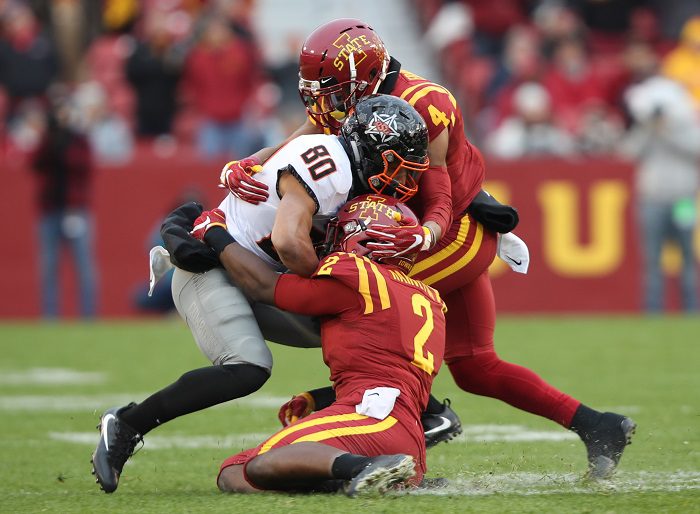 Here is everything you need to know about the upcoming Big 12 match up in our Iowa State vs. Oklahoma State.
Game info
2:30 pm CT  | Saturday, October 26, 2019  | Jack Trice Stadium, Ames, Iowa
TV: FS1 (Cory Provus, Petros Papadakis and Shane Vereen)
Local Radio Oklahoma State: Cowboy Radio Network (Dave Hunziker, Dave Holcomb, and Robert Allen)
Local Radio Iowa State: Cyclone Radio Network (John Walters, Eric Heft, and Ben Bruns)
Opening Line: Iowa State -7
Key Players
Oklahoma State
Safety Kolby Harvell-Peel
Someone has to try and stop the bleeding on defense.  Oklahoma State gives up far, far too many big plays to be have a chance to win many games. Against the Baylor Bears last game OSU gave up 312 yards passing on only 13 catches. Twenty-four yards a completion is going to lose you a lot of games. Harvel-Peel patrols the middle of the field and has to keep those chunk plays from happening.  He also has to be put in position to make those plays by his DC Jim Knowles (more on Knowles in a bit).
Cowboy Back Jelani Woods
After being basically ignored all season Woods finally got to be involved in the offense in the loss to Baylor. His 5 catches and 32 yards were both second on the team after All-American Tylan Wallace. Standing 6'7" tall and weighing 265 lbs he's a nightmare matchup for any defender and should be one of the young quarterback Sanders' favorite target moving forward.
Quartback Spencer Sanders
Can he avoid turnovers, especially fumbles in the pocket? That's about all there is left to say about him at this point.
Iowa State
Quarterback Brock Purdy
After watching Texas Tech's Jett Duffey and Baylor's Charlie Brewer carve up the Oklahoma State defense in consecutive weeks the Big 12's current leader in passing yards has to be licking his chops to play this week. OSU has a bad habit of giving up big plays and Purdy has a good habit of creating them. The young gunslinger should feast this weekend!  With his 14 passing tds (and 6 more rushing!) against only 4 interceptions Purdy is more than capable of winning a shootout with against a dangerous opponent if it comes to that.
Linebackers Marcel Spears Jr. and Mike Rose
The key to beating Oklahoma State is controlling running back Chuba Hubbard, and if he breaks through the defensive line one missed tackle by a linebacker could mean touchdown. Spears, a senior, has the speed and range to stop Hubbard from breaking outside but is only about 10 lbs heavier than the running back who leads the nation in yards after contact. Sophomore Rose is larger by 20 lbs and needs to stop the Cowboy star from breaking up the middle if he can help it. The odds of completely shutting Hubbard down are slim, but if the Cyclones want to keep him from beating them these two need to have solid games. I'm sure head coach Matt Campbell and DC Jon Heacock have been working on a plan to have their defense do just that.
Key Storylines
Oklahoma State
Instead of listing running back Chuba Hubbard as a key player every week I'm going to include a stat line here in the OSU Storylines section to keep everyone up to date on his special season.
Chuba Hubbard stat tracker
With 171 yards and 2 touchdowns against Baylor Hubbard leads the nation in rushing yards (1,295), rushing touchdowns (15), rushing yards per game (180.7), yards per carry (6.5, min. 140 attempts), all-purpose yards, and yards after contact. He needs to average 147 yards a game the rest of the regular season to hit the 2,000 yard mark.
Storyline
Brock Purdy came in the game in Stillwater last year and Oklahoma State didn't know what to do to slow him down. He won't surprise the Cowboys this year but I'm not sure they will have learned what to do to control him either. Against the Cowboy defense last week Baylor gained 536 yards on 54 plays, 214 on 49 plays and the other 322 on the other five. Whereas the Bear's QB Charlie Brewer creates big plays with patience and working the Bears system to perfection, Purdy is more of a creator and a gunslinger which probably spells bad news for Cowboy defensively, and specifically defense coordinator Jim Knowles. Knowles' tenure at OSU in still young, only a season and a half, but it hasn't gone well. With conference teams focusing more on defense lately the days of Big 12 shootouts may be winding down. The addition of Alex Grinch at the rival Sooners camp isn't helping, with something as simple as a coaching change completely overhauling their entire defense in one season. There will be pressure on Gundy to make some changes after a second disappointing showing in a row. Can the Cowboy defense stand up in this last half of the season and not be considered a liability going into the offseason? If not their may be another new face on the OSU coaching staff next year.
Iowa State
Iowa State was a trendy pick to challenge for the Big 12 Championship this season, and after starting slow by needing three overtimes to beat lowly Northern Iowa and then losing to their in-state rival Iowa Hawkeyes the Cyclones have looked more like what people expected, starting with a furious 4th quarter comeback in a loss to the undefeated Baylor Bears. The Cowboys represent the toughest challenge they've faced since that Baylor game though. Outside of the Sooners no one in the Big 12 has the offensive firepower the Cowboys boast. That is of course when the offense is functioning. Make the Cowboy quarterback Spencer Sanders feel pressure, either in the pocket or by getting a lead, and he tends to panic and then the wheels fall off. Can the Cyclones block out being a double-digit favorite and ignore the talk of OSU's demise to come out strong on Homecoming? If they can get an early lead on the suspect visiting defense and let running backs Breece Hall and Johnnie Lang control time of possession they should win this game with ease.

Prediction
Iowa State 45 Oklahoma State 35
The Cyclones are playing well and the Cowboys aren't, sometimes its that simple. Even early in the year when I thought OSU would win 9 and have a punchers chance at another 10 win season I had Ames circled as a loss for them.  Iowa State has always been a tough out at home, and when you have one of the conference's best QBs, best coaches, and best defensive coordinator it gets even harder. I do feel like Oklahoma State plays well after two let downs in a row but it's homecoming in Ames and Iowa State is too good to let this years version of the Cowboys walk out of there with a win. Chuba Hubbard has a big day, going for 200 plus, and Tylan Wallace wakes up after a quiet few weeks and gets 100 yards and 2 tds but Iowa State's defense forces enough mistakes to keep Iowa State ahead. Brock Purdy becomes the 3rd QB in a row to torch the Cowboy defense and has 400 yards.
**We now have FREE Big 12 Forums here at Heartland College Sports. Go sign up here and join our conversation! **