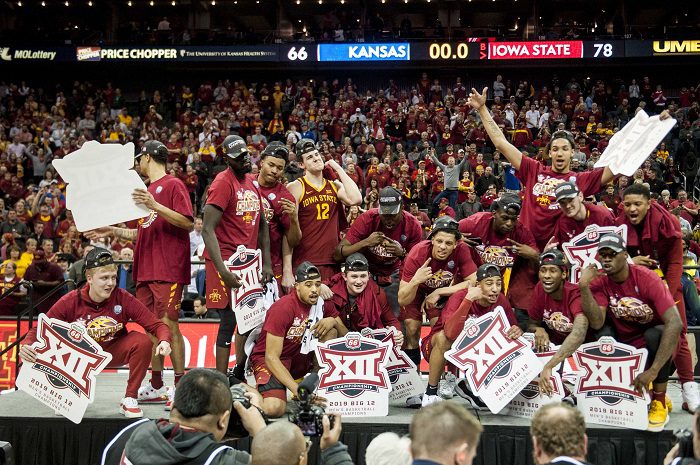 Leading up to the opening of the 2019-20 Big 12 Men's basketball season Heartland College Sports will analyze each of the Big 12 men's basketball teams. Today it's the Iowa State Cyclones. 
2018-19 Record: 23-16 (9-9 in Big 12, won Big 12 Tournament)
Postseason: NCAA: lost to Ohio State, 62-59, in first round.
Top returning leaders: G Tyrese Halliburton (6.8 ppg, 3.4 rpg, 43.4 percent from 3), F Michael Jacobson (11.1 ppg, 5.9 rpg).
2018-19 Seniors/Lettermen lost: G Nick Weiler-Babb (91. Ppg, 5.0 rpg, 4.0 apg), G Marial Shayok (18.7 ppg, 4.9 rpg), G Lindell Wigginton (13.5 ppg, 4.0 rpg, 38.6 percent from 3-point line), G Talen Horton-Tucker (11.8 ppg, 4.9 rpg, 82 assists), F Cameron Lard (5.6 ppg, 2.8 rpg), F Zoran Talley Jr. (1.8 ppg).
Recruits signed: PF Luke Anderson, 6-foot-7, Lakeland, Fla.; PG Tre Jackson, 6-foot-1, Blythewood, S.C.; SF Marcedus Leech, 6-foot-5, Poplar Bluff, Mo.; G Caleb Grill, 6-foot-3, Maize, Kan. All four were among the Top 20 recruits in their respective states. After spending last recruiting season raiding Illinois and the Chicagoland area, Prohm and his staff have worked to expand their footprint. There's a chance more than one of these players could redshirt this season. Grill is the only player that was in the 247Sports.com Top 200 nationally.
Transfers eligible for 2019-20: G Prentiss Nixon, 6-foot-2 (Colorado State); G Rasir Bolton, 6-foot-3 (Penn State). Nixon redshirted last year after transferring from CSU. He led the Rams in scoring with 16.1 points per game during the 2017-18 season and was in the Top 10 in scoring in the Mountain West Conference that season. Bolton earned immediate eligibility from the NCAA after scoring 11.6 points per game for PSU last year, which was second-best on the team. Both should add immediate depth to ISU's guard situation. Don't be surprised if at least one of them starts right away.
Transfers expected to sit out in 2019-20: F Javan Johnson, 6-foot-6, Decatur, Ala. (Troy). Johnson will sit out for a year due to NCAA transfer rules. With the Trojans he averaged 10.4 points per game last season, along with 4.2 rebounds.
Looking ahead to 2019-20: The Cyclones lost Weiler-Babb to graduation, Horton-Tucker to the NBA, and Wigginton and Lard to the professional ranks. Those are significant losses to absorb and the Big 12 coaches' preseason poll had the Cylcones in the bottom half of the Big 12. Yet there's reason for optimism in Ames. Halliburton stuck around and is considered a potential first-round NBA selection next summer. His game should take a significant jump. Jacobson should move back into a more comfortable power forward role with the return of Solomon Young to the post. Head coach Steve Prohm said the Cyclones missed Young's physicality last year. If George Conditt IV emerges as a third inside option, the Cyclones should be set in the frontcourt. Conditt was part of the recruiting class that brought Horton-Tucker and Halliburton to Ames. The fourth member of that class was Zion Griffin, a 6-foot-6 forward who should get more than the 6 minutes per game he received last year. Nixon and Bolton were double-digit scorers at other schools who should help Halliburton solidify the backcourt. Then there's Terrence Lewis (4.4 points per game last year), Eric Steyer and Carter Boothe, who barely played last year. Does any of this leave room for any of the freshmen in the 2019 class to contribute? It's a question that Prohm and the Cyclones will need time to answer. The Cyclones will probably take a step back, at least to start with. But the raw materials are there to make them a real problem in Big 12 play. 
Media Day quote: "The great thing about Solomon is that he has great toughness. He's been a part of a couple of NCAA teams, a couple of Big 12 championship teams here in Kansas City. But he really is probably our most experienced, elite defender that can really understand how to guard pick and roll and defend the basket when you're going against guys with great size, but he can get guys in our conference off of their comfort spot." — Iowa State head coach Steve Prohm on the return of forward Solomon Young.
#CyclONEnation head coach Steve Prohm comments on handling the #NBA hype for Tyrese Halliburton during #Big12MBB media day at the Sprint Center in KC. @Heartland_CS @WideRtNattyLt pic.twitter.com/rJm7zQ8EUz

— Matthew Postins (@PostinsPostcard) October 23, 2019
**We now have FREE Big 12 Forums here at Heartland College Sports. Go sign up here and join our conversation! **