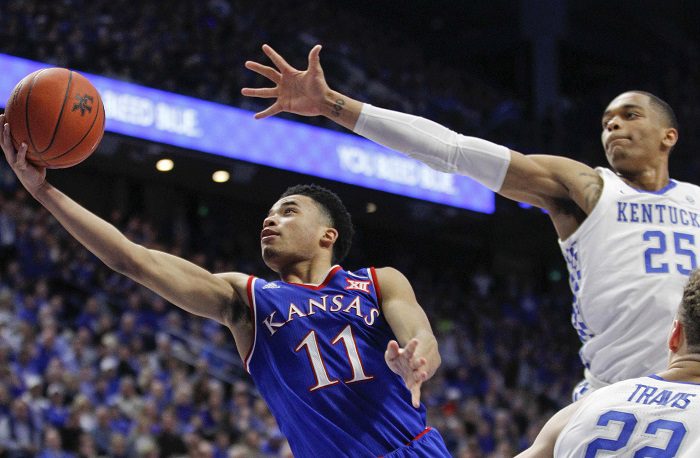 Leading up to the opening of the 2019-20 Big 12 Men's basketball season Heartland College Sports will analyze each of the Big 12 men's basketball teams. Today it's the Kansas Jayhawks. 
2018-19 Record: 26-10 (12-6 in Big 12)
Postseason
NCAA: def. Northeastern, 87-53 (first round); lost to Auburn, 89-75 (second round).
Top returning players: G Marcus Garrett (7.3 ppg, 2.5 rpg), G Devon Dotson (12.3 ppg, 3.7 rpg, 3.5 apg), G Ochai Agbaji (8.5 ppg, 4.6 rpg), F David McCormack (3.9 ppg, 3.1 rpg), C Udoka Azubuike (13.4 ppg, 6.8 rpg, played in just 9 games).
2018-19 Seniors/Lettermen lost: G Lagerald Vick (14.1 ppg, 4.0 rpg, 45.5 percent from 3), F Dedric Lawson (19.4 ppg, 10.3 rpg), G Quentin Grimes (8.4 ppg, 2.5 rpg, 34.0 percent from 3).
Recruits signed: SF Christian Braun, 6-foot-5, Overland Park, Kan. (Blue Valley Northwest); G SF Jalen Wilson, 6-foot-8, Denton, Texas (Guyer HS); SF Tristan Enaruna, 6-foot-9, Mount Pleasant, UT (Wasatch Academy). It's a typical Kansas recruiting class in that all three players are among the Top 10 in their respective states and among the Top 130 nationally, according to 247Sports.com. But it's heavy on length as all of them play practically the same position and will vie for the same playing time, assuming they're not redshirted.
Note: G Issac McBride, 6-foot-1, Little Rock, Ark. (Arkansas Baptist School System) announced in September that he was transferring from KU after signing with the Jayhawks. Also, Michael Jankovich is an invited walk-on.
Transfers eligible for 2019-20: SF Isaiah Moss, 6-foot-5, Iowa. The grad transfer comes to Lawrence after three seasons with the Hawkeyes. A three-year starter in Iowa City and the program's most improved players for two straight seasons, he scored 9.2 points per game last year.
Transfers expected to sit out in 2019-20: Dajuan Harris, 6-foot-1, Columbia, MO (Rock Bridge). Harris is not a transfer in the sense that he came from another school. But because he reclassified for this school year, he'll have to sit out the 2019-20 season. He won a state championship in Missouri as a senior.
Looking ahead to 2019-20: The heart of this Jayhawks team is its guard play. Dotson is one of the two or three best guards in the Big 12, and after putting his name in for the NBA last offseason knows what he has to improve upon. Garrett was a defensive dynamo last year and recognized as part of the Big 12 All-Defensive Team. Now he needs to add more offense to his resume. Agbaji has undeniable athleticism. Now he needs to harness that, improve his shooting and become more consistent. Combine them with Moss — whom Kansas head coach Bill Self says is already KU's best outside shooter — and you have four players with undeniable guard skills that can give teams fits offensively. With a healthy Azubuike in the pivot, this could be a team that reclaims the Big 12 regular season title. Self was effusive in his praise of Azubuike at Big 12 Media Day, saying he was one of the best centers in the country and in line for All-America honors if he stays healthy. And that's the key for Azubuike, who has been dogged by injuries in his KU career. While his skill set is somewhat limited and he's a liability at the free throw line, his mere presence on the court influences spacing on offense and the opponent's ability to dribble-drive to the basket on defense. Self is excited about the depth on this team and it should be better than in past years, with David McCormack and Silvio De Sousa ready to back up Azubuike, while Mitch Lightfoot is versatile enough to play inside and outside. As a team, the Jayhawks need to improve their 3-point shooting. And while the cloud of NCAA investigation hangs over the program, expect Self to keep the players focused on the prize — returning to the top of the Big 12. 
Media Day quote: "I'm probably more excited about getting to basketball this year than I have been in most years. I really like our team. I think that we have some things that when you try to construct a team that you would definitely look to try to do." — Kansas head coach Bill Self.
#RockChalk HC Bill Self takes about his statement, the #NCAA investigation and that he's not commenting during #Big12MBB Media Day @Heartland_CS (Question from @pinepaula /ESPN) pic.twitter.com/j4F6OmDlOb

— Matthew Postins (@PostinsPostcard) October 23, 2019
**We now have FREE Big 12 Forums here at Heartland College Sports. Go sign up here and join our conversation! **