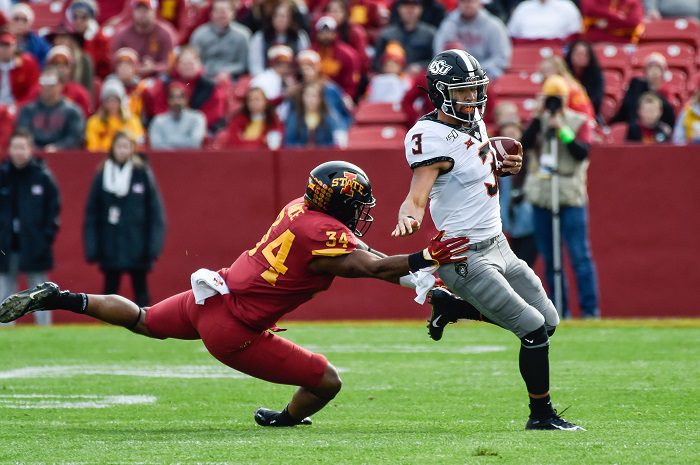 Heading into Saturday, this was my Big 12 game of the week. Of course, with Oklahoma going down, that changed things a little bit but make no mistake, this game was HUGE for both teams at this point of the season. After starting the season 2-2 and opening conference play with a loss, the Cyclones have ripped out three dominant performances against the likes of TCU, West Virginia and Texas Tech. They were red hot coming into this game as their Big 12 title chances were still alive and well. Meanwhile, the Cowboys are reeling a bit as they have stumbled out to a 4-3 start as all three of their losses have come in conference play. With these two teams appearing to be heading in opposite directions, they still had to meet up for a Big 12 matchup in Ames, Iowa to find out just exactly where these teams stand among the rest of the conference.
If you liked offense, then this first half was a good treat for you. Unless of course if you were an Iowa State fan. After two three and outs by both offenses, the Cowboys struck lighting first on the scoreboard as wide out Tylan Wallace took a screen pass 71-yards as he broke about seven tackles on his way to score to put his team up 7-0 early on. Just two short drives later, Iowa State finally put together their best drive of the first half as Brock Purdy found tight end Charlie Kolar to tie the game at seven early in the second quarter.
Then from there it was all Oklahoma State in the first half. The Cowboys continued to beat down the Cyclones with two big plays for scores as wide receiver Braden Johnson took a screen pass for a 50-yard score and running back Chuba Hubbard raced his way for a 65-yard touchdown run to extend the Oklahoma State lead. Meanwhile, the Cyclones couldn't finish drives as they had to settle for two field goals after their lone touchdown in the first half. Of course, three more points could have went up, but Iowa State kicker Connor Assalley missed one of his three kicks in the second quarter. Things were looking good for the Cowboys as they lead 21-13 going into halftime. In the first half alone, there was a combined 624 yards of offense.
After trading punts, Oklahoma State quarterback Spencer Sanders got picked off by Iowa State's Mike Rose and in just two plays, Iowa State running back Breece Hall found the endzone from 9-yards out to cut the Cowboys lead to 21-20 early in the third quarter. Oklahoma State would respond with back to back field goals and with 14:56 left to play, the Cowboys were up 27-20.
From there, the Cyclones put together their best drive on the entire game as their offense went eleven plays and took off nearly six minutes off the clock as running back Breece Hall scored his second touchdown of the game. With that score, the game was tied at 27 with a little over nine minutes left.
That's when things went south for the Iowa State offense. Quarterback Brock Purdy threw a pick six to Oklahoma State's Malcolm Rodriguez and just like that, the Cowboys were back up 34-27. That turned out to be the last score of the game because after the pic six, Brock Purdy threw two more interceptions in his final two drives on the day. With the three turnovers in the fourth quarter, that would help the Cowboys leave Ames with a 34-27 victory.
If you look at the stat sheet, Oklahoma State had some cray things going on. Iowa State ran 88 plays to Oklahoma State's 55 plays. They went 2 for 12 on third down and were outgained by 66-yards. Without a doubt the difference in this ball game were the three turnovers in the fourth quarter for Iowa State. I will get into a lot more detail for a complete breakdown for both teams on my good, bad and ugly piece on Sunday, but this was one heck of a game to watch.
Oklahoma State improves to 5-3 on the season and after questions swirling around the program about Mike Gundy's interest to right the ship has been silenced momentarily. Although the Cowboys are likely out of a Big 12 title shot with three conference losses already, this was a big win regardless. As for Iowa State, this was a huge hit to their Big 12 title hopes. They now have two conference losses on the year and still must play Oklahoma and Texas although those games don't appear to be nearly as daunting as they did 24-hours ago. 
**We now have FREE Big 12 Forums here at Heartland College Sports. Go sign up here and join our conversation! **