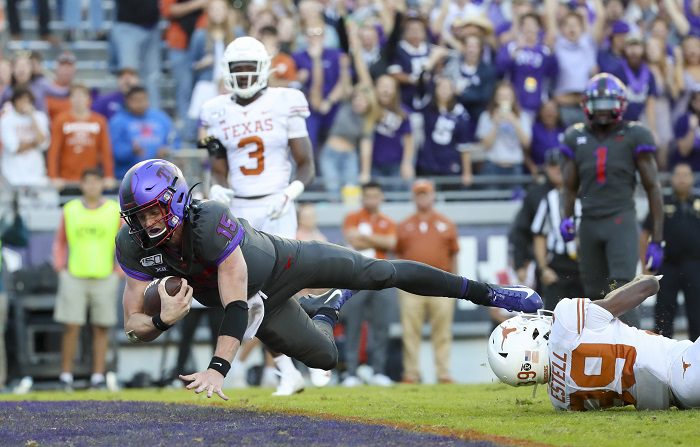 Much like other Big 12 games on this weekend's slate, this was a game of two teams who are in completely different directions. Well sort of, depending on who you ask. The Longhorns came into Fort Worth after a poor performances the past two weekends and even though they played poorly for two straight weeks, they still managed to split those two games as they entered the day at 5-2 with a conference record of 3-1. Meanwhile for TCU, it has been a rough few weeks and the Frogs have lost three out of their last four games coming in. While TCU doesn't exactly have Big 12 championship aspirations this season, Texas does. As the Frogs are clawing for bowl eligibility, they have a chance to not only get closer to a bowl game but knock off their big in-state rival, Texas.
After a good defensive stop, the Texas offense went twelve plays and took nearly five minutes off the clock for a 21-yard Cameron Dicker field goal to go up 3-0 early. After Max Duggan and Sam Ehlinger traded interceptions, TCU was able to capitalize from their forced turnover when Jonathan Song hit a 32-yard kick to tie things up at three late in the first quarter.
Early in the second quarter, the Horned Frogs put together a beautiful nine play drive that took off nearly four and a half minutes off the clock that resulted in a 24-yard touchdown pass from Max Duggan to Pro Wells to give the Frogs a 10-3 lead. It didn't take long for Texas to respond because in just a few short plays, Sam Ehlinger hit Devin Duvernay for a 47-yard touchdown strike to tie the game back up at ten.
A few drives later, Texas would find the endzone yet again when Sam Ehlinger hit running back Keaontay Ingram for a 17-yard touchdown pass to put Texas up 17-10 with just a little over a minute left in the first half. Give TCU credit because instead of just mailing it in for the first half, the offense marched down the field and as the first half expired, kicker Griffin Kell drilled a 52-yard kick to cut the Texas lead 17-13 at halftime.
The second half started a little slow but man, was there some points to be had here. Both teams punted to start off their first offensive possessions, but Texas was able to get another field goal from Dicker the kicker to take a touchdown lead with about nine minutes left in the third quarter. The Frogs wouldn't take long to answer the call because in just five short plays, TCU went 70-yards as Sewo Olonilua capped off the drive with a short touchdown run to tie the game at twenty.
With the help of a Sam Ehlinger interception, Mad Duggan just needed one play to find Jalen Reagor for a 44-yard touchdown pass and just like that the Frogs were on top 27-20 in a matter of less than a minute and a half from the previous score. Just a drive later, Texas quarterback Sam Ehlinger would throw yet another costly pick that TCU turned into three points and with less than twelve minutes left, the Horned Frogs were up by ten (30-20).
Texas would need another lengthy drive to score again as running back Roschon Johnson found the endzone to pull Texas within three with less than seven minutes to play. Once again, the TCU offense responded in a big way by chewing off nearly five minutes off the clock on the following Texas score and with just 1:59 left on the clock, TCU quarterback Max Duggan hit pay dirt as the Frogs had a 37-27 lead. That put the Longhorns in a tough spot and as Texas was making their way down the field, Sam Ehlinger threw his fourth interception of the day as TCU went on to win the game 37-27 in Fort Worth.
After all the talk about offensive coordinator Sonny Cumbie being on the hot seat, his offense did the talking today as they put up 37 points. The defense capitalized from key turnovers and when it counted most, the Horned Frogs made play after play. Just as things were starting to get bleak this season for TCU, they were able to get the huge win at home against a key rival in Texas. The Horned Frogs have now beaten Texas five out of their last six tries as they move to 4-3 and are now one step closer to being bowl eligible.
Meanwhile for Texas, this was a complete back breaker. After poor performances the last two weeks against Oklahoma and Kansas, this made three straight games were Texas looked lifeless at times or all times depending on which Texas fan you talk to. Sam Ehlinger had his worst day as a Longhorn throwing four picks and that certainly was the biggest difference in this game between the two teams. Not to mention, the seat of defensive coordinator Todd Orlando is extremely hot right now. After the loss, Texas falls to 5-3 on the season and their hopes of a Big 12 title birth seem to be slipping by the week.
**We now have FREE Big 12 Forums here at Heartland College Sports. Go sign up here and join our conversation! **