Big 12 News
This Video of Bill Snyder After Kansas State's Win is Pure Happiness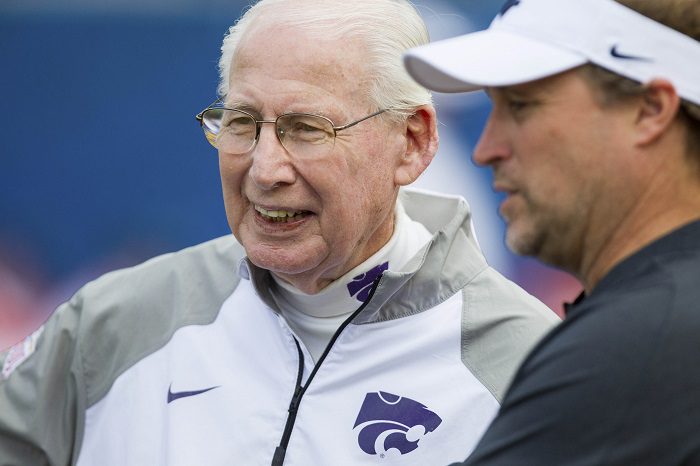 Kansas State did the unthinkable on Saturday, beating Oklahoma at home as a 24-point underdog.
The students stormed the field, the players basked in the glory, and high atop Bill Snyder Family Stadium, the man who the stadium is named after was looking to a pair of binoculars, appreciating what he was watching and then gave a huge smile and thumbs up to the fan who happened to capture this video of him.
Take a look here.
Bill Snyder!!! 😁👍 pic.twitter.com/8P7lh8Tie4

— K-State/Costco Combo Fan (@HazenShort) October 27, 2019
If this doesn't bring a smile to your face (OK, fine, if you're an OU fan, it shouldn't), then I don't know what will.
The reality is that this program needed a shake up and needed new blood. That's not a critique of Bill Snyder, it's just a fact of college football, and sports in general, sometimes. And Chris Klieman appears to have been the ideal guy for the Wildcats.
But the fact that Snyder can appreciate all this, despite some of the messiness of how he left, speaks to the respect and appreciate that Snyder and Kansas State continue to have, and will always have for each other.
**We now have FREE Big 12 Forums here at Heartland College Sports. Go sign up here and join our conversation! **