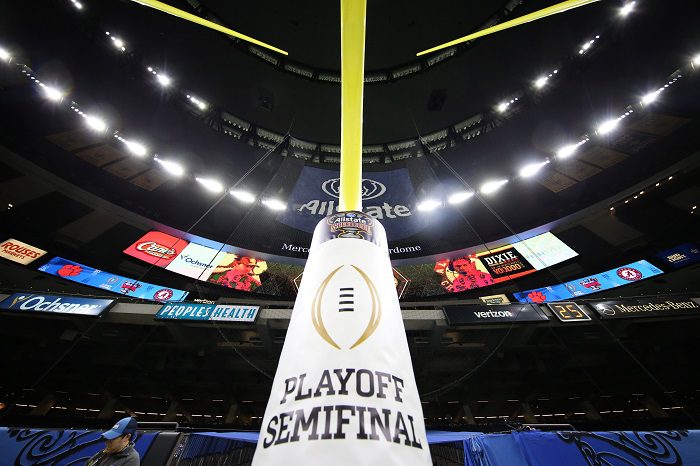 course of the year. As we all know, the postseason for college football features a four-team playoff and several bowl games. Each conference has agreements with certain bowl games to send their respective teams to. Many websites use projections to show where they predict each team to go. Instead of projections, here is a version more similar to "bracketology". This is a live look at where teams would be if the season ended today.
One week ago, the Sooner Schooner fell off trying to make a sharp turn. It was announced the Schooner is out of commission for the season and there is speculation it might never return. Is this a metaphor for Oklahoma's playoff hopes? As SEC and Big Ten teams continue their rise towards the top four spot, Oklahoma was just trying to stay pat until one more team bit the dust. Perhaps, the Sooners saw an opening and tried to make that sharp turn. The result saw a loss at Kansas State and a drop of five spots in the polls. Baylor now takes over the Big 12's spot in the Sugar Bowl as the leader of the conference. This isn't going to stop the swirling rumors that Lincoln Riley may go to the Dallas Cowboys, if not other teams in the NFL. After all, some Tech fans probably still wish Kliff Kingsbury was head coach as the Arizona Cardinals have already clinched an improved record in 2019 over their 2018 campaign. If Riley goes, it could be then end of the Sooner's reign atop the Big 12 for the foreseeable future.
Baylor is nowhere near the College Football Playoff. Luckily for the Bears, Oklahoma is still on their schedule. If Baylor is truly a top team, the Bears will beat Oklahoma in Waco. This guarantees Baylor to move up at least one spot. There's still a lot of football to be played. For instance, No.5 Penn State has road trips remaining to current unbeatens Minnesota and Ohio State. Alabama has yet to play LSU and Auburn. Florida plays Georgia this week and could be vulnerable in a road trip to Missouri. Oregon has to enter the Los Angeles Coliseum, where USC is undefeated, this week. That's before a road trip to Arizona State and a likely meeting with Utah in the Pac-12 Championship. If Baylor can run the table and defeat the second-place Big 12 team a second time, it's difficult for the committee to validate that a one-loss team should get in over them. If the committee does choose that route, the College Football Playoff will lose audiences west of the Mississippi River. Why? Because fans from the Pac-12 and the Big 12 already feel like they're getting a raw deal from the subjective opinions of a committee who is sleeping in bed with ESPN and its network affiliations with the ACC and the SEC.
I wouldn't put it past the NCAA and ESPN to completely keep an undefeated Baylor squad out in favor of a one-loss team from another conference. However, with Baylor being snubbed from the playoff once already and other schools moaning and groaning about the favoritism to the SEC, it would be a fatal mistake for the NCAA to go that route. As for ESPN, they'll adapt. They'll sell out, constantly kiss the ass of Pac-12 schools and cut deals to show America the best college athletes money can buy when 2023 comes around. An undefeated Baylor is the NCAA's worst nightmare. It forces the question, "Do we allow a Southern Baptist private school with a controversial history from a conference we don't care for into our Playoff, or do we go with one of our blue bloods from a conference we love?"
Back to the bowl picture, the Sooners now face Southern Cal in the Alamo Bowl as Utah is ranked ahead of them. If the Sooners run the table, they're guaranteed to rise past at least one Pac-12 team. A two-loss Utah or Oregon team will not be ahead of a one-loss Oklahoma. Of course, Oklahoma fans will be supporting the Trojans this week as will the entire nation east of the Rocky Mountains.
Texas remains ahead of Iowa State, thanks to Oklahoma State. Both schools dropped out of the AP Top 25. The Longhorns gained more votes than Iowa State though and this pushes Texas into the Camping World Bowl.
The SEC hates playing the Big 12. As the nation continues to drink ESPN's SEC Kool-Aid by pushing four SEC teams into ta New Year's Six bowl, their four non-New Year's Six schools manage to completely avoid playing the Big 12. This is in large part to the Florida bowls that the SEC favors over the Texas and Liberty Bowls. However, the one team that could easily be placed in the Texas bowl would rather go to the Belk Bowl. Most would think Kentucky chooses the Music City Bowl, but the Wildcats recently played there. Charlotte, North Carolina is closer in proximity to Lexington, Kentucky than Memphis or Houston. Add in the fact that North Carolina is a more recognizable opponent for a blue blood basketball school and it's no brainer that Kentucky would want to go to the Belk Bowl. While the SEC certainly doesn't want its teams to play against the Big 12, Kentucky actually has a few excellent reasons to avoid the Texas Bowl and the Liberty Bowl. This, unlike Texas A&M, who would prefer to play an AAC in the Birmingham Bowl than face a Big 12 program. Because of this, Iowa State and Kansas State receive opponents from the Mid-American Conference. Why would the Texas Bowl and the Liberty Bowl invite MAC schools over Washington State or Illinois, each who are currently 4-4? Because the NCAA mandates that schools with a winning record fill in spots before teams with a .500 record.
The opponent for the Cheez-It Bowl will likely change this week. California has fallen from a Pac-12 Championship contender to a .500 team since quarterback Chase Garbers suffered a shoulder injury against Arizona State in late September. The Golden Bears bowl hopes are now in jeopardy while Washington State seems to be improving and nearly scored an upset at Oregon last week. TCU is currently in that slot. The Horned Frogs travel to Stillwater this week and the losing team is guaranteed to be in the First Responders Bowl against a Conference USA team, likely its champion which is currently Louisiana Tech. Both teams would prefer a Pac-12 opponent for recognition and recruiting purposes.
Every team in a bowl game this week is guaranteed to be eligible for a bowl game next week. Unless West Virginia upsets Baylor, all of the teams currently in a bowl will remain in a bowl. A Mountaineers victory will give the conference an eighth bowl eligible team. Believe it or not, had Kansas defeated Coastal Carolina, they would also be in a bowl this week.
Alas, the current bowl picture is below.
College Football Playoff
Peach Bowl Semifinal: No.2 Alabama (8-0) vs. No.3 Ohio State (8-0)
Fiesta Bowl Semifinal: No.1 LSU (8-0) vs. No.4 Clemson (8-0)
Sugar Bowl, Big 12 Champion vs. SEC Champion
No.12 Baylor (7-0, 4-0 in Big 12) vs. No.7 Florida (7-1, 4-1 in SEC)
-Baylor is the only unbeaten remaining in the Big 12.
-The two remaining undefeated teams from the SEC are in the College Football Playoff. Florida is at the top of the SEC East.
Alamo Bowl, Big 12 No.2 vs. Pac-12 No.2
No.10 Oklahoma (7-1, 4-1 in Big 12) vs. Southern California (5-3, 4-1)
-Oklahoma's first loss drops them below No.9 Utah, who claims the Cotton Bowl's At-Large spot.
-With Oregon and Utah in the New Year's Six bowls, USC gets the nod here with a 4-1 Pac-12 record.
Camping World Bowl, Big 12 No.3 vs. ACC first tier selection
Texas (5-3, 3-2 in Big 12) vs. Louisville (5-3, 3-2 in ACC)
-Texas received more votes than Iowa State in the AP Poll.
-Louisville defeated Virginia and thus holds the tiebreaker of 3-2 teams in the ACC.
Texas Bowl, Big 12 No.4 vs. SEC first tier selection
Iowa State (5-3, 3-2 in Big 12) vs. *Toledo (5-3, 2-2 in MAC)
-Iowa State is ranked lower than Texas and is the last remaining team with a winning record in Big 12 play.
-The SEC has 8 bowl eligible teams this week. Four of them are in New Year's Six bowls. Kentucky chooses to go to the Belk Bowl, which allows the SEC to avoid any non-New Year's Six matchups against the Big 12. Toledo has the best record of the leftover teams.
Liberty Bowl, Big 12 No.5 vs. SEC first tier selection
No.22 Kansas State (5-2, 2-2 in Big 12) vs. *Central Michigan (5-4, 3-2 in MAC)
-Kansas State has a .500 conference record and holds the tiebreaker over TCU.
– As mentioned above, Kentucky chooses the Belk Bowl. Central Michigan has a winning record and is seen as a better option than Liberty.
Cheez-It Bowl, Big 12 No.6 vs. Pac-12 No.7
TCU (4-3, 2-2 in Big 12) vs. California (4-4, 1-4 in Pac-12)
-TCU is the final remaining team with a .500 record in Big 12 play.
-California wins the tiebreaker over Washington State with two road victories against Power Five schools, including one in non-conference. These two teams play each other this week.
First Responders Bowl, Big 12 No.7 vs. Conference USA selection
Oklahoma State (5-3, 2-3 in Big 12) vs. Louisiana Tech (7-1, 4-0 in Conference USA)
-Oklahoma State is the final remaining bowl eligible team from the Big 12.
-Louisiana Tech is the final remaining unbeaten in Conference USA play after Marshall hit a game-winning field goal to defeat Western Kentucky.
Ineligible: West Virginia (3-4, 1-3 in Big 12)
-West Virginia has been through the gauntlet lately. The Mountaineers get to face a Baylor squad who recently lost star linebacker Clay Johnston. If West Virginia is able to pull off the upset, they'll likely be in a bowl game next week.
Kansas (3-5, 1-4 in Big 12)
-The Jayhawks knocked off Texas Tech and kept the Big 12 from taking more bowl spots than its allotment. Kansas could easily have been in a bowl spot this week just by beating Coastal Carolina. Les Miles' team would have beaten Texas had it not been for a blocked PAT returned 98 yards for two points (Texas won by two points after a last-second field goal). Thus, Kansas should be 5-3. Let's just say they very well could have beaten West Virginia too. Had they secured all three of those victories, the Jayhawks would have already snapped their decade-long bowl drought. The problem right now is Kansas needs to win three of their final four games and all four opponents have been ranked at some point this season. Kansas is likely not going bowling this year, but don't be surprised if they knock one more team off.
Texas Tech (3-5, 1-4 in Big 12)
The Red Raiders get a bye week to figure things out before a road trip to West Virginia. This game is officially a must-win after Tech could not defeat Kansas. If Tech can score the victory against West Virginia, they'll need to find two victories against TCU, Kansas State and a road game at Texas. It's a tall task for a team who definitely feels down on its luck after multiple losses in dramatic heartbreaking fashion.
**We now have FREE Big 12 Forums here at Heartland College Sports. Go sign up here and join our conversation! **