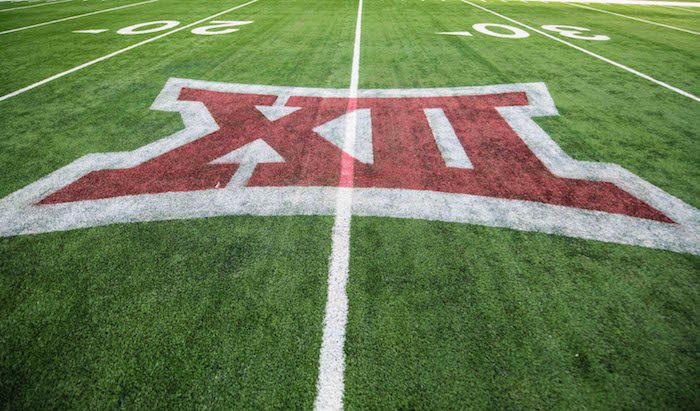 The Big 12 Conference is the best conference in the nation, hands down.
No. This is not a satire. It's not a joke. I'm not kidding.
The Big 12 Conference no longer has a doormat. It doesn't have a bottomfeeder. Every team in the conference has a victory over a Power Five school. This past weekend showed its parity. The underdog in every game became victorious. In fact, the Big 12 Conference is so good, it probably knocked itself out of the College Football Playoff. Baylor is still undefeated, but we have a month to go. The Bears still have to play Oklahoma and Texas in back-to-back weeks. This weekend, Baylor will play what could be considered a trap game. They just came off a big road victory at Oklahoma State to remain unbeaten. With "The Revivalry" against TCU coming up next week, the Bears have to maintain focus on a 3-4 West Virginia squad who outscored North Carolina State 23-6 in the second half earlier this season. This could be a classic example of how an undefeated team loses to the worst team in the best conference. Sure, West Virginia won at Kansas. This was before Les Miles promoted Brent Dearmon to Offensive Coordinator. IF we have a rematch, Kansas wins that game.
You see, a conference is only as strong as its weakest link. The current bottom three in the Big 12 Conference hold victories over two teams in the ACC that would be bowl eligible if the season ended today. Hell, Kansas went into Chestnut Hill, Mass. and embarrassed Boston College in its own home as a 23.5-point underdog. The Jayhawks covered their own spread. Despite this, Boston College holds victories over three Power Five Conference teams: Virginia Tech, at Rutgers, North Carolina State. Virginia Tech is 5-2 this season holding victories over North Carolina and Duke. North Carolina lost to Appalachian State but beat South Carolina. Guess what. The Gamecocks went to Athens, Georgia and upset a Georgia team who was supposed to contend for the National Championship. Any team in the Big 12 Conference could win the ACC Coastal Division this season. What's sad is, the Atlantic Division seems to be better than the Coastal and yet the Big 12's worst teams have victories over Atlantic Division teams. If you placed the Atlantic Coast Conference up against the American Athletic Conference or the Mountain West Conference, my money would be on the two Group of Five Conferences to win that battle. Clemson is a good team, but the Tigers are going to be in the College Football Playoff for its lack of competition within its own conference. Let's not forget, a 7-5 Pitt team was its opponent in the 2018 ACC Championship Game.
Now, I mentioned that the ACC holds victories over teams from two different conferences in the above paragraph. Let's start with the Big Ten. This should be quick and simple. Rutgers has already fired head coach Chris Ash this season. Remember, Kansas defeated Boston College on the road and Boston College holds a road victory over Rutgers. Let me one up that statistic. David Beaty defeated Rutgers. Yes, the same coach who lost to FCS school Nicholls State beat Rutgers two weeks later in 2018. He didn't just win either. Kansas, under David Beaty, humiliated Rutgers 55-14. Aside from the laughingstock Rutgers is, it's quite amazing Illinois has kept Lovie Smith this long into the season. Smith entered his fourth season on the hot seat. After barely scraping by an awful Connecticut team, Illinois lost at home to MAC team Eastern Michigan. Somehow, Lovie kept his job and has since pulled off the upset against then-No.6 Wisconsin. Another negative note on the Big Ten is Purdue. The Boilermakers finished non-conference play 1-2. Their lone victory came against SEC bottomfeeder Vanderbilt. We'll get to the SEC in a second. Purdue opened the season with a road loss against a Nevada team who is currently 4-4, including a 19-13 comeback victory over FCS school Weber State, in which the Wolfpack trailed at halftime. Don't get me wrong. The Big Ten is a solid conference this season. Ohio State, in my opinion, is currently the nation's best team. Penn State and Michigan are both playing excellent right now. Minnesota, while boasting unimpressive results, is still undefeated. If you look at Northwestern's results instead of their God-awful record, you'll notice that they've competed. With the exception of a 31-10 home loss against an angry Michigan State team (The Spartans had just been upset at home by Arizona State), they've played four ranked teams and have been within 10 points of every road loss. Thus, I give credit to Northwestern. That's a strong botttomfeeder. However, there are still weak teams in this conference. And let's not forget, Purdue was humiliated by TCU in a 21-point loss at Ross-Ade Stadium. This came one week after the Boilermakers 42-24 victory over Vanderbilt.
Now, onto the SEC. Oh yes, the one you've been waiting to hear about. This is the epitome of a weak conference. It's a lot like a crony capitalistic society where there is no middle class. The rich (Alabama, LSU, Auburn, Florida, Georgia) get richer. The poor (Vanderbilt, Tennessee, Ole Miss, Mississippi State, South Carolina, Arkansas) get poorer. The one outlier is Kentucky, and to tell you the truth, they're still kind of poor. They should make a bowl game at 7-5 assuming they beat Vanderbilt, Tennessee and UT-Martin. However, the Wildcats best victory comes against Missouri. Texas A&M and Missouri are the outsiders who got tired of paying $3,000 per month for a studio apartment, moved to the south, and now owns a two-story home with a pool in what is considered a wealthy neighborhood. You could call these teams "transplants". Yet, they are still ordinary everyday working people. Yes, that's right.
Alabama is the rich oil executive that eats steak and lobster with crony politicians (ESPN, College Football Playoff committee) nightly as the Crimson Tide single-handedly bankroll their reelection bids. This doesn't make for a strong conference. It makes for a dynasty. We don't say the AFC East is a strong division. NFL fans make fun of the New York Jets. The Buffalo Bills haven't won a playoff game since 1995 and have only been to the playoffs once this century. Do I even need to mention the current state of the Miami Dolphins (winless, in case you were wondering). Just because the SEC sends multiple teams to the College Football Playoffs year-in and year-out doesn't mean it's a strong conference. It's the complete opposite. Ole Miss dropped a home game to California and a road game to Memphis this season. Let's keep a close eye when they play New Mexico State. It should be a good game. Their only non-conference victory is against Southeastern Louisiana. Arkansas dropped a home game to San Jose State, a team that is 1-3 in the Mountain West Conference and that's before they play Boise State, Hawaii and Fresno State. Heck, Arkansas could only beat FCS school Portland State by seven points. Let's not forget, Kansas State took new head coach Chris Kleiman into Starkville, Miss. and knocked off Mississippi State earlier this season. Meanwhile, Texas A&M has failed to defend its home and has a 1-2 record against SEC teams in Kyle Field this season. The Aggies are 12-16 in SEC play at Kyle Field since leaving the Big 12 in 2012. This is just the SEC West Division. As bad as it sounds in the West Division, the East Division is worse.
Where should we start? Let's start at the bottom. It's a familiar face: Vanderbilt, the perennial SEC bottomfeeder. This is a program that hasn't won a conference championship since 1923 when it was in the Southern Conference. Vanderbilt has never won 10 games in any season. This season, the Commodores dropped a 34-10 decision to a UNLV program that has a coach in his fifth season despite finishing under .500 every year. The Rebels only other victory this season is against Southern Utah, an FCS school which is currently 2-7 with a 1-4 record in the Big Sky Conference. Southern Utah managed to more than double Vanderbilt's scoring output while playing on the road. Remember, Vanderbilt was home. If you're asking me, 23 points on the road against UNLV is a lot more impressive than 10 points at home against UNLV. Despite this, ESPN would tell you that the Commodores play "SEC defense". The SEC defense certainly did better than Southern Utah. While the Thunderbirds gave up 56 points to the Rebels, Vanderbilt held UNLV to only 34 points. That SEC defense is mighty! Now, the Commodores do have a conference victory this season. Vanderbilt is on par with Wyoming with a victory over Missouri. We must give credit where credit is due. Missouri does own a victory over Big 12 Conference member West Virginia. However, Missouri was at home where the Tigers are 5-0. Had this game been played in Morgantown, West Virginia very well may have won. Missouri has a weakness on the road. They're 0-3 against Wyoming, Vanderbilt and Kentucky. This is a team that was atop the SEC East six games into the season. There's another team in Vanderbilt's state who you've just been dying for me to mention. It's been in your head the entire time you're reading this: Okay. I'll go ahead and say it. TENNESSEE LOST AT HOME TO GEORGIA STATE. Okay, so Georgia State isn't that bad this year. They are 6-2, but have only played against one Power Five Conference team, which resulted in a 38-30 victory over Tennessee on the road. The Panthers, however, have lost to Western Michigan and Texas State. What is embarrassing for Tennessee is they also dropped a home game to BYU. The Cougars currently have a losing record, which includes a loss to Charlie Strong's South Florida Bulls. I can hear Longhorns fans giggling as they read that sentence. One team Tennessee does have a victory over is South Carolina. The Gamecocks are currently 3-5 with a victory at Georgia, but also a home loss to North Carolina. There will be an intriguing match up Nov. 9 and I don't think South Carolina scheduled this thinking they might be the underdog. No.20 Appalachian State will likely roll into Williams-Brice Stadium with an undefeated record. If the Mountaineers can escape Columbia with its perfect record intact, it will be the second victory this season the Sun Belt has produced against an SEC opponent on the road. By the way, Appalachian State already won at North Carolina, a team South Carolina lost to at home.
So, you see, the bottom three in the Big 12, would be about where Texas A&M and Missouri are right now. In fact, Texas A&M and Missouri have been at the bottom of the Big 12 before. The Aggies finished in last place of the South Division in 2008. Missouri finished last twice in 1999 and 2000. However, both won multiple division championships during their time in the Big 12. Texas A&M won the Big 12 South in 1998, eventually pulling off the upset of Kansas State and preventing Bill Snyder from ever coaching for a National Championship. The Aggies would also finish in a tie with the two Oklahoma schools for a South co-championship in 2010. Missouri never scored an outright Big 12 North title, but they did play in the Big 12 Championship Game twice. This may have cost the Tigers a BCS berth as their loss to Oklahoma in 2007 placed them into the Cotton Bowl. Meanwhile, Kansas took the Orange Bowl berth and defeated Virginia Tech.
Since moving into the SEC East, Missouri has won the division twice. The majority of Big 12 teams could win the SEC East. Texas Tech, Kansas and West Virginia would certainly make a bowl game if they were in this division. With four non-conference games against bad teams combined with victories over Vanderbilt and Tennessee, that's six guaranteed victories right there. If they could avoid LSU, Auburn and Alabama, then it pretty much guarantees any Big 12 team a nine-win season by playing an SEC East schedule. This is why the Big 12 is better than the SEC. When you can plug your bottom tier teams into another conference and find the potential to easily score nine victories every season, that's when you know the other conference is weaker. It's not about National Championships or appearances in the College Football Playoffs. As we noted, Clemson should breeze its way into the College Football Playoff. The ACC has been weak for years. The SEC is the same way, except, there are actually some quality teams outside of Alabama's dynasty.
Now as for the Pac-12. This conference is quite chaotic. It eats itself alive, but it still has some doormats. A lot of these teams are improving. For instance, Oklahoma blew the doors off of UCLA on the road. Chip Kelly's team lost to some quality Group of Five schools too. However, they've won three of their last five and Arizona just barely held them off in Tucson. I see the Bruins finishing the year with five victories with Colorado and Cal still on the schedule. Then you have Oregon State. Oklahoma State went into Corvallis and left a path of destruction. As a good Beaver does though, Oregon State rebuilt. The Beavers could easily be 5-2 right now if 1) they score in the second half at Hawaii and 2) they score in the first half against Stanford. Two bad halves of football is why Oregon State currently boasts a losing record. If you think about it, the Pac-12 is actually a quality conference. Its worst teams hold victories over other Power Five conferences. Cal, which would be good if it weren't for a quarterback injury, won at Ole Miss. Colorado, which is truly a doormat, scored a comeback victory against Nebraska. Of course, we have to mention Arizona shut down Texas Tech's offense for a 28-14 win in Tucson. Additionally, Arizona State scored a victory at Michigan State. Still, the Big 12 has proven its better than the Pac-12 with the Oklahoma schools destroying UCLA and Oregon State on the road.
Now, why does the Big 12 have this perception that it's not as strong as some of the other conferences?
Well, Kansas now has a conference victory. Despite it being Les Miles' second game as a head coach, Kansas lost a nail biter to Coastal Carolina. As I've mentioned in the bowl bracketology each week, had Kansas won that game, they'd be looking at a bowl. This is not the Kansas of old. There are four new coaches in the Big 12 Conference. All four of them hold a victory over at least one Power Five Conference team which currently sports a winning record this season. Three of them scored non-conference victories. Kansas State scored a road win at Mississippi State. Chris Kleiman, who won multiple FCS National Championships at North Dakota State, has Kansas State one victory away from securing a bowl bid and just pulled the upset on Oklahoma. West Virginia took out North Carolina State, who currently sports a winning record. Neal Brown's cupboard was bare when he arrived. He's lucky to have Austin Kendall as a quarterback as Kendall is a graduate transfer from the Sooners. Kansas humiliated Boston College on the road. After being sick of watching a stale offense cost his team some games, Les Miles fired his offensive coordinator and promoted Brent Dearmon. The results so far? The first is a two-point loss at Texas, in which a blocked PAT was returned 98 yards for two points to make the difference.  The second is the Jayhawks first ever victory against Texas Tech in Lawrence. Kansas scored at least 37 points in both games. Prior to Dearmon's promotion, the Jayhawks eclipsed 25 points just once: at Boston College.
There is not a conference with more parity right now than the Big 12 Conference. All 10 teams are still in the mix to play in the Big 12 Championship Game. There are no gimmes. The Big 12 does not have a Rutgers, a Colorado, or a Vanderbilt. Heck, you might as well consider the entire bottom half of the SEC a gimme. Arkansas is a gimme. Ole Miss is a gimme. Tennessee is a gimme. Mississippi State is a gimme. The entire ACC Coastal Division is one massive gimme division. Clemson just has to hold off Wake Forest and it will defeat whoever the Tigers play in the ACC Championship Game.
Kansas was the gimme team and they have made their presence known that is no longer the case. The gimme game has officially been wiped out. While it hurts the Big 12 come selection time, it proves there is no conference stronger than the Big 12 Conference.
The Big 12 Conference is the best conference in college football.
**We now have FREE Big 12 Forums here at Heartland College Sports. Go sign up here and join our conversation! **