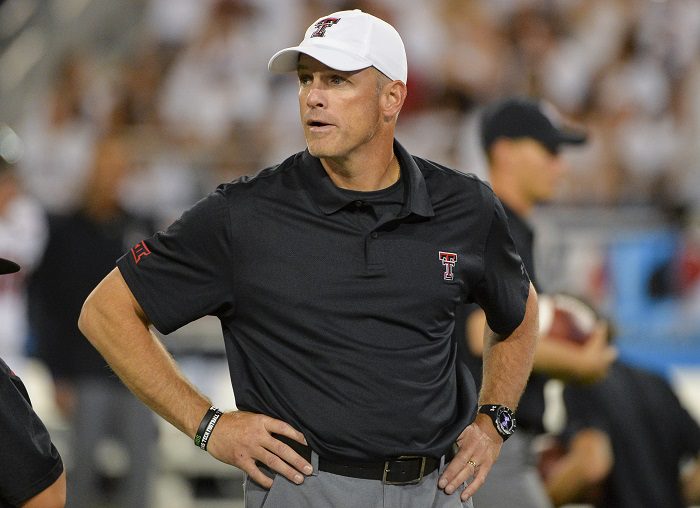 For Texas Tech fans, it seems like the sky is falling.
Unfortunately, I have to reiterate the next sentence for what seems like the 1,000th time. The Red Raiders are guaranteed to go a full decade without winning more than seven regular season games. Yes, that means the last regular season with eight-plus victories came during the Mike Leach era. The school fired its beloved alumnus. Kliff Kingsbury is showing gradual improvement with 2018's worst NFL team. To top it all off, new head coach Matt Wells just committed the Big 12 Conference's cardinal sin: losing to Kansas.
All of a sudden, some Tech fans are calling for the firing of a coach eight games into his first season. This is ridiculous. No, Matt Wells was not my first choice for Tech's head coach. Honestly, I felt like Kliff Kingsbury deserved one more season. Heartland College Sports founder and owner Pete Mundo wrote that firing Kliff Kingsbury was a mistake shortly after it happened. We'll refrain from going into too many more details about that.
What's important right now is for the entire Big 12 Conference to wake up to the fact that Kansas is no longer a doormat. Texas Tech isn't taking the Jayhawks place either. I'm sure some West Virginia fans fear that the Mountaineers are the new cellar dweller. As I wrote earlier this week, the Big 12 is the best conference in college football. The Jayhawk's should have defeated Texas. If Kansas can score an extra point, it takes five points off the board for Texas. Cameron Dicker doesn't get the opportunity for a last second field goal because Texas has to score a touchdown in the waning seconds. The PAT itself was a three-point swing. Tech fans need to give Les Miles some credit. The Jayhawks should be 5-3 and could easily be 6-2 as they competed against West Virginia. In fact, both Derek Duke and I predicted Kansas to beat Texas Tech. Here's an excerpt from Duke's weekly Good, Bad, and Ugly: "You are probably wondering why Texas Tech isn't in my ugly column, but I picked Kansas to win this game." As for my explanation, you can read the entire preview and prediction here.
There's no need to fire anyone right now. Tech football hasn't "hit rock bottom". The Tech fanbase has hit rock bottom. I predicted this firestorm during my UTEP-Texas Tech preview: "To continue gaining trust with a broken Tech fan base, this is another "must win". Go ahead and laugh at that, but if Tech does lose, the chaos will ignite between fans of the following: Leach, Hance, Tuberville, Kingsbury, and yes, some even talk about the good ol' days of Spike Dykes still. This fan base is like the United States political climate right now."
That's exactly where Texas Tech's fan base is at. It's divided. The fingers are being pointed. I've heard and seen nasty comments blaming Hance, Kingsbury and Hocutt. Those who wish Leach would return receive barb-wired replies about how Leach never won a conference championship and that he constantly tried to score a job elsewhere. Additionally, Matt Wells has been compared to Tommy Tuberville. I'd like to think Wells has more decency than a politician (Tuberville is currently running for U.S. Senate in the State of Alabama) who left recruits at a steakhouse to take another job.
Matt Wells is signed for six years, $18.8 million. Tech fans, you are in this for the long haul. Kansas is better than you realize. Remember, Spike Dykes is the only Tech coach to lose to an FCS school. This came in 1988 against North Texas. Dykes would eventually retire with a 1-3 record against the Mean Green. In his final season as head coach, Dykes also lost to a Missouri team who finished in last place of the Big 12 North that season. Yet, Dykes is a legend in Lubbock. Those North Texas teams were much worse than this year's Kansas team. Guess who else has lost to Kansas. Mike Leach dropped a 34-31 double overtime decision to Kansas after quarterback Kliff Kingsbury left the game with an injury in 2001. B.J. Symons finished that game and he's now a Tech legend after outdueling Eli Manning and Ole Miss by shattering NCAA passing records. Had the 2003 Tech team had a defense that could stop just one team, there is no telling what Symons would have led Tech to. Even Tommy Tuberville had his moments. Most Tech fans remember the humiliation they suffered as Oklahoma State drubbed Tech in Lubbock 66-6 during the 2011 season. Then, there were times when Tuberville would pull off a shocker like the upset of Missouri in 2010 or snapping then-No.1 Oklahoma's 39-game home winning streak in 2011.
This is Matt Wells' first season. Give the man a break. With a new scheme comes growing pains. Kansas State has two losses that most did not some coming after the Wildcats scored a road victory at Mississippi State. The growing pain for Les Miles came during a loss to Coastal Carolina, in which quarterback Carter Stanley admitted prompted a change. And believe me when I say Neal Brown is suffering at West Virginia currently. Despite the suffering, the Mountaineers still have a victory over North Carolina State. That's a big victory for the entire conference.
So, to Tech fans, I say this: Lighten up a little. You're starting to sound a little bit like Aggies trying to get rid of a coach before he has a chance. No, he wasn't the best choice for Tech. However, he's Hocutt's guy and you need to stand by your man. Who knows. Like Dykes taking Tech to the Bowl Coalition, Wells might just take Tech to a New Year's Six Bowl.
**We now have FREE Big 12 Forums here at Heartland College Sports. Go sign up here and join our conversation! **