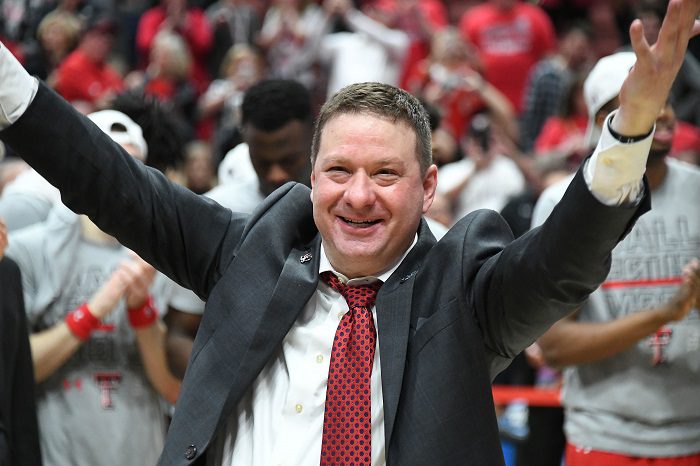 Leading up to the opening of the 2019-20 Big 12 Men's basketball season Heartland College Sports will analyze each of the Big 12 men's basketball teams. Today it's the Texas Tech Red Raiders. 
2018-19 Record: 31-7 (14-4 Big 12)
Postseason
NCAA: def. Northern Kentucky, 72-57 (first round); def. Buffalo, 78-58 (second round); def. Michigan, 63-44 (Sweet 16); def. Gonzaga, 75-69 (Elite 8); def. Michigan State, 61-51 (Final Four); lost to Virginia, 85-77, OT (National Championship game)
Top returning 2018-19 leaders: G Davide Moretti (11.5 ppg, 2.1 rpg, 45.9 percent from 3-point line, 92.4 percent from foul line), G Kyler Edwards (5.5 ppg, 2.2 rpg).
2018 seniors/lettermen/transfers lost: G Brandone Francis (6.5 ppg, 2.4 rpg), F Tariq Owens (8.7 ppg, 5.8 rpg, 92 blocks), G Matt Mooney (11.3 ppg, 3.1 rpg, 126 assists), C Norense Odiase (4.2 ppg, 5.4 rpg, 35 blocks); G Deshawn Corprew (5.0 ppg, 3.3 rpg).
Recruits signed: F Kevin McCullar, 6-foot-6, Wagner High School (San Antonio, Texas); F Andrei Savrasov, 6-9, (Russia); G Jahmius Ramsey, Duncanville HS (Duncanville, Texas); G Clarence Nadolny, 6-foot-3, Scotland Performance Institute (Scotland, Penn.); C Russel Tchewa, 7-0, Putnam Science Academy (Putnam, CT); F Terrence Shannon, 6-foot-6 (IMG Academy (Bradenton, Fla.); F Tyreek Smith, 6-foot-8, Trinity Christian School (Cedar Hill, TX). McCullar and Savrasov were enrolled at Tech in the spring. Ramsey was a four-star guard ranked No. 32 in the nation by 247Sports.com. He should start right away.
Transfers eligible for 2019-20 season: G Chris Clarke, 6-foot-6 (Virginia Tech), F TJ Holyfield, 6-foot-8 (Stephen F. Austin). Clarke and Holyfield are useful pieces for a team in transition. Clarke averaged 9.2 points, 6.5 rebounds, 2.7 assists and 1.03 steals in 79 games played. Holyfield produced 1,081 points, 595 rebounds and 134 blocked shots in his collegiate career at SFA.
Transfers expected to sit out in 2019-20: F Joel Ntambwe, 6-foot-8 (UNLV). The Red Raiders are hopeful the NCAA will provide Ntambwe a waiver to play this season. If he can play this season, Ntwambe is coming off a freshman season in which he averaged 11.8 points and 5.5 rebounds per game.
Looking ahead to 2019-20: There is plenty of transition out in Lubbock, the biggest loss of which being Culver, who is now in the NBA. But the Red Raiders seem prepared. Moretti grew into a player of his own standing and should be one of this team's leaders this season. Edwards has room to grow, too, and he showed it during Final Four weekend. Tech head coach Chris Beard pulled in two solid transfers in Clarke and Holyfield who have been starters and can start right away. Plus, they come from programs that espouse Bears' defensive approach. The recruiting class is top shelf. Ramsey is the highest-rated recruit the Red Raiders have ever taken in. Plus, Shannon was a Top 100 recruit per 247Sports.com. Beard described the season to come as a potential "roller coaster," and that could be the case. But when you build a program, you have talent rolling in every year to adequately replace the talent you're losing. Beard is doing that right now at Tech, and he's about to enter his fourth season. He's now poised Texas Tech to be Kansas' most serious challenger in the Big 12 for the foreseeable future. 
Media Day quote: "I think we have shown some consistency. Year four, nothing changes. We just need to validate what we've been doing with a new team and new players. Certainly that's the challenge. It's always been our idea to be consistent. I'm proud of the consistency we've shown in our first three years. We look forward to having another great season this year." — Texas Tech head coach Chris Beard
#Wreckem head coach Chris Beard comments on how he and his staff will deal with the roster overhaul during #Big12MBB media day at the Sprint Center in KC. @Heartland_CS @TTUHoopsFans pic.twitter.com/1rhKgyd0at

— Matthew Postins (@PostinsPostcard) October 23, 2019
**We now have FREE Big 12 Forums here at Heartland College Sports. Go sign up here and join our conversation! **