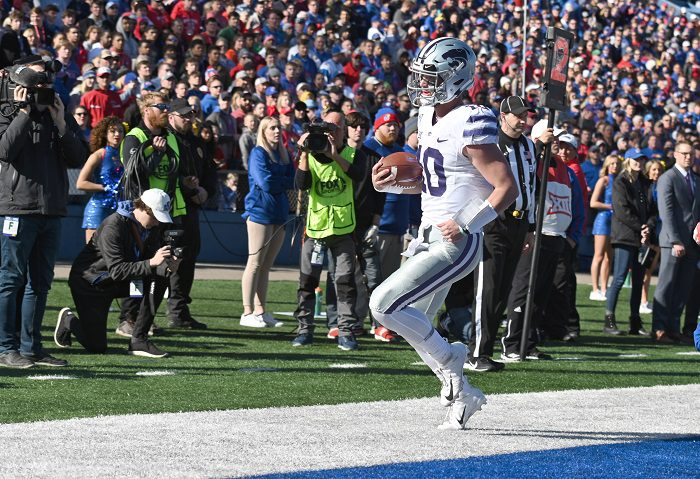 The Sunflower Showdown 2019 Edition had some juice coming into the game. The Wildcats were coming off a huge upset of Oklahoma, while Kansas had also upset Texas Tech last week. Both teams were exceeding expectations heading into Saturday afternoon's meeting in Lawrence.
But the game did not end up living up to some of the pre-game hype as the Wildcats went on the road and pounded the Jayhawks 38-10.
The Wildcats got on the board first with a 10-play, 88-yard drive on their opening possession of the game, which was capped off by a Skylar Thompson one-yard run. The Jayhawks responded with a field goal, but then it was the Wildcats going 10 plays and 78 yards early in the second quarter. This time it was Harry Trotter finishing off the drive with a nine-yard run.
That would be all the scoring until late in the half when Blake Lynch put through a 39-yard field goal as time expired to give the Wildcats a 17-3 lead. K-State racked up 186 rushing yards in the first the half to Kansas' 27, which was the difference maker in the first 30 minutes of action.
The second half started right where it left off with the Wildcats going 75 yards on nine play in 4:08, with Skylar Thompson tacking on his second rushing touchdown of the day from 12 yards out to take a 24-3 lead.
Then after a turnover on downs at their own 26-yard line, Kansas State put it back in the end zone six plays later with a Skylar Thompson four-yard run. The Jayhawks offense never got it going as Les Miles chose to again go for it with his team now down 31-3 in the fourth quarter from his own 25 and could not convert a first down, setting the Wildcats up for another score two plays later on a Tyler Burns 14-yard run for a 38-3 lead.
The Wildcats dominated this game on the ground with 342 rushing yards, averaging 5.7 yards per carry. and dominating time of possession 38:03 to 21:57. Skylar Thompson finished 9/16 passing with 129 yards and no touchdowns or interceptions. He led the team with 127 rushing yards on 17 carries, including three touchdowns. Harry Trotter added 20 carries for 92 yards and a touchdown, while Tyler Burns had 50 rushing yards and Joe Ervin had 46.
Carter Stanley was picked off twice for the Jayhawks by Jahron McPherson and Da'Quan Patton and completed his afternoon 13/23 for 115 yards and no touchdowns.
The Jayhawks never got their running game going with 25 carries for 61 yards. Pooka Williams finished with 14 carries for 61 yards (Carter Stanley had -27 rushing yards).
This was a big step back for a Kansas offense that had scored 85 points in its last two games against Texas and Texas Tech since Brent Dearmon took over as offensive coordinator.
The Jayhawks fell to 3-6 and head into a bye week to work out some kinks before traveling to Stillwater to face Oklahoma State on Nov. 16. Meantime, Kansas State is riding high on a three-game winning streak in Big 12 play and travels to Austin to face the Longhorns next Saturday. The Wildcats are 6-2 overall and 3-2 in Big 12 play, in a tie for third place with Iowa State and Texas.
**We now have FREE Big 12 Forums here at Heartland College Sports. Go sign up here and join our conversation! **