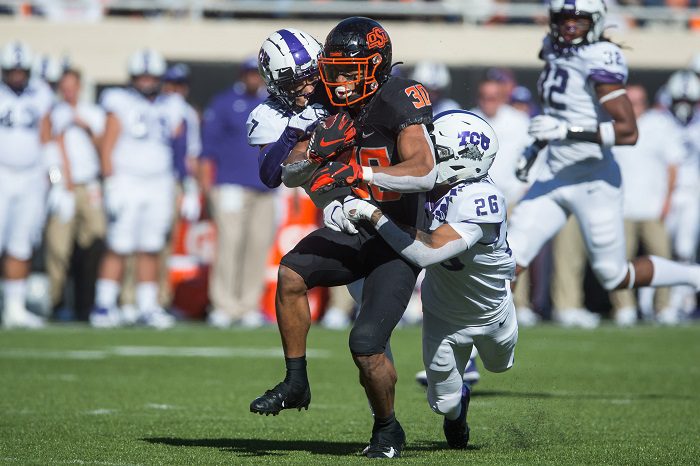 Although there were just two Big 12 games on Saturday, that didn't take away from the importance of these games in conference play. TCU entered this contest at 4-3 fresh off their upset against Texas last week while Oklahoma State came into the day at 5-3 after their big upset win against Iowa State on the road. Both teams came into the game with two losses in conference play so that meant the loser would all but guaranteed to be completely out of the Big 12 title game picture. Without a doubt, it was going to be one fun match up between these two programs as they battled it out in Stillwater, Oklahoma. Were you team GP or Team Mullet? 
With Tylan Wallace out for the season with a torn ACL, I was curious to see how this Oklahoma State offense would perform without him. Well, the Cowboys wasted no time because they were able to grab points on their first two drives of the game with a field goal and 57-yard touchdown pass from quarterback Spencer Sanders to wide out Dillon Stoner. Just like that, the Cowboys were up 10-0 over TCU.
TCU would then put together a nice drive, but around midfield, quarterback Max Duggan launched a pass high up in the air that wasn't close to his receiver as Oklahoma State's Kolby Harvell-Peel picked it off by the goal line. Luckily for TCU, they Cowboys couldn't capitalize off the turnover. However, the offense would get back in scoring range as Jonathan Song hit a 40-yard field goal late in the first quarter to cut the Cowboy lead to just seven. 
That field goal lead to touchdown drives by both teams. Oklahoma State quarterback Spencer Sanders would find Dillon Stoner, once again, for a score, while TCU quarterback Max Duggan would respond with a long drive that resulted in a six-yard touchdown run to make it a 17-10 ball game midway in the second quarter. 
The Horned Frogs weren't done yet as following their touchdown drive, they put together another long nine-play drive that ended with a score as Max Duggan found Pro Wells for a 24-yard touchdown to tie things up at 17 heading into halftime. 
Although the scoreboard won't show it, the Cowboys dominated the third quarter. Running back Chuba Hubbard sped his way to a 92-yard touchdown run to put the Cowboys up 24-17 early in the third quarterback. Meanwhile for TCU, the Horned Frogs had a bad series of drives up until midway in the fourth quarter. TCU's first six drives of the second half went like this: fumble, punt, interception, punt, punt and fumble. Even though the Cowboys were able to just capitalize from one turnover when Chuba Hubbard scored a 62-yard touchdown, it really put the Horned Frogs in a hole as they found themselves down 31-17 with less than ten minutes left in the game.
Immediately following the Oklahoma State touchdown, the Horned Frogs finally put together their best drive of the second half as they marched down the field in nine plays as running back Sewo Olonilua capped of the drive with a 1-yard touchdown run to make it a touchdown game.
After trading punts, Oklahoma State would put the game on ice as they bled the clock and nailed a field goal thanks to Matt Ammendola to make it a 34-24 Cowboy lead with just 2:04 left. The Horned Frogs would get down the field as Max Duggan would be in and out due to a hand injury. Injury aside, the Frogs were still able to put three on the board to make it a one-score game with less than thirty seconds left. But the scoring stopped there as the Cowboys recovered the onside kick to win 34-27. 
With the win, Oklahoma State moves to 6-3 on the season as they have now guaranteed themselves a spot in a bowl game. It was nice to see the offense move the football even without superstar Tylan Wallace. Running back Chuba Hubbard had a monster day with 223 yards and two touchdowns that really helped the Cowboys separate themselves in the second half. 
Meanwhile for TCU, they fall to 4-4 on the year. The second-half mistakes proved to be costly as they couldn't get going offensively in the second half until midway in the fourth quarter. Not to mention, the defense did their best to hold their own, but the big plays given up were back breaking.
**We now have FREE Big 12 Forums here at Heartland College Sports. Go sign up here and join our conversation! **