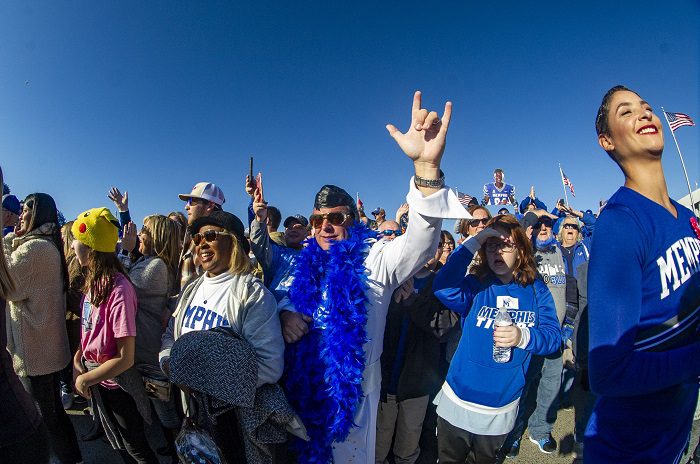 As we inch closer towards another round of potential college football expansion, one team that was on the Big 12 radar, but never appeared to be a serious contender, was the Memphis Tigers. There was the discussion around Cincinnati, UCF, SMU, Houston, Boise State and others, with Memphis typically in the "others" category, depending which rumor you listened to.
However, with College GameDay taking its gang to Beale Street in downtown Memphis on Saturday for the Memphis vs. SMU game, the folks in the Birthplace of Rock 'n Roll did a helluva job impressing the nation with their passion, excitement and scenery.
It had the imagery of a pro town (the Grizzlies got some love), but with a college feel. That's exactly what a conference, and TV networks, should be looking for.
When I talked about Big 12 expansion the last time around, I was in favor of the conference staying put at 10 teams, believing no one, or two schools, brought enough to the table to justify it. However, if the Big 12 had to do it, I thought Houston/SMU were the way to go to try and solidify the state of Texas to keep it out of the SEC's hands.
But watching College GameDay from Memphis on Saturday was enough to give me reason to believe the Tigers should be a serious consideration next time around, if the Big 12 decides it should, or needs to, expand.
Heck, even ESPN's Kirk Herbstreit appeared to be impressed by what he saw on Saturday morning.
THANK YOU Memphis!!!
Absolutely RIDICULOUS turn out. Way to show America how much you love @MemphisFB and CFB!! Very memorable Saturday for @CollegeGameDay!!!!! pic.twitter.com/jaSKw0cdkx

— Kirk Herbstreit (@KirkHerbstreit) November 2, 2019
I also put this to a vote on our Heartland College Sports Twitter account, and the answer of "Yes!" won out by a 2-1 margin.
I've been very impressed by the #collegegameday scene in #Memphis. Would you consider them in a future Big 12 expansion scenario?

— Heartland College Sports (@Heartland_CS) November 2, 2019
As many of our readers know, I currently live in Kansas City, one of the great mid-sized cities in America. Memphis came across to me, between the food and music culture on display, like a smaller Kansas City.
In terms of metro rankings, Kansas City is 30th, Memphis is 43rd. That's a Top-50 TV market the Big 12 could own, which is bigger than TV markets in much of the conference.
The only Top-50 TV markets the Big 12 has a strong presence in is Oklahoma City, Austin and Kansas City. However, Kansas City has lost some of that with Missouri off to the SEC. Dallas and Houston can certainly be added to the list, but because those metros are growing so rapidly with transplants, along with the SEC butting its way into both places, I would argue the Big 12's stranglehold on both markets has been diminished in recent years.
Waco and Lubbock rank between the 150th and 200th media markets, Morgantown is pushing 300, Manhattan is 360. If you want to give Iowa State the Des Moines market that is No. 88. I also understand those numbers don't tell the whole story. Baylor has alumni in Dallas/Fort Worth, Houston and everywhere in between. Texas Tech owns all of West Texas. WVU is the state of West Virginia, minus the pesky Marshall folks, and Kansas State is basically half the state of Kansas.
But for the Big 12 to branch itself out to a town like Memphis has real potential. First off, you would be giving the SEC some of its own medicine, by putting your brand into, or at least on the border of, SEC territory.
Some of the push back I've heard on this idea is that this is "Vol Country". While I don't consider myself an expert on the state of Tennessee, Memphis is nearly six hours from Knoxville, and frankly, based on the state of Vol Football going on two decades now, I'm not really worried about the Big 12 having trouble penetrating "Vol Country".
From an education standpoint, SMU is certainly better than Memphis, based on the U.S. News and World Report rankings, and so is Houston, UCF and Cincinnati. But honestly, when conference realignment comes around, the TV networks, or tech companies, bidding on the properties, which will help these conferences survive, are not going to care about the college's academic rankings. They're going to care about whether or not they can make money off the product by getting enough eye balls to the screens.
The Presidents and others in academia care about that, like Nebraska going to the Big Ten for its academic prestige. But go ahead and poll Husker Nation about how they feel like that move is working out for them lately. "Well we stink as a football program and have since leaving the Big 12, plus we lost our recruiting pipeline to Texas, but hey I am so glad we are in a better academic conference!"
I don't think you will hear much of that up North.
So while conference realignment is not close to happening, and I currently love the Big 12 format of a true round robin and No. 1 vs. No. 2 in the conference championship game, that day may come where expansion has to be discussed.
If it does come around, I hope the Big 12 honchos don't forget what the nation saw this past weekend on Beale Street. Of course, there is now discussion the Arizona schools, who are already in a Power 5 conference, may want out and the Big 12 could be a natural fit.
But let's not forget that what we saw this past Saturday was fun to watch and made me re-evaluate the potential of the Memphis Tigers, which is a good thing for not just that University, but potentially the Big 12 Conference as well.
**We now have FREE Big 12 Forums here at Heartland College Sports. Go sign up here and join our conversation! **