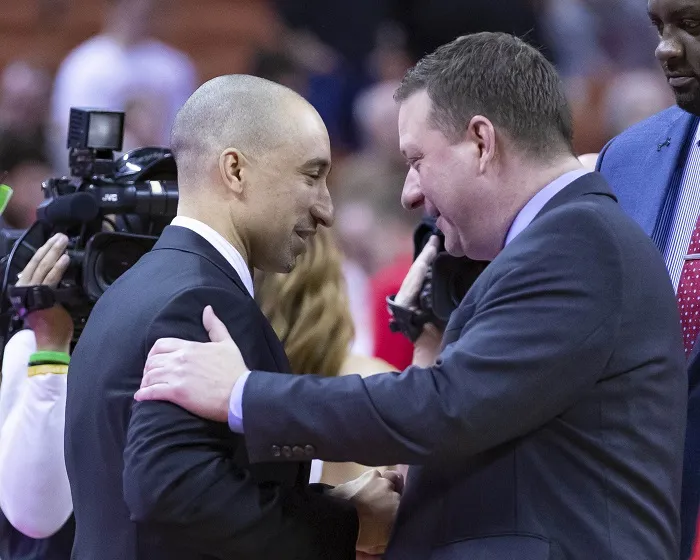 With the 2019-20 Big 12 Men's Basketball season set to start this week, here are the HeartlandCollegeSports.com preseason power rankings entering the season. Updates will come every two weeks before weekly updates during the conference season.
1. Baylor Bears
Surprised? After considerable thought I think the Bears are the best "team" going into the regular season. Kansas may be more talented. Texas Tech may have more potential. But the Bears are the most well-rounded team in the group going into the season. It's hard to see a weakness. Last year's team is basically intact, and that group got to the second round of the NCAA Tournament. Add to it the return of forward Tristan Clark, who was on his way to All-Big 12 First Team honors last year before an injury ended his season. Then, you have a couple of transfers to bolster the guard position and absorb the losses of Makai Mason and King McClure — MaCio Teague and Davion Williams. This is a Bears team that can play 10 deep right away and preserve its starters for the rigors of Big 12 action. Again, these power rankings are about where these teams are at the start of this season, not where they might end up by March. And, frankly, the gap between the Top 3 teams on this list, to me, is small. For now, though, it's the Bears because they have experience, talent and precious few questions marks.
2. Kansas Jayhawks
While head coach Bill Self and the university sort out the swirling NCAA investigation around the basketball program, he sounds stoked for the season to start (and you'd rather talk about basketball, too, if you had that hanging over your head). The Jayhawks should be good right off the bat with Devon Dotson running the point and lobbing passes into now-healthy post Udoka Azubuike. Guards Marcus Garrett and Ochai Agbaji should have improved this past summer, along with forward David McCormack. The transfer of Isaiah Moss should also make the Jayhawks a better-shooting team from the 3-point line. Plus, the Swiss army knife that is Mitch Lightfoot is back, along with the finally-eligible Silvio De Sousa. Kansas can go eight or nine deep right now without dipping into its freshman class, something the Jayhawks have not been able to do for a couple of seasons now. Azubuike's health is the most critical part of the season for the Jayhawks, and it's not even about his scoring and rebounding. It's how his presence spaces floor on offense and defense. Assuming full health for this team, the Jayhawks could start a new streak of regular-season titles come March. But right now the improvement of players like Agbaji, Garrett and McCormack that are the big question marks.
3. Texas Tech Red Raiders
The Red Raiders are trying to work in 10 new players. That's an insane amount for a team coming off a national championship game appearance. But the Red Raiders and head coach Chris Beard appear equipped to handle it, and that's the hallmark of a good program and not just a good team. Guards Davide Moretti and Kyler Edwards are the only significant holdovers, and that's part of the reason I have them slotted behind Baylor and Kansas. But Beard could have the Red Raiders Big 12-ready in no time. Texas Tech's unprecedented success the past two seasons has made it an attractive destination for recruits and transfers alike. Jahmi'us Ramsey leads a talented recruiting class which could replace much of the freshman talent Beard lost to transfer last season. Meanwhile, the Red Raiders took in Virginia Tech forward Chris Clarke and Stephen F. Austin forward TJ Holyfield which can provide the Red Raiders two immediate starters. Expect some early bumps due to a testy non-conference schedule. But the ingredients are there for this team to be a Big 12 contender, but the Red Raiders have to find the chemistry along the way. There are questions, to be sure. But when you look at the talent that can answer those questions, that's part of the reason the Red Raiders are No. 3 entering the season.
4. Iowa State Cyclones
I'm going to be a little higher on the defending Big 12 Tournament champions than others entering this season because I think they're better right now than they're being given credit for. Yes, the losses are significant. But so are the losses for teams like Texas Tech and Kansas. And I think head coach Steve Prohm has the talent to deal with it. Guard Tyrese Halliburton is going to be one of the best guards in the country. There just weren't enough baskets to go around last year for most to notice it coming. Michael Jacobson gets to move back to the power forward position now that the physical Solomon Young is back in the pivot. Two transfers — Prentiss Nixon and Rasir Bolton — help address the losses at guard. Plus, two sophomores, Zion Griffin and George Conditt IV, will now have the opportunity to shine. The rotation isn't as potentially deep as, say Tech or Kansas or even Texas. But the first seven are quality players that, going into the season, should be successful right away.
5. Texas Longhorns
Now we get to the fun part. It seems every time I'm on a radio show in Des Moines or West Virginia I'm asked about Shaka Smart's job security. First, basketball is different at a football school, and while Texas fans have expectations, they're not as out of whack as they are when it comes to the football team. But given Smart's resume when he made the move from Virginia Commonwealth, his teams have underperformed. Well, after last year's NIT championship he may be on the verge of fielding the best team he's ever had. But there's a trust factor of whether he can put it together. This year may be the year we find out. Texas may have the best guards in the conference — Matt Coleman III, Jase Febres, Courtney Ramey and, if he's close to what he was pre-leukemia, Andrew Jones. This could be a real fun group. The frontcourt is the question. I suspect the centerpiece of this season's recruiting class, 7-foot Will Baker, is going play right away. He joins Jericho Sims up front. The real question is whether there is anyone else that can contribute in the paint. I think the return of Jones potentially changes the dynamic of this entire team, and if that's the case that lessens the need to find a deeper frontcourt rotation. But you can't count on Jones, not just yet.
6. West Virginia Mountaineers
Watching Bob Huggins lament the basic demise of last year's team after the Mountaineers were blown out on the road by TCU was one of the worst press conferences I've ever covered. But things are going to be different now. Huggins has purged the guys that wouldn't buy in. In their place is one of the youngest, and potentially funnest, teams in the nation. Derek Culver and freshman Oscar Tshiebwe could be one of the best young frontcourts you'll come across. Emmitt Matthews Jr. is a star in the making, if his performance in the Big 12 Tournament was an indication. Players like Jermaine Haley, Chase Harler and Brandon Knapper should be better. Fan favorite Logan Routt is back, too. And get ready for guard Tajzmel Sherman and guard Sean McNeil, two of the Top 25 junior college recruits in the country. Huggins now has a stacked deck. Culver even invoked "Press Virginia" when I talked to him at Big 12 Media Day. He thinks it's coming back. The Mountaineers appear to have the horses to do it. But expect bumps early.
7. Oklahoma State Cowboys
The Cowboys can claim to something no other team in the conference can — a complete starting lineup returning from its final game a year ago. Cameron McGriff, Lindy Waters III, Thomas Dziagwa, Isaac Likekele and Yor Anei are all back and don't appear to be ready to yield their spots to a solid recruiting class and transfer guard Jonathan Laurent. But that's good news for the Cowboys. Depth was one of their biggest problems last season, so much so that the team needed open tryouts in January to fill its roster. No such issues now. Laurent can be the sixth man immediately. The Cowboys have a Top 100 recruit in Marcus Watson and one of Oklahoma's top players in Kalib Boone (along with his brother, Keylan). Plus, head coach Mike Boynton Jr. pulled two of the Top 12 players from Texas. The pieces are there. This is the best the Cowboys have been stacked going into a season since Boynton took over. Now, he has to show he can put it all together. It should be fun, but up and down, early. The questions behind the starting five are why the Cowboys are at No. 7.
8. Oklahoma Sooners
The Sooners check a couple of big boxes with the return of forward Kristian Doolittle and forward Brady Manek (the latter of which head coach Lon Kruger said is ready to start driving to the basket more this season). Guard Jamal Bieniemy came on in the second half last year to be a valuable guard. Now that means the Sooners have quite a few question marks, but I like how they've answered them. Guard De'Vion Harmon feels like a Day 1 starter, and he has the talent to be the best guard on the team by Big 12 action. Center Corbin Merritt and guard Alondes Williams were among the Top 40 junior college players in the country last year, which means they can make an immediate impact. Guard Austin Reaves is ready to play after sitting a year after his transfer from Wichita State. Kruger is also high on Kur Kuath, who missed practically all of last season. There are plenty of question marks, but the mix of talent and Kruger's coaching acumen is intriguing. The schedule affords the Sooners a bit of time to get the chemistry right. Kruger thinks they can play nine or even 10 players deep. We'll see.
9. Kansas State Wildcats
Wildcat fans had to know this was coming. You can't just replace players like Barry Brown Jr., Kamau Stokes and Dean Wade — a trio of 1,000-point scorers who led the Wildcats to an Elite 8 berth two years ago — and not pay a price for not developing the talent behind them. So this year the Wildcats will have to pay the piper to some degree. Xavier Sneed and Cartier Diarra are back, and that's a start. But behind them the roster feels like a lot of unknown and wait-and-see. Can Mike McGuirl finally become more than just a fill-in guard? Will Shaun Williams or Levi Stockard III take a step forward? Those are unknowns at this point. So is the recruiting and transfer class, though head coach Bruce Weber procured some interesting pieces, such as guard DaJuan Gordon and guard David Sloan. Weber is the kind of coach that can put it together, but how long will it take? Based on what's coming back and the amount of fresh blood, I think it's going to take more than just a bit.
10. TCU Horned Frogs
It's not a hard sell to put the Horned Frogs at the bottom of the power rankings. The Big 12 coaches did the same thing in the preseason poll. I've already written that I think guard Desmond Bane is the best returning player in the conference this year. Kevin Samuel may be one of the best centers in the league. After that, it's a shoulder shrug. It sounds like head coach Jamie Dixon has some ideas. But with a half-dozen players leaving the program last season — most of which could have contributed this season — Dixon has too many moving parts to work with to integrate into a new system. It's likely the Horned Frogs will be the Big 12 team with the most losses going into conference play and could absorb some unlikely losses early.