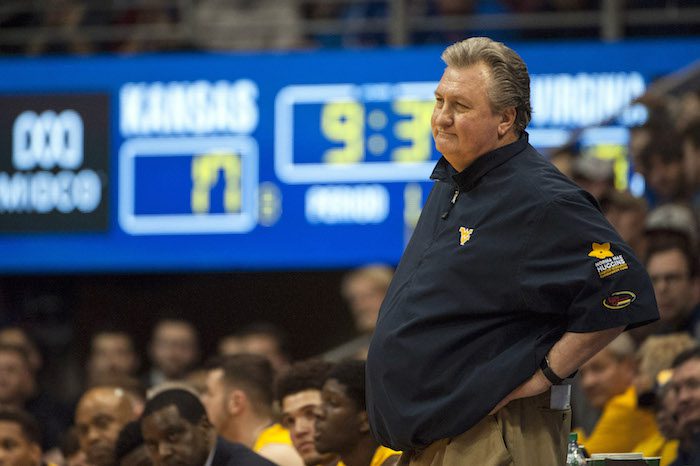 Leading up to the opening of the 2019-20 Big 12 Men's basketball season Heartland College Sports will analyze each of the Big 12 men's basketball teams. Today it's the West Virginia Mountaineers. 
2018-19 Record: 15-21 (4-14 Big 12)
Postseason
CBI: def. Grand Canyon, 77-63 (first round); lost to Coastal Carolina, 109-91 (round of 8).
Top returning 2018-19 leaders: F Derek Culver (11.5 ppg, 10.0 rpg), G Jermaine Haley (7.1 ppg, 4.1 rpg, team highs in steals with 37), G Jordan McCabe (5.8 ppg, team-leading 88 assists), F Emmitt Matthews Jr. (5.4 ppg), G Brandon Knapper (5.0 ppg).
2018-19 seniors/lettermen/transfers lost: G James Bolden, G Trey Doomes, F Lamont West, G Andrew Gordon, F Wesley Harris, F Sagaba Konate (13.6 ppg, 8.0 rpg, 8 games).
Recruits signed: C Oscar Tshiebwe, 6-foot-9, Kennedy Catholic (Hermitage, Penn.); G Miles McBride, 6-1, Archbishop Moeller (Cincinnati, Ohio); F Jalen Bridges, 6-foot-7 (Fairmont, W.V.); G Tajzmel Sherman, 6-foot-4, Collin County CC (Plano, Texas); G Sean McNeil, 6-foot-4, Sinclair Community College (Dayton, Ohio), G Spencer Macke, 5-11, Silver Grove (Fort Thomas, Ken.). Huggins and his staff couldn't have done much better in terms of recruiting for the 2019 Class. Tshiebwe is going to play immediately, and head coach Bob Huggins made the rare decision to bring the freshman to media day in Kansas City. Bridges is a Top 100 player according to 247Sports.com, but he will redshirt. Sherman and McNeil will soften that blow. They were two of the Top 25 junior college recruits in the country.
Transfers eligible for 2019-20 season: None
Transfers expected to sit out in 2019-20: F Gabe Osabuohein, 6-foot-7 (Arkansas). The Canadian native announced his transfer from Arkansas in September and the Mountaineers may be pursuing a waiver to attempt to get him on the floor this season. But WVU isn't talking about whether its pursuing a waiver.
Looking ahead to 2019-20: The first year the Mountaineers were in the Big 12 in 2012-13 they went 13-19. The next season West Virginia was a game over .500 and went to the NIT. The following season the Mountaineers won 25 games and reached the NCAA Tournament. The Mountaineers' streak of NCAA bids ended at four last season. But the future looks much more secure than it did six months ago. Culver has the ability to be a megastar in this league and is coming off a season in which he was a double-double machine in Big 12 action. McCabe, Haley and Matthews all look like the types of players Mountaineers fans love. There's a bench deep of talent for Hugs to develop and, presumably, they've bought into his way of doing things. Plus, the arrival of Tshiebwe gives the Mountaineers, potentially, a power frontline with him and Culver. The Mountaineers need to get better from the 3-point line (not a single returning player shot 40 percent or better from distance) and their defense needs to improve. But the days of "Press Virginia" may be returning soon (Culver was quite optimistic about that at Big 12 Media Day). WVU could have one of the best frontlines in the Big 12, a growing group of guards and be a real hard team to deal with come Big 12 action.
Media Day quote: "We're ready to get started. That's about all I've got to say about it." — West Virginia head coach Bob Huggins
#HailWV HC Bob Huggins takes about how those that haven't played our sport think they're going to make it a non-contact sport during #Big12MBB Media Day @Heartland_CS pic.twitter.com/E7AAfOhXfc

— Matthew Postins (@PostinsPostcard) October 23, 2019
**We now have FREE Big 12 Forums here at Heartland College Sports. Go sign up here and join our conversation! **