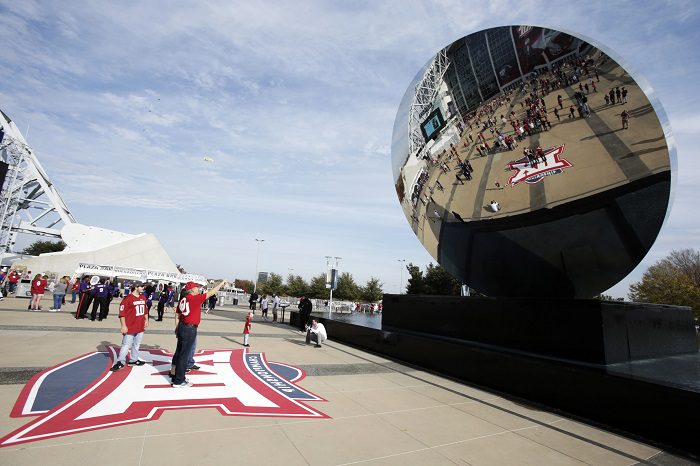 Welcome to the HCS Big 12 mailbag. This mailbag is for all you football junkies out there who root for a Big 12 school who not only have questions about your team, but other teams in the conference as well. So, join me, grab a cold brew or your favorite drink and relax as I answer all your Big 12 questions in my mailbag. For those interested, I will send out a tweet (@Derekduke25) every Monday at noon until last call (No, not 2 AM) at 8 PM CT for you to send in your questions to be answered every Tuesday right here at Heartland College Sports.
I want to thank each one of you who submitted a question this week and for those reading, I am glad you could join me. I am doing this on Monday evening and of course this mailbag wouldn't be nearly as fun without a cold beverage right next to me. Tonight's drink of choice? An old fashioned using Old Forrester Rye. Cheers!
@chicken_coconut asks: What is the solution to Baylor's offensive woes? Should the OC and OL coach be fired, should they go back to a spread to open things up smashmouth FB bad idea with their OL…or use their mobile QB G-Bo more often. All of the above? Offense is far too talented to be this inept.
Duke: This was always going to be the big question when Matt Rhule came in the Big 12. Will his smashmouth offense work in the Big 12? Given the situation he stepped in and the roster he had to work with, it was going to be difficult. The problem at Baylor isn't the skill players, it is the offensive lineman needed to run that style of offense. The Bears just don't get those elite guys up front to just maul people. I think Matt Rhule knows that, and they are trying to find ways to move the football more than they were when he was at Temple. Now should the offensive line coach and the offensive coordinator be fired? Eh. I like Jeff Nixon as offensive coordinator. The plays calls haven't been the problem and believe it or not, Baylor is around fifth in most major categories in the conference when it comes to offense. The last three years the weakness has been the offensive line and it is not even close. In 2017 and 2018, they gave up the most sacks in the Big 12 and right now they are ninth in that category. The pass protection has been dreadful and maybe it is time to find a new offensive line coach to replace George Deleone this offseason.
@Vectoze_ asks: How good is Vic Koenning (WVU DC) and do you think WVU defense will be even better in 2020?
Duke: Vic Koenning has a ton of experience coaching defense. He has just about seen it all. I really liked his defenses at Troy and what he and coach Neal Brown did at Troy was nothing short of spectacular. As bad as the offense is, this Mountaineer defense is what keeps them in ball games. The reason I am confident in my answer is because the offense will get better next season and the defense won't be put in nearly as many tough spots as they are now. Also, the linebackers and defensive lineman are still young so almost all of them will be back. The only positions I would be worried about next season for that defense is the secondary that has a lot of upperclassmen that will be gone next year. If they can get some of those spots filled, I would be 100% confident that they will be better. In fact, I will say it anyway. The West Virginia defense will be better in 2020.
@joemathieu asks: Your picks for the Big 12 championship game?
Duke: I think everyone has just about penciled in Oklahoma as one of those teams and I am not sure why everyone does that. Wait, they have won four straight Big 12 titles, right? Maybe that's why. Ok, so I think I will not just pencil in Oklahoma for the Big 12 title game, I will write it in permanent marker. Oklahoma had a bad game against Kansas State. It happens no matter how many people are losing their minds over it. Go back the last two seasons for Oklahoma. 2017, they lose to Iowa State at home and last season they lose to Texas in the Cotton Bowl. It was just a speed bump in their road to a Big 12 title game birth. Now, as for the second pick, that's where things start to get more interesting. Could it be Baylor, Iowa State, Kansas State or maybe even Texas? Since Baylor already has beaten Iowa State and Kansas State, they would be my front runner for that two spot in the title game. They get Texas and Oklahoma at home and I think they could lose those two games and still get in. But I will say they split. Iowa State still must play Texas and Oklahoma and I don't trust Texas right now with that abomination of a defense. Kansas State would probably be my third team behind Oklahoma and Baylor.
@StrawnBob asks: 1. Give us your preseason ranking and thoughts today. 2. Should Baylor be ranked higher than Oklahoma? 3. Worst Big 12 new hire. 4. Which coach is likely gone before next season?
Duke: Alright Bob, I will go rapid fire here. 1. I will save that for the end of the year since there still is a month left in the season and maybe some of my bad predictions come true. 2. In my Big 12 power rankings, I do have Baylor ahead of Oklahoma but when it comes to actual ranking for the playoff, no. Oklahoma was a preseason top ten team and they have played better teams up to this point even with the one loss. 3. It would be tough to label the "worst hire" since the guys I can pick from are all first-year head coaches. I don't think that would be fair at all. 4. I don't think we will see any coaching changes for 2020 but if I had to put money on one it would be Les Miles just because of his age and the possibility of retirement.
@RPTexan asks: If you could control the announcing team for your CFB team, what 3 people would you choose to be 'your announcers' every week? (2 in the booth and 1 sideline). I'd take Gus & Joel but with Molly McGrath on the sideline.
Duke: I think most people would be ok with that. My favorite booth duo by far is Joel Klatt and Gus Johnson and it's not even close. As far as a sideline reporter, I don't really have a favorite just as long as they aren't a complete idiot. I tend to find the Fox crews much better than the ESPN crews. Although, I do love me some Pat McAfee.
@ted_rood asks: How would you breakdown Iowa State's winning percentage for their next four games?
Duke: Here would be my breakdown of those four games.
@ Oklahoma: I'll say 25%. I know they pulled off the upset two years ago but trust me, Lincoln Riley still hasn't forgotten about that game.
Vs Texas: This one is a toss up game for me. I'll say 50%.
Vs Kansas: By far the easiest game left on the schedule. 85%
@ Kansas State: Another interesting game. However, I will lean Iowa State and say 55%.