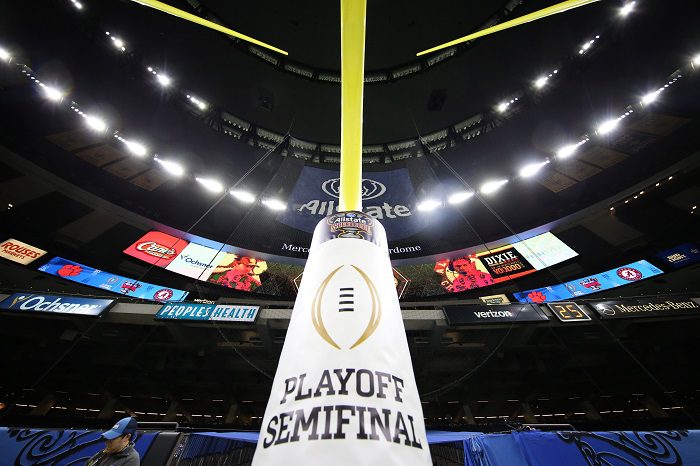 The postseason is the ultimate celebration for teams to celebrate their hard work through the course of the year. As we all know, the postseason for college football features a four-team playoff and several bowl games. Each conference has agreements with certain bowl games to send their respective teams to. Many websites use projections to show where they predict each team to go. Instead of projections, here is a version more similar to "bracketology". This is a live look at where teams would be if the season ended today.
The first College Football Playoff rankings did not reflect what we've seen in the AP Poll. Regardless, it did reflect how the writers saw the Big 12 Conference. One school receives a New Year's Six Bowl berth: undefeated Baylor. Four teams from the SEC are in a New Year's Six Bowl. Utah scores the Cotton Bowl's at-large bid with one ranking ahead of Oklahoma.
It's a shame. It really is. Oklahoma destroyed UCLA on the road. The Sooners had the victory when their plane landed at the airport. Oklahoma State humiliated Oregon State in their west coast trip. Both teams have a winning record in Pac-12 play. Despite this, Oklahoma gets the shaft while Kansas State is ranked just seven spots behind them. I have no explanation for this. Please refer all questions to the committee.
Speaking of the Pac-12's ridiculous nature, Oklahoma could end up seeing UCLA again in the Alamo Bowl. The Bruins don't have a winning overall record at the moment. However, if Arizona State beats USC this weekend, Clay Helton is probably sent packing. Even if Helton is still coaching when the Trojans play UCLA, I think the Bruins win. In fact, UCLA might even win out. Chip Kelly could lead this Bruins team to an upset over an unsuspecting Utah team this weekend. If that happens, UCLA is without a doubt, in the Alamo Bowl this season. I don't see them beating Oregon in the Pac-12 Championship Game and they aren't getting into a New Year's Six Bowl without winning it. On the other hand, Southern California is only 5-4 with a loss at BYU. BYU isn't even in a bowl this week. Believe it or not, USC holds the tiebreaker over Utah for the Pac-12 South Division.
Moving on, Kansas State continues to climb. After starting Big 12 play 0-2, Chris Klieman did some serious production during the bye week. He's 3-0 with a victory over Oklahoma since the bye week. The Wildcats have Texas this week. Even if the Longhorns aren't ranked, the voters love a win in Austin. This team could shoot up the rankings. After Texas, they have West Virginia and Texas Tech before Farmaggedon. Oklahoma and Baylor still have to play each other. Wildcats fans will be wearing green and gold during that game with the tiebraker over the Sooners. We could very well have a Baylor-Kansas State matchup in the Big 12 title game. Of course, Baylor has to beat Oklahoma to make that happen. If Baylor beats the Sooners, it pretty much punches their ticket into the Big 12 Championship Game. They would hold the tiebreaker over Iowa State, Kansas State and Oklahoma. Of course, this is assuming Baylor defeats TCU this weekend. Yes, TCU is underachieving and has a true freshman quarterback. Still, it's never a safe assumption. Especially in The Revivalry.
Speaking of TCU, Horned Frogs fans will be disappointed with their bowl pick. Look a the bright side though. There's no need for a hotel. There's no need for a flight. You still get a bowl game. Save up some money for when Max Duggan has some experience and the offense is clicking on a consistent basis. TCU will be a contender soon.
Believe it or not, Texas may be in jeopardy of missing a bowl. The Longhorns have a gauntlet coming up. If they aren't healthy, they are vulnerable against Texas Tech. First, they play Kansas State this week. Afterwards, they travel to Iowa State and Baylor. Texas has faced injuries all season. They recently lost to an inconsistent TCU team starting a true freshman at quarterback. If Matt Wells has Tech at 5-6, you can bet the Longhorns are going to get Tech's best game. If Alan Bowman is healthy, it could be the nail in Texas' coffin. That brings up another point. If Texas misses a bowl this season, does Tom Herman keep his job?. We'll leave that discussion for another day. This is a more realistic situation than most are lead to believe.
And yes, Texas is slated to face a leftover team in the Texas Bowl. Longhorns fans can thank the College Football Playoff committee for giving the SEC four NY6 spots.

Oklahoma State is looking prime for an 8-4 finish. Assuming Oklahoma defeats the Cowboys, Mike Gundy's team will likely score victories over Kansas and West Virginia. This team is not going to wind up in Arizona. That's why this is different than projections. If the season ended today, Oklahoma State is .500 in conference play with a mediocre overall record and goes to the Cheez-It Bowl. They're not going to the Cheez-It Bowl. They are only going to move up from here. They may take a step back against Oklahoma, but they'll be further along. I'm thinking Oklahoma State winds up somewhere in Texas. Memphis would be a disappointment for Oklahoma State.
On the other hand, I'm selling Iowa State's stock. Kansas remains on the schedule. The Cyclones better win that game. Like Texas, this team's remaining schedule is a gauntlet. Kansas isn't a walkover any more. The Wildcats took Kansas seriously and that's why they mopped the floor with the Jayhawks. Iowa State should take care of business against Kansas. I think they will. However, it will be a trap game. The game is sandwiched between dates with Texas and Kansas State. I'll be surprised if the Cyclones lose out, but it's realistic Iowa State misses out on a bowl.

This weekend is a must-win for West Virginia. If they lose, they're done. For Texas Tech, they can lose and still make a bowl. Tech fans hope it doesn't come down to that. The Red Raiders have had major November woes since the firing of Mike Leach. However, Tech is not in a must-win situation at West Virginia this week.
Alas, the current bowl picture is below.
College Football Playoff
Peach Bowl Semifinal: No.1 Ohio State (8-0) vs. No.4 Penn State (8-0)
Fiesta Bowl Semifinal: No.2 LSU (8-0) vs. No.3 Alabama (8-0)
Sugar Bowl, Big 12 Champion vs. SEC Champion
No.12 Baylor (8-0, 5-0 in Big 12) vs. No.6 Georgia (7-1, 4-1 in SEC)
-Baylor is the only unbeaten remaining in the Big 12.
-Georgia is the only SEC team with one loss. Undefeated teams LSU and Alabama are in the College Football Playoff.
Alamo Bowl, Big 12 No.2 vs. Pac-12 No.2
No.9 Oklahoma (7-1, 4-1 in Big 12) vs. Southern California (5-4, 4-2)
-Utah scores the at-large bid for the Cotton Bowl. Oklahoma is the first team outside the New Year's Six Bowls. With Baylor being undefeated, Oklahoma falls to the Alamo Bowl.
-With Oregon and Utah in the New Year's Six bowls, USC gets the nod here with a 4-2 Pac-12 record. UCLA is also 4-2, but currently have a losing overall record. Oregon State is 3-2 in conference play.
Camping World Bowl, Big 12 No.3 vs. ACC first tier selection
No.16 Kansas State (6-2, 3-2 in Big 12) vs. No.19 Wake Forest (7-1, 3-1 in ACC)
-Kansas State has a better overall record than Texas and Iowa State. Even if they didn't, they are also the only ranked team of the three.
-Wake Forest is the only team with one loss in ACC play. Clemson is in the Orange Bowl.
Texas Bowl, Big 12 No.4 vs. SEC first tier selection
Texas (5-3, 3-2 in Big 12) vs. *Nevada (5-4, 2-3 in Mountain West)
-Texas received more votes in the AP Poll and the Coach's Poll than Iowa State did. These two teams have not played each other, and neither are in the College Football Playoff Top 25.
-The SEC has 8 bowl eligible teams this week. Four of them are in New Year's Six bowls. Kentucky chooses to go to the Liberty Bowl due to proximity and avoiding a rematch with Louisville in the Belk Bowl. There are zero Power Five teams with a winning record left over. The Texas Bowl chooses Nevada because the Mountain West is deemed a better conference than the MAC and Conference USA.
Liberty Bowl, Big 12 No.5 vs. SEC first tier selection
Iowa State (5-3, 3-2 in Big 12) vs. Kentucky (4-4, 2-4 in SEC)
-Iowa State is the last remaining team with a winning record in Big 12 play.
– As mentioned above, Kentucky avoids the rematch against Louisville in the Belk Bowl. The Liberty Bowl is closer to Lexington than the Texas Bowl.
Cheez-It Bowl, Big 12 No.6 vs. Pac-12 No.7
No.23 Oklahoma State (6-3, 3-3 in Big 12) vs. California (4-4, 1-4 in Pac-12)
-Oklahoma State is the only team with a .500 record in Big 12 play.
-California wins the tiebreaker over Washington State with two road victories against Power Five schools, including one in non-conference. These two teams play each other this week.
First Responders Bowl, Big 12 No.7 vs. Conference USA selection
TCU (4-4, 2-3 in Big 12) vs. Louisiana Tech (7-1, 4-0 in Conference USA)
-TCU is the final remaining bowl eligible team in the Big 12.
-Louisiana Tech is the final remaining unbeaten in Conference USA play after Marshall hit a game-winning field goal to defeat Western Kentucky.
Ineligible
West Virginia (3-5, 1-4 in Big 12)
-West Virginia has finished the gauntlet. This was their schedule in October: vs. No.11 Texas, vs. Iowa State, at No.5 Oklahoma, at No.12 Baylor. Mountaineers fans hope the team has matured to the point they can take care of business against Texas Tech and TCU. If they can win those games and score an upset over Oklahoma State in Morgantown, they'll be bowl bound. Yes, it's a tall task. It is realistic though.
Texas Tech (3-5, 1-4 in Big 12)
Texas Tech could also realistically make a bowl game at 6-6, even with a loss to West Virginia. The Red Raiders have two home games coming up. Matt Wells told me during Big 12 Media Days that he is making it a priority to defend Jones AT&T Stadium. What used to be one of the scariest atmospheres under Mike Leach has become a place where road teams hold a winning record since he was fired. If Wells can defend home, then place Kansas State on upset alert. Add the fact that Texas has been injury plagued and the Red Raiders have seen recent success in Austin, and that is the recipe for Tech to score a bowl bid. Like West Virginia, it's a tall task. For the Red Raiders' hope, just win in Morgantown this weekend.
Kansas (3-6, 1-5 in Big 12)
-Kansas has to win out to score a bowl bid. They are not going to achieve the bowl bid at 5-7 with APR scores. In fact, they likely will not win another game this season. The Jayhawks are now facing a gauntlet of road games against Oklahoma State and Iowa State before hosting what could be a Baylor team who has College Football Playoff aspirations. The Jayhawks definitely improved under Les Miles. They scored a victory over Texas Tech. Ultimately, the loss to Coastal Carolina destroyed all hope. The blocked PAT which was returned for a touchdown by Texas was the nail in the coffin. At 5-4, I'd give this team a shot. All they would need is one more upset, and quite frankly, I think they'd get it with the motivation of a bowl berth on the line.