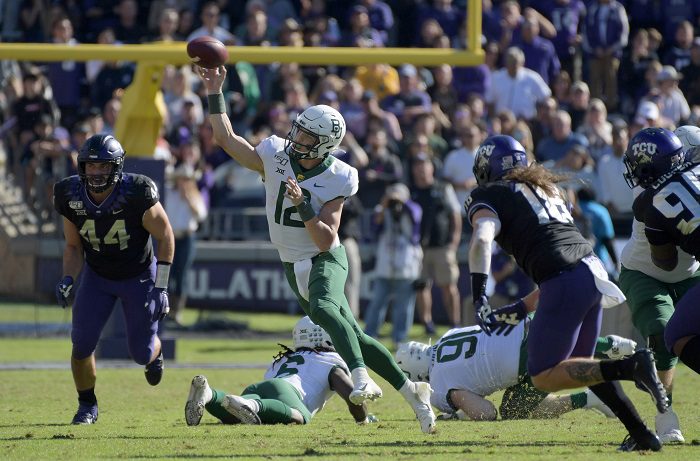 I hear it all the time, "Who has the best conference in college football?" SEC? Big 10? ACC? What about the Pac-12? Very rarely are you going to hear the words "Big 12" coming out of someone's mouth in that conversation. Whether you do it or not, there are plenty of folks out there who love to bash the Big 12 conference (cough, Paul Finebaum, cough). Week eleven has come and gone and in the Big 12, there is never just a normal weekend and that once again proved to be true this past weekend. From good games, to eye sores, there was some good, some bad and some downright ugly. Keep in mind that Kansas and Oklahoma State were off.
The Good
Texas Tech (Beat West Virginia 38-17)
I am not going to lie: I didn't think Texas Tech would blow out West Virginia like this on the road. Tech didn't play around as they scored five-straight touchdowns to open the game and midway through the second quarter, they were already up 35-10. At that point, it was all but over. The offense would ease off in the second half, but still, quarterback Jett Duffey had himself a day with 354 passing yards and a touchdown along with no turnovers. Meanwhile, wide out Dalton Rigdon had a big 81-yard touchdown catch and running backs SaRodorick Thompson and Ta'Zhawn Henry each found the endzone twice. Not to mention, they did this without their best receiver T.J. Vasher who didn't make the trip due to a team violation. While the offense had itself a great day, it was the defense who really kept this game easy for the Red Raiders. They were able to get four turnovers and held the Mountaineers to just one for five on fourth down. Of course, allowing just 51-yards rushing helps too. Did they give up a lot of passing yards? Sure, but the Red Raiders were just trying to keep everything in front of them. Give them credit, they gave up just 17 points on the road. That's not easy to do. 
Baylor (Beat TCU 29-23 in Triple OT)
This may wind up being the game of the year in the Big 12 and it was certainly a fun one to watch late. For the first four quarters, it was all field goals as neither TCU nor Baylor scored a touchdown in regulation. The offense for Baylor was horrendous, but when the game was on the line down by three with under four minutes to play, Charlie Brewer drove the offense down the field and help set up a 51-yard field goal by John Mayers, who nailed the kick to send the game to OT. Baylor was lucky there because before the kick, the offense had three penalties that kept pushing them back. Not to mention, Charlie Brewer missed a wide-open Josh Fleeks to possibly win the game with less than 45 seconds left. 
In the overtime, Charlie Brewer ran in a score and then he was able to find wide out Denzel Mims in crucial situations whether it was on third or fourth down for scores to keep Baylor's chances to win alive. Defensively, it was a great performance all around. They played more than well enough to win the game in regulation and were able to come up with a turnover in the third overtime to win the game. It feels like this Baylor team continues to play with fire and dance with the devil and somehow each week, they wind up coming away with a win. No matter how you look at it, the Bears are 9-0 as they will welcome Oklahoma as well as College GameDay to Waco next weekend. 
Texas (Beat Kansas State 24-27)
Early on, Texas was down 14-0 and I thought that Texas would just about mail in it with the way they played the game prior vs. TCU. But maybe Texas needed this punch in the mouth early because after that Texas would score 24-unanswered points and found themselves up 24-14 in the fourth quarter. Then the Longhorns gave up a kickoff return for a score and later a field goal that tied things up at 24. Then Texas had one of the best drives this season as Sam Ehlinger led Texas down the field using nearly seven minutes off the clock as Dicker "The Kicker" drilled an easy 26-yard field goal as time expired. By no means was this Sam Ehlinger's best game, but when all the chips were on the table, he made the most of it. This game was a three-headed monster for Texas offensively. Wide outs Devin Duvernay and Collin Johnson combined for 220-yards and a score while running back Keaontay Ingram ran for 139 yards and two scores averaging an outstanding 8.7 yards per carry. 
As for the defense, Todd Orlando called a few blitzes that he got burned by for the 20th time but after giving up 14 early points, the defense buckled down as they gave up just three points in the final three quarters as the other touchdown came from special teams. It was a night and day difference defensively from this team in the final three quarters and I know getting some of these starters back helped tremendously. Probably the only negative thing I have here is the dumb hit by Jalen Green that got him ejected and the nine penalties. Outside of that, it was a great must-win game for Texas to keep their title hopes alive. 
Oklahoma (Beat Iowa State 42-21)
For three quarters, Oklahoma had complete control of this game. Jalen Hurts had five total touchdowns while running back Kennedy Brooks went wild for 132 yards and a score. Also, how about wide receiver CeeDee Lamb? 167 yards and two touchdowns as he was making Iowa State defenders look silly all game long. I am dead serious when I say, he is the best wide out in college football. While the first three quarters were good as Oklahoma went into the final period leading 42-21, the offense and defense just disappeared. Well the defense disappeared, and the offense completely collapsed as their final three drives ended in a fumble, an interception and a three and out. The one thing the Sooners could not do was turn the football over and Jalen Hurts threw a bad pick and even CeeDee Lamb coughed up the football as well to help Iowa State score two quick touchdowns to get back in the game. 
As for the defense, they gave up 20 in the fourth quarter and I know the offense put them in some tough spots, but the tackling and the energy just weren't there. They let the Cyclones rack up almost 500 yards of offense and nearly outgain them overall. Luckily thanks to a controversial no flag pass interference call, the Sooners were able to stop Iowa State on a two point try that would have given the Cyclones the lead with under thirty seconds left. There are still plenty of questions that need to be answered about this team. What's going on with the defense and why aren't these talented running backs all being used? While this team still has hopes of getting a playoff shot, they needed to dominate this game at home, and they didn't do it. But you know the rule, if you win you are in my good graces.
The Bad
TCU (Lost to Baylor 29-23 in Triple OT)
What a heartbreaker for TCU. The defense gave them just about every opportunity to win this game in regulation, but the offense couldn't find the endzone for the first four quarters. Up until overtime, Max Duggan was sloppy throwing two picks and drive after drive, they just couldn't do anything outside of getting into field goal range for their kickers. However, in overtime, Max stepped up his game big time. Down by a score in the first overtime, TCU faced a fourth and long and Max Duggan chunked one up to wide out Tevailance Hunt who caught the ball going out of bounds but miraculously got his hand inbounds before his body hit to extend the game. It was maybe one of the most clutch catches I have ever seen since the famous David Tyree catch for the Giants. 
TCU would once again score in the second over time but in the third overtime once again down a score, Max spun out of two would-be tacklers and tip toed his was down the sideline for a score. Unfortunately for the Frogs, the call was reversed and just a few plays later, Duggan was picked off on fourth down to end the game. Give credit to TCU, they played their butts off, but you can't play that poorly on offense for four quarters against good football teams. I know they had chances to win, but the offense cannot continue to play this poorly. It has been so hit or miss this season and I believe Sonny Cumbie will be back on the hot seat after this one. 
Kansas State (Lost 27-24 to Texas)
This game couldn't have started any better for Kansas State. You go up 14-0 on the road in Austin and things were looking great. Then all of a sudden, the offense just completely checked out for the rest of the game as the only scoring after that came from a 98-yard kickoff return for a touchdown by Joshua Youngblood and a field goal to tie the game at 24 in the fourth quarter. The biggest problem for the Kansas State offense was the run game. The Wildcats love to run the football and control the game. They couldn't do that as they averaged a measly two yards per carry on the ground as they totaled up just 51 rushing yards on the day. That put more pressure on Skylar Thompson to throw the football and that is not ideal for this offense. Meanwhile, I felt like the defense wasn't terrible, but they let Texas control the game on the ground. It seemed like in the final three quarters Texas was the more physical team. Giving up 27 on the road isn't bad, but the defense let Texas use nearly seven minutes of clock on the final drive to win the game. Kansas State played one quarter of good football and three quarters of just blah. You can't do that on the road and expect to win. 
Iowa State (Lost 42-41 to Oklahoma)
It wasn't pretty for three quarters but give credit to Brock Purdy and Breece Hall. They were big time in this football game as Brock Purdy threw for 282 yards and five touchdowns, while freshman running back Breece Hall rushed for 110 yards averaging a whopping 6.1 yards per carry. As bad as the defense played in the first half (giving up 35 points) they somehow managed to hold the Sooners to just seven points in the final two quarters. I don't know how but they did it and they were even able to get three crucial stops in the fourth quarter to help them get back in the game; whether it was forcing Oklahoma to a three and out or getting turnovers by way of a fumble and interception. That helped the Cyclones score three fourth-quarter touchdowns and with 24 seconds left, Iowa State was down just one after Brock Purdy hit Charlie Kolar for a touchdown. The Cyclones elected to go for two and the lead but couldn't get it as there was a bad missed pass interference call on the two-point try. While that was a CRUCIAL no call and I am not making an excuse for officiating because it was crap all night for both sides, Iowa State had chances to win the game. Whether it was the poor play calling earlier on the goal line or even Brock Purdy missing a wide-open Charlie Kolar on the two-point try, the Cyclone had chances. Give credit to this team, they played their butts off and came within a play of winning the game when nobody gave them a chance. 
The Ugly
West Virginia (Lost 38-17 to Texas Tech)
This was a game to forget if you are a West Virginia fan. I really do feel bad for quarterback Austin Kendall. He gets no help from the running game and it seems like even his receivers at times let him down. While Texas Tech was scoring touchdowns all over the place in the first half, Austin Kendall threw a pick (that bounced off his receiver's hands) and then fumbled while getting sacked. The lone touchdown for the Mountaineers in the first half came from a trick play. The second half wasn't much better as the offense turned the football over on downs, fumbled and threw an interception to start their first three drives of the third quarter. After that, West Virginia turned to Jarret Doege at quarterback and while he was able to throw a touchdown pass, it wasn't near enough to make a comeback. 
Outside of wide out Sam James, who had 223 yards receiving, the offense didn't do much because of the turnovers and mistakes. I would point out the defense just getting their butts kicked in the first half but when your offense continues not give you any help, eventually the walls will break and it will all come crashing down and that's exactly what happened in Morgantown on Saturday. Head Coach Neal Brown praised the fans for showing up and staying as he promised to get things fixed. That was probably the only positive thing for West Virginia in this one. 2020 can't get here fast enough in Morgantown.
Powered by RedCircle
**We now have FREE Big 12 Forums here at Heartland College Sports. Go sign up here and join our conversation! **